Baltimore is a city on the move. Forget your impressions from when you visited the city 15 years ago, or even nine years ago, because Baltimore has undergone a monumental transformation in the last seven years — and the secret is out. Baltimore is quickly becoming one of America's favorite cities to visit, with tourism and hospitality ranked among its top industries.
Once written off as a crime-ridden, drug-infested, downtrodden city, Baltimore's population began a downward spiral in the 1950s. The trend continued throughout the 20th century and into the new millennium until recently when it stalled and, for the first time in more than 50 years, Baltimore began to see its numbers increase.
Founded in 1729, the town developed around the natural harbor of the port of Baltimore where trade began in the early 1700s. The well-protected deepwater port is just an overnight trip from two-thirds of the nation's population. Situated 180 miles closer to the Midwest than any other eastern U.S. port, its location has spurred the growth and prosperity of Baltimore since the city's earliest days. The port continues to serve as an economic engine for the city and the state, generating about $2 billion annually in revenue.
More than just an industrial port, Baltimore's picturesque waterfront also has fueled a rebirth in recent years with the renovation of the 240-acre Inner Harbor. The urban renewal movement took hold of the Inner Harbor in the 1960s and '70s, clearing a significant portion of the area to make way for new development. The project added residences, hotels, restaurants, office buildings, and educational and social facilities — Maryland Science Center, World Trade Center, Baltimore Convention Center, Harborplace and National Aquarium — to the area. Since the 1970s, Baltimore has continued to invest in this thriving section of downtown, earning it the reputation as the crown jewel of the city.
The redevelopment of downtown also has encouraged a return to city living. The residential growth is creating opportunities for additional retail throughout downtown. Baltimore's relatively low cost of living compared to other major cities on the East Coast has made it an attractive place to live. The city's close proximity to Washington, D.C., Philadelphia and New York attracts new residents, but also brings in tourists. Because it's just 45 minutes from the nation's capital, estimates indicate more than five million day-trippers visit Baltimore from Washington, D.C., each year. In 2005, about 12 million visitors arrived in Baltimore, marking a seven-year high. This figure does not include the day-trippers, which brings the total for 2005 to 17 million. Tourism revenue is also at an all-time high with visitors spending $2.96 billion last year, making tourism and hospitality Baltimore's largest and most profitable industries.
Other major industries include health care, biotechnology, education and financial services. As part of the city's $10 billion in development projects, three biotechnology parks under construction will increase Baltimore's presence in this emerging industry, creating new jobs and opportunities in the process.
Baltimore's 15 colleges and universities, including John Hopkins University, University of Maryland and Towson University, draw about 60,000 visitors and generate more than $3 billion annually. The institutions add about 100,000 college students to the population as well, so the city's businesses and corporations enjoy a large local recruiting pool.
A stroll through Baltimore's quaint neighborhoods reveals a city steeped in history, tradition and charm. Historic Mount Vernon has rows of Victorian-style homes and carriage houses. Art galleries and museums, artist studios and traditional markets dot the friendly community of Union Square. The city's famed screen paintings can be found in several neighborhoods, including hip Canton. With an ideal location and many restaurants, shops and pubs, Fells Point has the ambience of a smaller town on the colorful waterfront. Bolton Hill is the setting for 19th century mansions with formal gardens while Federal Hill boasts 19th century brick row homes. Federal Hill Park has some of the best views of the harbor and the downtown skyline.
The many neighborhoods of Baltimore are easy to tour on foot and offer numerous opportunities for exploration. In a city brimming with change, it hasn't lost its small-town atmosphere, proving that it still has what it takes to be called "Charm City."
---
LODGING
PEABODY COURT HOTEL
Fashioned from an apartment building built in 1928, this boutique hotel blends history and elegance to create a stylish, yet comfortable ambience in each of its 104 guestrooms. A stunning six-foot crystal chandelier casts a dramatic tone on the tiered lobby. Located in Mount Vernon, Peabody Court is within easy walking distance of many of the city's attractions.The hotel's restaurant, George's on Mount Vernon Square, serves New American cuisine with French influences. Breakfast, lunch and dinner are served daily. $$$$
PEABODY COURT HOTEL
612 Cathedral St.
tel 410 727 7101, fax 410 789 3312
www.peabodycourthotel.com
INTERCONTINENTAL HARBOR COURT BALTIMORE HOTEL
Its spectacular water views, comfortable amenities and convenient Inner Harbor location make this four-star hotel a top choice for many visitors. Hotel facilities include a business center, fitness center, indoor pool, sauna, whirlpool, three restaurants and a cocktail lounge. The Harbor Court Hotel has 195 guestrooms and 22 suites. $$$$
INTERCONTINENTAL HARBOR COURT BALTIMORE HOTEL
550 Light St.
tel 410 234 0550, fax 410 659 5925
www.ichotelsgroup.com
HENDERSON'S WHARF INN
Beautifully appointed with fine furnishings and soft neutrals, each of the 38 guestrooms at this historic hotel indulges guests in luxurious accommodations. In addition to fluffy feather beds and crisp linens, room amenities include a complimentary bottle of wine, 30-inch LCD television with 200-channel satellite service, voice-over IP wireless technology, and a minibar stocked with unique products made in Maryland. The hotel also has complimentary parking, a continental breakfast and a 24-hour fitness center. $$$-$$$$
HENDERSON'S WHARF INN
1000 Fell St.
tel 410 522 7777, fax 410 522 7087
www.hendersonswharf.com
---
DINING
PHILLIPS HARBORPLACE RESTAURANT
The Phillips family started in the restaurant industry in 1956 with a small carry-out crab house in Ocean City. As the business grew in Ocean City, the family expanded into Baltimore with the Harborplace restaurant in 1980. Using family recipes, Phillips serves fresh seafood right out of Chesapeake Bay. A Maryland tradition. $$$
PHILLIPS HARBORPLACE RESTAURANT
301 Light St.
tel 410 685 6600
www.phillipsseafood.com
THE BRASS ELEPHANT
Built in 1850 as a private residence, owners of this architectural masterpiece have preserved many of its original features, including the sconces in the main hall that inspired the restaurant's name. Other decorative treasures in the home include Waterford crystal chandeliers, Tiffany windows and skylights, original oak walls and floors, Moroccan teak carvings, and Italian marble hand-sculpted fireplaces. This lavish setting serves as the elegant backdrop for the restaurant's fine continental fare. The posh Tusk Lounge is the perfect spot for enjoying an after-dinner drink. $$$
THE BRASS ELEPHANT
924 N. Charles St.
tel 410 547 8485
www.brasselephant.com
BLUE SEA GRILL
Awash in the cool aqua hues of the ocean, this trendy restaurant features an extensive raw bar, celebrated wine list, and fresh seafood such as yellow tail snapper, wild rockfish, swordfish, lobster, crab and tuna. Blue Sea Grill has quickly become an Inner Harbor favorite. $$$$
BLUE SEA GRILL
614 Water St.
tel 410 837 7300, fax 410 837 7200
www.blueseagrill.com
---
DIVERSIONS
Baltimore is home to Maryland's leading tourist attraction, the National Aquarium (501 East Pratt St., tel 410 576 3800, www.aqua.org). This world-renowned educational institution houses more than 11,000 animals from more than 600 species of fish, birds, reptiles, amphibians and marine mammals. In December 2005, the Aquarium opened its latest addition, Animal Planet Australia: Wild Extremes, which re-creates an Australian river gorge and introduces visitors to wildlife rarely seen outside of the land down under. The Baltimore Civil War Museum (601 President St., tel 410 385 5188, www.mdhs.org) explores the border state's critical role in the Civil War. The museum is an 1849 train station that served as a stop on the Underground Railroad. Built in 1854, the USS Constellation (Pier 1, tel 410 539 1797, www.constellation.org) is the only Civil War boat still afloat and the last all-sail warship built by the Navy. The National Great Blacks in Wax Museum (1601-03 E. North Ave., tel 410 563 3404, www.ngbiwm.com) chronicles the history of African-Americans through life-size wax figures. The museum's exhibits highlight the atrocities of the slave-trade journey, leaders of the modern civil rights era and Maryland's black leaders. For after-hours fun, head to Power Plant Live! (34 Market Place, www.powerplantlive.com), the Inner Harbor's renovated entertainment district. In addition to Restaurant Row, Power Plant Live! has a variety of clubs and bars, including the ritzy Havana Club (600 Water St., tel 410 468 0022, www.havanaclub-baltimore.com), dueling piano bar Howl at the Moon (22 Market Place, tel 410 783 5111, www.howlatthemoon.com), and live music venue Rams Head Live! (20 Market Place, tel 410 244 8854, ). Ed Kane's blue and white water taxis (tel 410 563 3901, www.thewatertaxi.com) offer a fun alternative for touring the city. The unlimited day ticket is $8 and includes discount offers from several area restaurants and attractions.
---
At Home with Baltimore Mayor Martin O'Malley
Global Traveler: When you took office in 1999, you made it clear that public safety would be the foundation of the city's renewal. How has Baltimore improved the safety of the city for its citizens and visitors?
Martin O'Malley: We've driven crime to its lowest levels since the 1960s thanks to a lot of committed work by community leaders and our police officers. We've also made a huge investment in drug treatment. We've made our city a much safer place. As a result, 30 years of population loss has now been reversed. We're now creating more jobs than we lose every year, and we're seeing the most unprecedented boom in new housing starts and new housing construction, which is true not only in the downtown area and along the waterfront but most importantly throughout all of the neighborhoods. We've also been taking title to land that had been abandoned over the course of the last 30 years and that is going to be a tremendous asset moving forward to growing our population.
GT: City growth also has been one of your administration's priorities — what is being done to increase Baltimore's population?
MO: The most important things we've done are improve public safety, improve our schools and improve the overall quality of life, which is good for residents and good for businesses. That's why we're now creating jobs and that's why our population is now increasing after 30 years of decline. We've invested in improving our quality of life instead of wallowing in a culture of excuses. We decided to make the big investment and take the chance that by improving public safety we could bring our city back to life. It requires a lot of hard work in terms of improving the effectiveness of policing, the effectiveness and availability of drug treatment, and the effectiveness of earlier and broader interventions in the lives of young people. We're doing all of those things together and that's really been the reason our city's coming back. Yes, we have programs for first-time homebuyers and we have tax incentives to spur investment, and we're taking title to property to create larger assemblages for redevelopment, but all of that really follows the advance and the progress of the justice agenda. If the justice agenda is not moving forward, a city dies.
GT: What are the next steps for the city?
MO: We need to continue to advance the justice agenda, and we need to continue to invest in the skills of our people, so that they have the skills that they need to take advantage of our competitive strengths in this world economy. We need to continue the progress that we've made. There are very few cities that are adding a grade every year to the ranks of our children that are scoring a majority proficient in reading and math. And there are very few cities in America that are reducing violent crime at the rate we are. If we continue to advance the justice agenda, there is no end to the amount of creative energy that Baltimore can harness for its benefit and its growth and expansion of opportunity for our people.
---
INFO TO GO
Its central location on the East Coast makes Baltimore easy to reach. The city's primary airport, Baltimore-Washington International Thurgood Marshall Airport (BWI), is just 10 miles south of the city. Several international and regional airlines provide nearly 700 daily flights between Baltimore and 70 cities. Ronald Reagan Washington National Airport (DCA) and Washington-Dulles International Airport (IAD) are 43 miles and 61 miles, respectively, from Baltimore. Amtrak offers daily train service to Baltimore with connections to several cities along the Northeast corridor. Baltimore's Penn Station is at 1500 N. Charles St. MARC commuter trains also provide service between Baltimore and Washington, D.C., during the week and depart from Penn Station as well.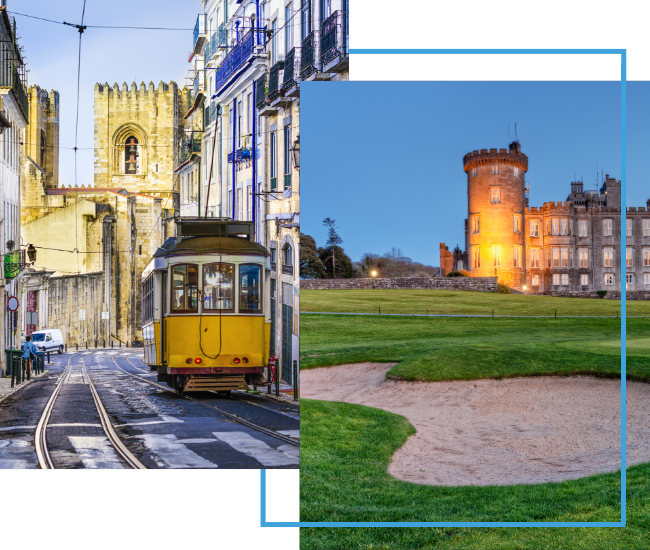 FX Excursions
FX Excursions offers the chance for once-in-a-lifetime experiences in destinations around the world.
Explore Excursions
Did the new film Oppenheimer rouse your interest in the nefarious world of international espionage? You can go straight to the real-life setting for covert actions this November (Nov. 10–12), when La Fonda on the Plaza in Santa Fe hosts a specially themed "Spies, Lies and Nukes" weekend. The hotel actually served as the retreat location for Manhattan Project scientists, who stayed at La Fonda on the Plaza to take a break from the stress of their work. During the weekend, the property's La Fiesta Lounge will make a tasty nod to those days by serving up a special Atomic Martini.
Sponsored Content
Exclusive Sailing with Global Traveler
Ever want handcrafted martinis and freshly shucked oysters delivered straight to your room? The Read House's New Martinis & Pearls service has you covered. Shining in 1920s-themed decor, the historic hotel in the heart of Chattanooga offers a true Gatsby-esque experience, now further elevated with this upscale amenity. Guests can now indulge in their perfectly chilled martini, made to order, and "pearls" (oysters) in the comfort of their room.