Premium travelers know the benefits of holding a first- or business- class ticket extend beyond those front-of-the-craft cabins boasting lie-flat seats, fine dining and top-shelf wines and liquors. Yes, extra baggage allowances and access to priority check-in, security, boarding and luggage retrieval also make the travel experience more pleasant. Perhaps the perk experienced flyers most appreciate, however, is access to airport lounges.
From 1939, when American Airlines opened its first Flagship Club (later renamed the Admirals Club) at New York's LaGuardia Airport, until late in the last century, airport lounges were hosted by individual airlines for their premium passengers and a limited number of partners. The 1990s saw the introduction of third-party lounge operators such as Priority Pass, and since then a mix of other options including public and credit card-affiliated lounges (think American Express' popular Centurion lounges) have come into play.
Shortly after the introduction of airline alliances (Star Alliance in 1997, oneworld in 1999 and SkyTeam in 2000), another choice for elite and first- and business-class passengers arose: the alliance-branded lounge. Star Alliance led the way in Zürich in 2001, and its 26 member airlines and their customers now enjoy access to eight lounges around the world. Richard Carret, director of Marketing & Communications, Star Alliance, explained the rationale for these collaborations: "It creates a win/win/win outcome for customers, the airline member of the Alliance and the airports, in that a 'classier' lounge is developed than could otherwise be afforded by carriers individually."
Mauro Oretti, vice president, Marketing and Commercial, SkyTeam, also points to the benefits of alliance-branded lounges. The alliance opened its first lounge at London Heathrow in 2009 to serve its 19 member airlines and now operates six lounges in all. They provide a clear cost-saving benefit to the members but only if, he qualified, "we can maintain or increase the quality of the lounge experience, together with customer satisfaction." For the alliance itself, "Creating lounges under our name is a great way to extend the reach of the brand, associating it with a physical touchpoint that tangibly showcases what the alliance stands for."
Airports which host alliance-branded lounges also see benefits beyond the income generated through rent and sales. Star Alliance asserts its highly regarded global brand helps an airport position its own brand, and positive customer experiences in the lounge spaces boost visitors' perceptions of the overall airport experience.
Clearly, creating these lounges calls for a considerable investment in money, time and resources. The process can take a year or more, beginning with identifying suitable locations, researching and collecting input from member airlines and consumers, developing a concept and then working through to design and construction.
Perhaps the biggest consideration is location. As oneworld seeks to launch its own branded lounges, Ghim-Lay Yeo, vice president, Corporate Communications, oneworld, identified the factors to be considered. "These include the network presence of member airlines, the existing lounges, the availability of airport real estate, and collaboration with airport partners and other stakeholders." For oneworld, identifying Moscow Domodedovo as the site of its first lounge makes sense with these factors in mind. Home to member airline S7 Airlines, the airport is also served by five other oneworld member airlines but with far less volume. Here, as Yeo said, "By consolidating resources we [will] create enhanced customer facilities and comfort." She went on to suggest the impact COVID-19 has had on air travel demand may increase the importance of these factors in choosing locations. "For example, a reduced network at a specific location could potentially provide greater impetus for the optimization of lounge facilities."
Both Star Alliance and SkyTeam indicate they tend to choose non-hub destinations which are nevertheless an important city to the network, served by multiple member airlines. SkyTeam's Mauro Oretti also identified other criteria which come into play, such as "fit" — whether the physical space suits members' and customers' needs and provides the elements (infrastructure) needed to deliver exceptional service and a high level of customer satisfaction. There must be a suitable volume of Elite Plus, first- and business-class passengers as well as a competitive landscape in terms of existing lounges at the targeted airports.
If you build it, they will come … but only if it fulfills their needs. With that concept in mind, alliances constantly assess what their members and their customers seek in terms of amenities, service and ambience. SkyTeam consults with experts in fields such as industrial design and customer experience and solicits passengers' ideas and input. Oretti remarked that over the past 10 years the greatest evolution in the customer experience has been in technology. "Customers demand a more seamless, personalized experience. We have seen demand rise for fast and accessible WiFi, more charging points, contactless payment and smart ordering." The alliance also has adapted to shifts in eating habits, providing more locally sourced and sustainably produced food and drink.
In terms of ambience, Oretti stressed, "Each lounge must have an individualized sense of place while still communicating to the lounge guests that this is a SkyTeam lounge. We want to develop diverse spaces suitable for all travelers." Design elements, such as the locally sourced turquoise-blue tiles used in the recently opened lounge in İstanbul, draw inspiration from the area and the culture where lounges are located. The same philosophy carries through in food and beverage offerings and locally sourced menu items, from a noodle bar in Hong Kong to made-to-order pide (Turkish pizza) in İstanbul.
In addition to offering all the usual amenities such as speedy, complimentary WiFi and plentiful power outlets and USB charging ports, Star Alliance prides itself in designing unique, "curated" spaces which reflect the character of the country and city in which they are located in order to immerse the traveler in the destination. Local architects design the spaces, and well-known designers and artists help establish that sense of place in the furnishings and decorative elements incorporated. And, of course, regional cuisine and beverages are well-represented, from made-to-order pizzas and barista coffees in Rome to fine wines, cheeses and desserts in Paris.
And customers do appreciate all this attention to detail. Of Star Alliance's 17,760-square-foot lounge at LAX's Thomas Bradley International Terminal, Global Traveler's Globility Board member Eric Chiang said, "Whenever I have a long layover at LAX, I will visit this lounge even if it requires walking more than 15 minutes each way from another terminal," and called it "one of the best lounges in the country." He noted its extensive buffet, hot entrées, showers, outdoor terrace and abundant seating. Fellow board member Mike Russo noted he has visited the SkyTeam lounges in Hong Kong, Heathrow and Sydney "multiple times," finding London and Sydney to offer pleasant stays and good service, while Hong Kong came up short in ambience and hot food options and was often overcrowded. The general consensus among the board's well-traveled members is alliance-branded lounges overall offer a superior product to domestic airline lounges, especially as regards food and beverage choices.
As of publication, due to the pandemic, a number of alliance-branded lounges were still closed, but some reopened over the past few months. Following local health directives and the alliances' own enhanced health protocols, food and beverage offerings may be limited, masks and maintaining physical distance are required, and shower facilities remain closed.
A look at alliances
ONEWORLD
Member airlines: 13
First lounge: Announced for Moscow Domodedovo
Alliance-affiliated lounges: 650
In the pipeline: Possible sites include São Paulo, Beijing Daxing, Frankfurt, JFK
Highlights: Co-managed by Qantas, British Airways and Cathay Pacific, the LAX International Terminal lounge features showers, self-service wines, a DIY juice bar and a children's play area.
SKYTEAM
Member airlines: 19
First lounge: 2009, LHR T4
Alliance-branded lounges: 6
Locations: Dubai, Hong Kong, İstanbul, London, Sydney, Vancouver
In the pipeline: Santiago, estimated opening in 2021
Highlights: The two-level, 17,222-square-foot LHR lounge offers spa treatments, an oxygen bar, showers, a living wall, wine bar and relaxation rooms.
STAR ALLIANCE
Member airlines: 26
First lounge: 2001, Zürich
Alliance-branded lounges: 8
Locations: Amsterdam, Buenos Aires, LAX, Nagoya, Paris (CDG), Rio de Janeiro, Rome (FCO), São Paulo
In the pipeline: Guangzhou, the first alliance-branded lounge in China
Highlights: LAX's 17,760-square-foot, award- winning lounge includes a separate First Class Lounge, showers, an extensive buffet and an outdoor terrace with fire pit and water features.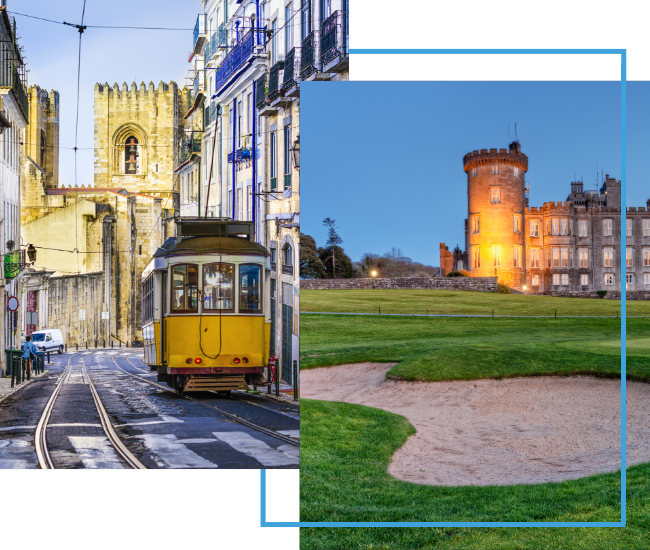 FX Excursions
FX Excursions offers the chance for once-in-a-lifetime experiences in destinations around the world.
Explore Excursions
Everyone loves a good Christmas tree, but these iconic hotels around the world take it one step further with designer-styled trees illuminating lobbies and public spaces, wowing all who enter. From Lela Rose to Louis Vuitton, don't miss these ultra-luxury trees redefining tree decorating as we know it.
Sponsored Content
Learning more about our readers' travel habits and preferences ensures Global Traveler delivers the content you desire. As the travel industry has adapted and changed over the last few years, it's more important than ever to connect. To best meet your short- and long-term travel content needs, please help us!
More than 22 million visitors pour into Bangkok each year, adding to the roughly 11 million residents of the Thai capital famous for its bustling streets. Packed with food carts, markets and cultural spectacles, life in Bangkok is unusually defined by its vibrant street scene, both day and night. That means you don't necessarily need a solid plan when heading out on any given evening.