From the dark, infamous corners of Hunter S. Thompson's years riding up and down the West Coast with the Hell's Angels and John Steinbeck's introspective Travels with Charley: In Search of America to Jack Kerouac's legendary weeks On the Road, simultaneously creating a great American novel and wanderlust route with beatnik friends, there's just something so quintessentially American about a road trip. Maybe it's the renegade history of the first recorded cross-country journey when Dr. Horatio Nelson Jackson packed his two-cylinder, 20-horsepower, roofless and windowless Winton automobile with 22-year-old mechanic and co-driver Sewall Crocker and a goggle-wearing bulldog named Bud and hit the open road from San Francisco to New York on a $50 bet in 1903. Years before his time — one decade before the National Park Service was founded, two decades before Route 66 was built and half a century before the Interstate Highway System existed — Jackson made the transcontinental drive, won his $50 and established a road map for a classic American travel practice with an exceedingly American origin story.
Before Jackson, cross-country trips were only trekked in dire straits with covered wagons and high mortality rates. After, they became exciting explorations with the intention to reconnect, whether with one's self or the country or to simply garner a feeling of being immersed in the great wide open, but all with the control and independence an automobile affords.
The need for back-to-basics experiences ebbs and flows through the years as each generation circles back to some aspect of the one (or two) before. Whether by preference or necessity, travel styles can vary from a simple, grassroots, bare-bones variety to excessive, extravagant experiences and exceeding luxury. Through it all, road trips endure while remaining an important piece of Americana.
Just the thought of a road trip elicits visions of an unfolded map strewn across the dashboard of a retro van or red convertible with wind and hair circling wildly — while a romantic idea, not the most sensible of techniques. This is where modernizing the classic road trip is a luxury in itself. Where travelers once had to use their wits, the elements and good fortune to get through, we can now utilize pre-planned routes on apps like Roadtrippers or solid resources like the National Parks Service website of helpful links and travel updates — an invaluable source for creating self- made itineraries — all of which can be transcribed into a GPS, including enough time and space for a healthy mix of planned and impromptu stops.
The great American road trip can be many things; that's the beauty of it — that, and everything along the highways and byways of some of the more established routes. Beginning with the classic, tried-and-true quintessential road trip — the kind that feels comfortable, well-planned and a trustworthy course in times of uncertainty — nothing is more synonymous with Americana than traveling Route 66, also known as the Main Street of America or the Mother Road.
Whether heading east to west or vice versa, the entire Route 66 venture can take a few weeks and bookends a whole lot of country between two iconic (and nearly opposite) cities, Chicago and Santa Monica. Passing through eight states — California, Arizona, New Mexico, Texas, Oklahoma, Kansas (briefly — if you blink, you'll miss it), Missouri and Illinois — Route 66 unfolds at the driver's feet, revealing everything from kitschy stops like Cadillac Ranch in Amarillo, Texas; ghost towns from a bygone era; and the scenic Turquoise Trail in New Mexico to natural wonders like Arizona's Petrified Forest National Park, the Painted Desert and easy access to the Grand Canyon — not to mention countless quirky neon-lit motels, diners and obligatory stops along the way. Built in the 1920s, Route 66 certainly aged quite a bit, but it's part of the charm and pioneering character of the road's 85 percent drivable distance.
Few road trips plan themselves as easily as Route 66, but there are many other iconic paths travelers can follow. Jack Kerouac's journey from New York City to San Francisco, with an added diversion north to North Cascades National Park in Washington, boasts America's wild terrain, big-city dreams and all the small-town life in between. See firsthand what Kerouac meant by "Nothing behind me, everything ahead of me, as is ever so on the road."
Other trips may be more about key points of interest and less about the historic road or iconic journey — these courses are of the most formidable road trip style but require a bit more work en route. When travelers create a list of what they want to see and do, the route begins to reveal itself, simply requiring a steady guide to make sense of the path as to where to stop and in what order.
While offering more freedom, creativity and spontaneity, this route also requires some loose planning, like finding a hotel, campground or RV park along the way. But what's a road trip without a sense of wild and on-the-fly adaptability?
Then there's the national park road trip, the road trip dedicated to seeing as much of America as possible with the occasional treat-yourself stops in between for modern comforts. Visualize hitting the road, venturing from Acadia National Park to Glacier National Park, visiting Yellowstone, the Grand Tetons and the Badlands along the journey. Hop on long stretches of highway heading from the Rocky Mountains to Great Smoky Mountains National Park, or check a dozen parks off the list heading farther west from Zion National Park to Joshua Tree National Park, with stops at Bryce Canyon, Arches, Death Valley and any of the many national parks peppered in this densely beautiful region.
Imagine hitting the road in good company, music playing, watching the vast countryside of rolling hills and desert plains whiz by, with plans for as many landmark stops and photo-worthy pull-over moments as possible. The journey leads everywhere and nowhere, en route to the nearest town to eat, explore and sleep, knowing the day ahead will be filled with scenic ventures and unique experiences, just like today, before getting back in the car toward civilization (or camp) for the night, to do it all over again tomorrow.
The great American road trip may look different to everyone, but the through line for all is the country's true soul, its heartland, and the need to be immersed in it — even if only for a few days at a time before seeking modern comforts. Whether one national park or dozens are on your list, it's the sole facet that unites nearly all noteworthy road trips.
Within a country founded on the concepts of freedom and equality, the fabric of Americana is woven with a diverse thread of cultures, customs, perspectives and lifestyles while representing one group of people, all living on the same patch of dirt. While our routes and destinations may vary, the sights and sounds we see along the way differ, and the twists and turns we make range drastically, the ground beneath us is all the same, and many of the roads even connect. It may not be something a Canadian-born physician who earned his medical degree in Vermont before driving from California to New York on a whim could have ever predicted, but honestly, what's more American than that?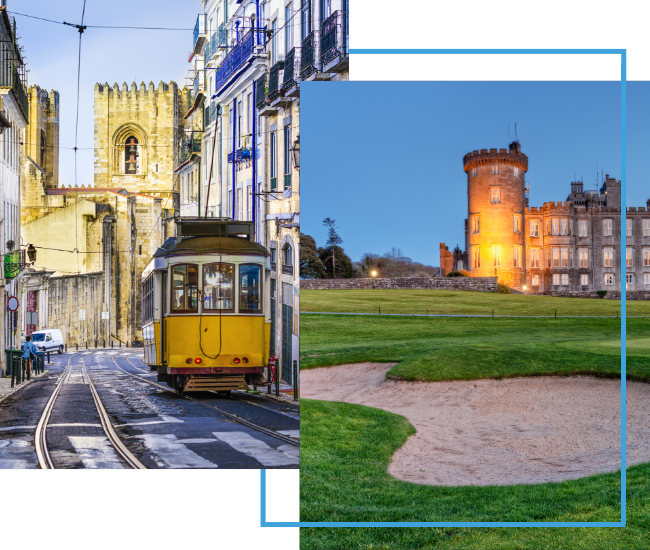 FX Excursions
FX Excursions offers the chance for once-in-a-lifetime experiences in destinations around the world.
Explore Excursions
More than 22 million visitors pour into Bangkok each year, adding to the roughly 11 million residents of the Thai capital famous for its bustling streets. Packed with food carts, markets and cultural spectacles, life in Bangkok is unusually defined by its vibrant street scene, both day and night. That means you don't necessarily need a solid plan when heading out on any given evening.
Sponsored Content
Embracing a life well lived often means embracing a life well-traveled. Every journey becomes a canvas for experiences that shape our lives and at the heart of every adventure lies the indispensable companion: quality luggage.
As first-time restaurateurs, but with plenty of hospitality-related experience, Ria and Kevol (Kev) Graham were not entirely comfortable opening their first restaurant in the Brooklyn neighborhood of Williamsburg, where several upscale restaurants and 5-star hotel dining is just a block away. And to make matters worse, they opened in July 2020, when New York City was in the middle of the COVID-19 pandemic.