The world of startup airlines is charting a prolific path. A spring 2021 report from England's IBA, a leading aviation data and advisory consultancy, stated that more than 130 startup airlines planned to launch by the end of 2022, many located in the Americas and Europe. That was on top of a spate of 2021 successful launches such as U.S.-based Avelo Airlines and Breeze Airways and Norway's Flyr, among others. IBA attributed some of the boom to the global grounding of aircraft during the pandemic, resulting in the availability of aircraft and crew.
"Flyr started up during the pandemic, when aircraft were available at an affordable price and at a time when it was easy to recruit the most competent people within the industry," said Anita Svanes, vice president of Communications, Public Affairs & Sustainability, Flyr.
Fast-forward to a spring 2022 report from IBA showing the location of startup airlines shifting to the Asia Pacific region, where 63 percent of startups planned to commence operations in 2022 and 2023, up a strong 34.7 percent compared to the previous year. The airlines range in locations, from Greater Bay Airlines in Hong Kong to Akasa Air in India.
GBA launched in July 2022 and currently operates flights to Bangkok (BKK) and Taipei (TPE), with an expansion of its network to Tokyo (NRT) slated to start in January 2023. Akasa Air, backed by a billionaire investor and former Jet Airways executives, features a fleet of more than 70 Boeing 737 MAX aircraft.
According to IBA, startup airlines in the Americas dropped from 23.4 percent of global startups in 2021's report to 7 percent in the 2022 analysis. Europe fell even more, dropping nearly 60 percent in its global share of start- ups. But indicators in the United States show a market for startup airlines, which often offer lower-cost fares than the main carriers.
A December 2022 report from A4A (Airlines for America), representing the country's commercial airline brands and advocating on behalf of its members, noted lower-cost U.S. carriers are serving more and more domestic markets as the competitive presence of low-cost and ultra-low-cost carriers continues to expand.
"Robust competition in the U.S. airline industry has generated unprecedented levels of affordability and accessibility, benefitting the customer at every level," said Marli Collier, manager, communications, A4A.
There have been many success stories, such as Breeze. Breeze Airways, scheduled to debut in 2020 but delayed a year due to the pandemic, was created by JetBlue founder David Neeleman, now Breeze's CEO.
"I think for us, we were just excited about launching a brand from scratch that people really loved," said Lukas Johnson, chief commercial officer, Breeze Airways, dubbed the Seriously Nice airline. "One of the key things we focused in on was the flexibility that people want when they travel. That's why you can change or cancel your flights within 15 minutes of departure for no charge, which is wildly popular."
Breeze also proclaims itself the first airline in the country to offer free family assigned seating. The airline services 35 cities with more than 100 routes, including non-stop flights from San Francisco (SFO) to Charleston (CHS); John Wayne Airport in California's Orange County to Cincinnati (CVG); and an upcoming service between Jacksonville, Florida ( JAX), and Raleigh -Durham, North Carolina (RDU), among other proposed routes.
Houston-based Avelo provides another startup success story. According to Travis Christ, head of marketing, Avelo Airlines, founder Andrew Levy, one of the cofounders of low-cost carrier Allegiant Air, came up with the concept pre-COVID, creating an airline that could serve smaller, underserved airports with low fares and full-sized jets.
"Creating a long-lived airline from scratch is extremely difficult," Christ said. "You've really got to have almost a magical business plan. And there are some examples of that — ValueJet which became AirTran, which was acquired by Southwest. They had the magic beans. JetBlue had the magic.
Allegiant has the magic beans. But there are so many that barely make it out of the hangar."
He posited Virgin America didn't survive because of its business model. "One of the kisses of death is low fares and having the best service and the best planes and luxury. You can't have it both ways," Christ said.
Recent startup Aha! Airlines was powered by ExpressJet, both of which filed for bankruptcy in August 2022. Aha! flew to about a dozen cities on the West Coast from its base in Reno, Nevada, while ExpressJet blamed a weakened demand for travel due to new COVID-19 variants and high costs, particularly for jet fuel. Christ said their model, flying smaller planes, was also faulty. "You just can't have low fares and only 50 seats. People are not paying enough to cover all your costs between pilots and planes and fuel and the whole thing."
Avelo launched at Burbank, California (BUR), a smaller and more convenient airport than Los Angeles International Airport. The airline services destinations that previously had high fares — places like Eureka, Santa Rosa, Sonoma and Redding — and now runs routes on the East Coast at airports such as New Haven, Connecticut (HVN), and West Palm Beach, Florida (PBI). Its market targets primarily friends and relatives.
"We were able to serve the small, convenient airports low fares they've never had before," Christ said. "Big jets, high quality, reliable service, we have our own maintenance. We contract with Delta tech ops for places where we don't have our own needs. And that formula is working really well across the country."
From Norway to Australia, the overseas startup airlines also meet a demand for local travel. Low-cost carrier Canada Jetlines launched in September 2022 with its inaugural flight from Toronto Pearson International Airport to Calgary International Airport. The new leisure-focused carrier utilizes a growing fleet of Airbus A320 aircraft, with a goal of 15 aircraft by 2025, and provides passengers with another choice to travel to destinations within the United States, the Caribbean and Mexico.
Bonza, founded by former Virgin Blue administrator Tim Jordan, is set to join the market as the latest addition to Australia's low-cost carriers. "Of our initial 17 destinations, all are in regional Australia with the exception of Melbourne, which will connect the city to new regions with very low fares for the first time."
Bonza focuses on stimulating new domestic tourism markets, with 93 percent of routes not currently served by any airline and 96 percent not currently served by a low-cost carrier, according to Jordan. "Our commitment to low-cost flights will allow more Aussies to travel domestically, making us an airline for the many, not the few."
Jordan said, "Recent research and industry data shows the demand is high for domestic tourism, with more Aussies wanting to explore their own backyard than pre-pandemic. In addition, regional centers across Australia have seen a significant growth in population, which speaks to Bonza's model of connecting communities and stimulating new tourism markets."
The airline, at press time, was still working with regulators to determine a starting date.
Norway's Flyr also targets the leisure market along with some corporate business, focusing on affordable tickets between Norwegian cities and popular European cities such as Paris, Rome, Brussels, Berlin and Barcelona, according to Svanes. "We are primarily targeting Norwegian cities and European destinations. As we get more into the business segments, we will target higher frequencies on the domestic market."
On the horizon is Northern Ireland's Fly Atlantic, which will launch a new low-cost trans-Atlantic airline based at Belfast International Airport, providing affordable direct flights to the United States and Canada as well as a range of new British and continental European destinations.
"We're launching in 2024, and circumstances may have changed a little by then, but at a time when recession is looming in a number of major economies, I think air travel will be dominated by a drive to find value for money, with many passengers looking to 'trade down' from full-service airlines to low-cost carriers. This will be particularly true of the North Atlantic," said Andrew Pyne, CEO, Fly Atlantic.
Fly Atlantic will promote tourism into Northern Ireland from North America and will redirect existing traffic between Europe and North America by offering a better value-for-money proposition, according to Pyne. The plan is to grow to 18 aircraft and 35 destinations by 2028 and carry about 4.5 million passengers a year. Those destinations will be split roughly 50/50 between Europe and North America.
As with many of the low-cost startup airlines, Pyne said Fly Atlantic is "targeting a segment of the market which is fed up with paying relatively high fares for often mediocre service in the post-pandemic air travel market."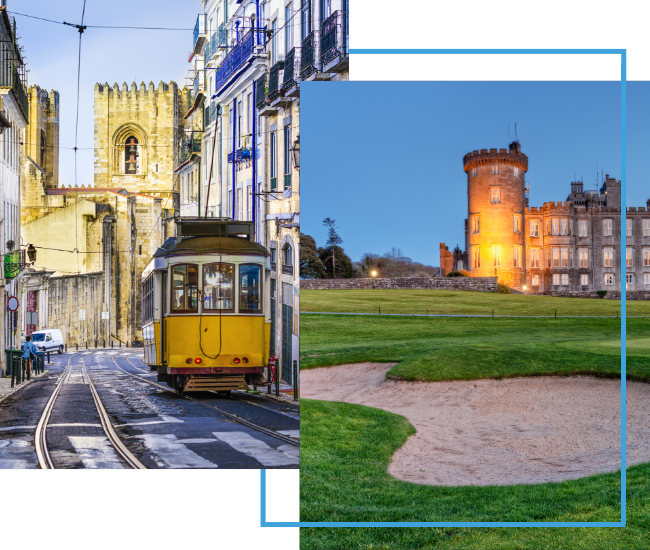 FX Excursions
FX Excursions offers the chance for once-in-a-lifetime experiences in destinations around the world.
Explore Excursions
A new and expanded campus at the Buffalo AKG Art Museum has been completed, reopening this summer and featuring new architecture designed by the architectural office of OMA New York, led by partner Shohei Shigematsu and project architects Lawrence Siu and Paxton Sheldahl, with Cooper Robertson (executive architect). The new expansion includes the Jeffrey E. Gundlach Building and extensive renovations to existing buildings. A $20-million commitment from New York State and Governor Kathy Hochul helped fulfill the expansion's budget and completes the $230 million capital campaign, the largest campaign for a cultural institution in the history of Western New York State.
Sponsored Content
Many small- and medium-sized businesses face time and budget constraints when organizing corporate hotel travel for employees. To address this problem, IHG® Business Edge emerged as a cost-free business travel solution for small- to medium-sized enterprises, offering travel managers exclusive access to enticing perks, handpicked educational resources and comprehensive company travel metrics. IHG Business Edge connects our loyal customers to our portfolio of 5,800 hotels and resorts across 18 brands in more than 100 countries.
Ever since opening in 2021, Nobu London Portman Square has served as the focal point for many gatherings, stays and experiences. This fall the hotel's Nobu Bar adds four more reasons to visit with an exciting array of offerings, menus and events.