THE BASICS
Name: Peter Sim
Title: CEO
Company, city: Air Premia; Seoul, South Korea
First job: I had a great experience working as a soldier with the U.S. Army, 1997–2000. After that, I started my career as a corporate lawyer.
Where to next: Air Premia is a startup, new-concept airline, so our first strategy is to survive and connect the world to Seoul. My future goal is to connect others with the world using our own resources. With our Empty Seat Foundation, we give back to our community by donating seats to underprivileged citizens who have the desire to travel around the world.
A LITTLE BIT MORE
What actor or actress would play you in a movie of your life? Ben Stiller; I am a huge comedy fan, and he is my hero.
What would you be doing professionally if you weren't in your current industry? Stand-up comedy writing
What is your favorite book, movie or television show? My favorite book is The Name of the Rose by Umberto Eco, and my favorite movies are Tropic Thunder and Austin Powers.
What historical figure, dead or alive, would you love to have dinner with? Mark Twain, the greatest innovative thinker, and George Westinghouse, who ensured his deeds alone would outlast him
THE BUSINESS
What is your most recent project and what was the inspiration behind it? My chief adviser, Ms. Yoon, sums it up best in three words: Connect, Comfort, Create. Air Premia serves customers full WiFi capabilities while flying over the Pacific, offers the world's best seats — 35-inch economy and 42-inch premium economy — and creates the first hybrid carrier in the trans-Pacific travel market. We got through the airline licensing process with the Korean government. It was a long and difficult process, but we are excited to share with our investors and customers that we are ready for the future.
What is your favorite aspect of the job? Bringing good things to life.
What is the biggest business risk you have ever taken? I risked all my fortune on Air Premia, not having a single dime left.
Who is someone you admire professionally in the travel industry? Steven Udvar-Házy, chairman of Air Lease Corp., is someone I truly ad- mire. He was the first to give Air Premia a chance to share our dream by leasing us our first three Boeing 787-9 Dreamliners, allowing us to take passengers from Seoul to the United States and later into Europe. Steve also has a great passion for giving back, as I do, and gave a $66 million grant to the Smithsonian National Air and Space Museum.
AS A TRAVELER
Tell us about a travel nightmare: "Pick whatever medicine you like," a flight attendant said in 2016 when I was in severe pain. I was traveling through Shanghai for business and became sick. I almost coughed up blood. I asked flight attendants for any medicine they could provide, and I had to pick the one I thought might help the symptom subside. It was a rough flight, but I made it home.
Share a comical travel experience: Anytime I travel with my two kids! I try to seize every moment when traveling with them. But the most comical experience was my trip to Cambodia when I was 30. I had not flown before, starting air travel relatively late in life. After I got off the plane, to get to the small town in Cambodia I had to travel on a tiny boat down the Mekong River during a monsoon for four hours. It was an exciting and excruciating experience.
What is your preferred method of travel — planes, trains, automobiles, cruise ships — and why? Airplanes — time is so valuable.
What has been the best example of customer service you've experienced during your travels? I've been there, done that, but haven't had service that can be described as the best example. As an operator and a customer, I look forward to experiencing it and sharing it in the near future.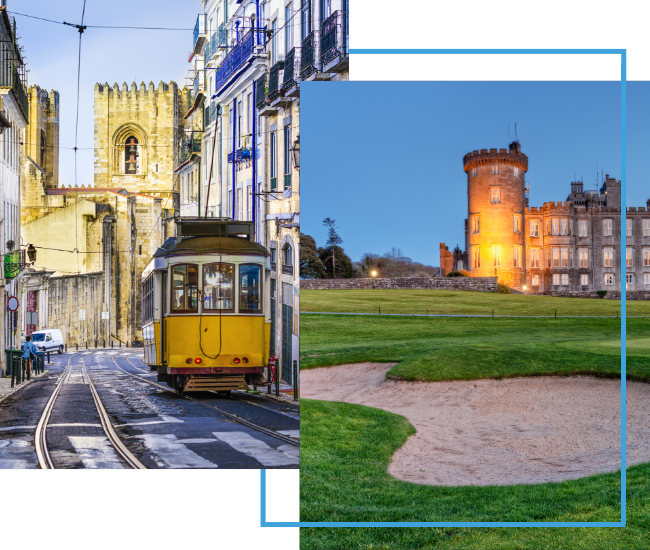 FX Excursions
FX Excursions offers the chance for once-in-a-lifetime experiences in destinations around the world.
Explore Excursions
Corsica with steep, gray cliffs overlooking the Mediterranean and sandy beaches attracting summer visitors, is a French-governed island sometimes confused with Sardinia and Sicily, Italian islands to the south. Fortunately, all three islands share the same love for good wine, food and sun-splashed beaches.
Sponsored Content
The Islands of Tahiti offer a range of captivating activities for travelers with diverse interests, from hiking to breathtaking waterfalls, riding horses on secluded beaches; swimming with sharks; or immersing in Polynesian culture through traditional dance, music and art. For watersports enthusiasts, the crystal-clear lagoons offer exhilarating experiences like surfing, kiteboarding and paddleboarding. And if you're looking to relax, the pristine beaches, overwater bungalows and tropical sun offer the perfect setting. With 118 islands and atolls to explore, island hopping is an excellent way to experience the full diversity of The Islands of Tahiti. With its blend of adventure, culture and relaxation, The Islands of Tahiti offer a truly unique travel experience.
If you're ready to do a little holiday catch-up with your besties, make a beeline for Conrad New York Downtown. The lobby metamorphosed into a holiday forest of heavenly scented, decorated Virginia Spruce trees. Make your first stop ATRIO Barista Station in the lobby for a complimentary hot spiced apple cider (until Dec. 3) or hot chocolate (Dec. 22­–24).