FOR ALL ITS COSMOPOLITAN TRAPPINGS, Singapore remains, at heart, a tropical island. The city planners determinedly preserved greenery amid the high groves of concrete and glass, and for a complete escape from urban bustle there still remain patches of the jungle and mangroves that covered the island when Sir Stamford Raffles first established a trading outpost here in 1819.
His outpost became the city we see today. Can nature truly survive in one of the most densely populated countries on Earth? It must. Singapore's health and well-being depend on it. The country has acknowledged that truth for decades and has made efforts to preserve habitats.
Sungei Buloh Wetland Reserve, on the island's northern coast, is one of the most important of these natural remnants. Protecting an area of 320 acres, it offers a vital stopover for migratory birds and a home for otters, snakes and even saltwater crocodiles.
The largest remaining patch of jungle lies in the center of the island, enfolding the city's main reservoirs and for decades the location of Singapore Zoo and its Night Safari, now part of an ambitious project to create a unified natural attraction, Mandai Park. In 2019 a forested wildlife bridge was constructed to connect patches of rainforest previously separated by a highway. Other elements of the Mandai project will include a new bird park, a rainforest park and aerial walkways. After completion in 2023, this new eco-tourism hub is expected to attract 10 million visitors each year.
Occupying an island half the size of greater Los Angeles, Singapore has always known environmental issues can't be sidelined, they must be faced. Sustainability remains at the fore of every planning decision, resulting in a city ranked as the most sustainable in Asia and the fourth- most sustainable in the world.
Last year Singapore introduced a carbon tax with the aim of reducing carbon emissions and improving energy efficiency. All companies that produce more than 25,000 tons of greenhouse gases now pay a tax of $5 per ton, with the revenue invested in green projects. Initially the tax will raise electricity prices for all Singaporeans, though improved energy usage will offset the rise.
One seemingly unavoidable consequence of inhabiting a small island is Singapore must import more than 90 percent of its food. The carbon footprint of importing produce from neighboring Malaysia and beyond is significant. But in typical Singapore style, innovative solutions will tackle that issue.
Urban farming is one of the country's fastest-growing sectors. Some of these farms utilize slivers of land or even rooftops, while others employ high-tech methods to grow produce indoors on an industrial scale. Sustenir Agriculture, one of the pioneers of this new industry, grows kale and strawberries in a climate-controlled, multifloor building.
Back in the 19th century, Sir Stamford Raffles identified Singapore as perfectly situated to be a major international trading hub, and so it has proved. But how to be a linchpin of international transport routes and also be sustainable? That's a challenge Singapore currently addresses.
On the southwestern corner of the island, work is underway on the $20 billion Tuas Mega Port, opening in phases between 2021 and 2040. Fully automated, the port will be as energy-efficient as possible. According to Singapore Prime Minister Lee Hsien Loong, the ultimate aim is nothing less than to "rethink the future of shipping."
Singapore proves one of the few places that fulfill the science fiction vision of the 21st century many of us had in childhood. The 160-foot manmade supertrees in the downtown Gardens by the Bay are indicative of that. At night especially, spectacularly illuminated with colorful, solar-powered, LED lights, the trees immerse visitors in an otherworldly scene straight out of Star Trek.
Some of the country's other innovations, though more prosaic, are equally cutting-edge. With living space at a premium, Singapore recently unveiled an Underground Master Plan. Initially it will develop a new network of common services tunnels, efficiently channeling water and waste as well as power and communication cables beneath the streets. In the longer term, the city will relocate more of the road and rail infrastructure underground, using natural caverns as storage facilities and even as reservoirs.
Meanwhile, services utilize the air above the city. Singapore Skyways, a project owned by Airbus, already employs automated drones as a parcel delivery system. The drones currently shuttle items between shore and some of the many ships anchored off Singapore. Ultimately they'll be used for deliveries in and around the city and even as passenger taxis. The future starts in Singapore.
CHECKING IN WITH RUSSELL BOYMAN
Commercial director, Omnicom Media Group
How long have you been in Singapore, and what brought you here?
I moved here 2.5 years ago from Shanghai, having been offered a regional position here by a rival American-owned marketing services company.
What opportunities does Singapore offer American investors?
Aside from the well-documented benefits — low taxation, entrepreneurial culture, great infrastructure, multiple sectors, advanced digital ecosystems — it offers American investors the perfect opportunity to do business in English (or close to it!), secure in the knowledge the government is stable and corruption-minimal. There is also a massive geographical benefit from having the best hub airport in the world at Changi, allowing easy access to the rest of Asia.
What significant cultural differences should American business visitors be aware of?
Singapore is good at adapting to the needs of its customers and being all things to all people. Americans will not find huge differences. Essentially, however, the Singapore business acumen largely derives from its Chinese population, so it is a nation of deal makers who will sacrifice their work/ life balance to get the right deal; they are experienced at commerce and trade, perhaps more so than many foreigners coming here. Tipping is frowned upon, and courtesy in business is important. Foreigners have to embrace a world view from the first and forget what they think they know from their home market. In Singapore, even more so than in the rest of Asia, the mobile device is the most important tool for both business and personal success; be prepared to be amazed at how much you will depend on a local cell phone and its universal high-speed digital connectivity to survive in Singapore.
What are the key future developments to look out for?
Singapore continues to welcome foreign investment and foreign businesspeople, especially as the banking sector retrenched in the last 10 years. However, increasingly I feel it looks toward Asia more than its former partners in the West — especially given its nervousness over China's Belt and Road Initiative which may erode Singapore's power in the region. American businesses should always remember Singapore may look like the West, but in many ways [it] behaves increasingly like the rest of Asia and focuses on China and India rather than the United States or Europe.
Which local attractions do you recommend?
Singaporeans live to eat and shop, and so working here is a challenge to the waistline and the wallet, for sure. It would be hard to spend even a weekend here and not take in Marina Bay or the wonderful Gardens by the Bay complex, or the impressive new Jewel at Changi. However, Singapore still harbors a lot of green space, so my preference would be the Botanic Gardens or the nature reserve at Kranji Marshes for up-close and personal local wildlife encounters.
DIVERSIONS
Millions of people have been to Singapore without having been to Singapore. How is that possible? The answer lies at Changi Airport, 12 miles east of downtown. Day and night, airliners arrive and depart from an airport consistently voted the best in the world. Singapore Changi Airport exists as a destination in its own right.
In 2019 the airport unveiled Jewel, a $1.3 billion "Lifestyle Hub" featuring an indoor rainforest, a seven-story circular waterfall descending from a funnel in the glass roof, a glass-floored walkway, mazes and a children's playground. Transit passengers (after passing through security) mingle with day-tripping Singaporeans for whom the site has become a popular recreation spot.
Airports are not renowned for environmental credentials, but Singapore Changi employs numerous initiatives to help mitigate its impact. The design uses natural light productively to reduce electricity consumption, many outdoor surfaces incorporate recycled concrete, and the facility converts its food waste into water. As air transport becomes increasingly controversial, Singapore likely will lead the way in looking for solutions.
In downtown Singapore, a lack of space long presented one of the most pressing problems. In 1992 the completion of an ambitious land reclamation scheme gave the city a new 890-acre district, Marina Bay. One of the first developments there, the Marina Bay Sands Hotel, with three towers bridged by outdoor observation decks, already touts its status as one of the 21st century's iconic buildings.
Close by, the 18 supertrees in the Gardens by the Bay contribute another fixture of Singapore's futuristic skyline. In December 2019 an observatory opened in the largest of the supertrees, providing visitors with stunning views from 165 feet up.
For all its modernity, Singapore hasn't forgotten its origins. The Colonial District, centered on the Padang, a grassy sports field, still preserves a number of red- roofed, white-columned buildings from the British colonial period. Nearby, beside the Singapore River with the skyscrapers of the Central Business District for a backdrop, stands the statue of Sir Stamford Raffles, the man who arrived on this mosquito-infested tropical island and imagined a city.
COMING AND GOING
All U.S. citizens require a passport valid for at least six months beyond the last day of intended stay. No visa is required for stays of less than 90 days. Regular visitors (more than three past visits within a year) can apply for the Singapore-United States Trusted Traveler Program to accelerate clearance through immigration.
LODGING
RAFFLES HOTEL
The epitome of colonial style since 1887, Singapore's most famous hotel reopened in 2019 after a two-year renovation. The upgrade retains the unique Raffles ambience.
1 Beach Road
$$$$
SIX SENSES DUXTON
In this sympathetic conversion, renowned designer Anouska Hempel transformed a row of old trading houses into a stylish, carbon- neutral hotel.
83 Duxton Road
$$$$
THE WAREHOUSE HOTEL
A 19th-century riverside spice warehouse (godown in local parlance) reinvented as a chic, 37-room hotel offers an inspired blend of industrial heritage and modern Singaporean design.
320 Havelock Road
$$$$
DINING
You'll find many places in Singapore where you can try laksa, a spicy noodle soup, but this no-frills eatery is widely regarded as the best.
51 E. Coast Road
$$
FOLKLORE
This modest but popular restaurant tells the story of Singapore's multiethnic heritage through food. The menu offers a mix of Chinese, Malay, Indian and European influences.
Destination Hotel, 700 Beach Road
$$$
ZÉN
A special-occasion restaurant overseen by Björn Frantzén, Sweden's first 3-Michelin-starred chef, serves spectacular food … but at a price: about $350 per person for the set menu.
41 Bukit Pasoh Road
$$$$
INFO TO GO
International flights arrive at Singapore Changi Airport, located approximately 11 miles northeast of downtown. Mass Rapid Transit, the city's highly efficient metro system, offers the least expensive transport to the city. Purchase single- or multi-ride tickets at the station. Taxi fares to downtown range $20–30.
JUST THE FACTS
Time zone: GMT +8
Phone code: 65
Currency: Singapore dollar
Key Industries: Banking, financial services, biotechnology, petrochemicals, construction, tourism
OFFICIAL LANGUAGE
English, Malay, Tamil and Mandarin. English is the main language of education, administration and business.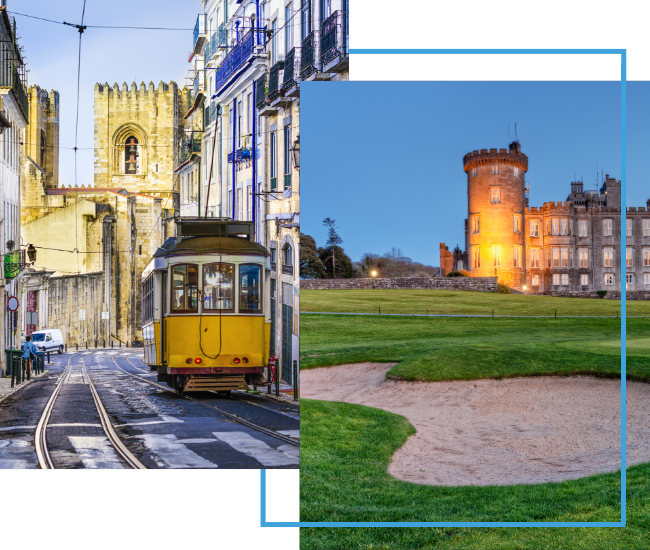 FX Excursions
FX Excursions offers the chance for once-in-a-lifetime experiences in destinations around the world.
Explore Excursions
If fabulous food and beverages are a must-have for any weekend getaway, then look no further than the City of Brotherly Love. Whether your palate has a penchant for vibrant Latin American fare or cozy French cuisine, whether you're an oenophile looking to swirl, sniff and sip your way around the globe or you'd rather sample farm-to-glass cocktails, Philly's got it all this fall. (With the exception of Bolo, which is a short taxi or Uber ride away and definitely worth the trip, the rest of these spots are all within walking distance of each other.)
Sponsored Content
Exclusive Sailing with Global Traveler
From Santoríni to Dubai to New York, some hotels just have that "it" factor that draws visitors far and wide. For some hotels it's their proximity to popular landmarks and attractions, for others it's their amenities. But these hotels have something few can claim: a true room with a view.