For the sixth consecutive year, Global Traveler congratulates the innovative leaders in the travel industry whose efficient operations, distinct amenities, superior service and outstanding hospitality set them apart from the competition with the Airline of the Year and Hotel of the Year awards. The 2016 winners of these prestigious awards are China Airlines, Airline of the Year, and Meliá Hotels International, Hotel of the Year.
A select panel of Global Traveler employees and Advisory Board members chose the winners based on experience and independent research on financial data, occupancy rates, load factors, on-time figures, safety records, brand image and menus. Once an airline or hotel is selected, it is ineligible to participate for three years.
With great pleasure we introduce the 2016 Airline and Hotel of the Year winners.
China Airlines | Airline of the Year 2016
IN KEEPING WITH the company motto, "Spread your wings, explore the world," China Airlines makes it easy to do just that with its commitment to constant innovation in airline technology, safety, convenience, comfort and entertainment. For these reasons China Airlines is our 2016 Airline of the Year.
The company boasts a fleet of 96 aircraft, including 75 passenger jets, which spread their wings to 143 destinations in 29 countries and districts. Since its founding in 1959, the airline has continually gone above and beyond airline industry standards, offering high-quality travel services from booking to in-flight experiences and everything in between.
After the launch of the NextGen program in 2014 in partnership with a world-class design team led by chief designer Ray Chen, China Airlines introduced redesigned cabin interiors, new in-flight amenities, classical tableware and striking new uniforms, all in keeping with core company values: "Cultural Creativity, Technology, Environmental Protection, Passion and Trust."
From the moment travelers step on board a China Airlines flight, they are welcomed with the finest hospitality in each of the airline's flight classes. Premium Business Class offers a unique Song Dynasty aesthetic with serene colors and lighting as well as the latest technologies, perfectly fusing traditional Chinese culture and modernizations in air travel. Guests in Premium Business Class enjoy enclosed seats for privacy and comfort, a large working table and an 18-inch HD monitor, along with access to luxurious amenity kits and the signature Sky Lounge, offering a blend of Western and Eastern food and beverages such as Taiwanese mountain teas and artisanal coffee. China Airlines also partners with Eslite Bookstore to provide Sky Lounge visitors with new reading materials every month, allowing travelers to pass the time on flights and learn more about Taiwanese culture.
For travelers flying business class, lie-flat seats allow for maximum personal space and the opportunity for a comfortable, restful flight. China Airlines also offers a dedicated premium-economy cabin complete with 39-inch industry-leading seat pitch, a 12-inch HD monitor and personal storage for each seat. The airline's economy class also exceeds industry standards with the inclusion of family couches on select routes, featuring designed leg rests that can lift for a flat bed and AVOD high-end entertainment systems, all providing an exceptional experience and comfort.
Enjoy China Airlines' unprecedented offerings before entering the aircraft. Luxurious airport lounges are located in Honolulu (HNL), San Francisco (SFO), Guam (GUM), New York (JFK), Los Angeles (LAX) and Vancouver (YVR). Standard lounges feature business facilities, food and beverage bars, phone access, numerous entertainment options, constant flight status updates, showers and full-coverage WiFi. The Dynasty Supreme Lounge, located within China Airlines' flagship lounge in Taiwan Taoyuan International Airport, exclusively serves Emerald and Paragon cardholders of the airline's Dynasty Flyer frequent-flyer program. Located in Terminal 2, the lounge offers premium amenities, comforts and conveniences.
The modern age of air travel requires devotion to meeting standards of environmental sustainability, to which China Airlines makes significant contributions. The airline has participated since 2012 in the Pacific Greenhouse Gases Measurement Project, led by the EPA, the Ministry of Science and Technology and National Central University. As part of its participation, China Airlines equips select carriers with the "In-service Aircraft for a Global Observing System" to monitor and report climate changes, and it was the first to take atmospheric measurements on trans-Pacific routes.
China Airlines offers rewards in four tiers of Dynasty membership, all allowing travelers the opportunity to enjoy convenient reservations, mileage earnings and rewards, additional miles and cash discounts, plus numerous additional benefits for higher-tier members. Along with Dynasty member benefits, China Airlines also partners with SkyTeam to offer SkyPriority VIP services around the world, including priority services from check-in and baggage check to safety inspection services and boarding and baggage claim.
China Airlines checks off all of the boxes for what makes a superior airline, from ease of booking and airport navigation to passenger comfort and convenience, making it the clear choice for our 2016 Airline of the Year. Congratulations, China Airlines.
Airline of the Year 2016
China Airlines
Aer Lingus
Alitalia
Meliá Hotels International | Hotel of the Year 2016
TRAVELERS GO TO HOTELS WITH certain levels of expectation when it comes to comfort, service, convenience and experience. In keeping with its mantra, "Everything Is Possible," Meliá Hotels International consistently exceeds traveler expectations in every category, making it the clear choice for our 2016 Hotel of the Year award.
Since its founding in 1956 in Palma de Mallorca, Spain, the company has evolved into one of the largest hotel companies in the world, due in large part to its dedication to transcending luxury hotel standards, sustainability and corporate responsibility. Meliá International operates under a strong code of ethics and values as demonstrated in its involvement with environmental and human rights organizations and initiatives such as UNICEF, Global Compact and FTSE4Good. With more than 42,000 employees representing 142 nationalities, Meliá International follows a strong cultural and leadership model refined over 60 years of business. In a 2014 internal survey Meliá International boasted an exceptional 91 percent rating of employees who expressed pride in working for the company.
The hotel collection, with more than 370 hotels in 43 countries, focuses on providing unmatched guest experiences, constant innovation according to the latest industry trends and a distinguished level of luxury and convenience under its seven distinct brands. Each brand in the Meliá International portfolio offers something unique, while all share a commitment to exceptional standards of guest service and experience for business and leisure travelers alike.
Gran Meliá, the company's traditional luxury brand, offers exclusive hotels that set new standards in luxury in Madrid, with Red Glove service, unique architecture and signature restaurants. Lifestyle brand ME by Meliá features an avant-garde style combining contemporary design, art, fashion and cuisine for the modern traveler. Paradisus properties, situated in the world's most beautiful natural environments, offer all-inclusive luxury experiences with Royal Service butlers, family concierge services and signature culinary establishments. Meliá is the company's most well-known and -loved brand for the most seasoned travelers, with amenities and features unmatched by competitors. Born in Germany, INNSIDE by Meliá focuses on the modern business traveler with an emphasis on innovation, design and intelligent technology. Known as the "Holiday Makers," Sol Hotels & Resorts create memorable beach holidays for the families they serve. TRYP, property of the Wyndham Hotel Group, is Meliá's reliable brand for business and leisure travel, operating more than 90 hotels in the most cosmopolitan cities in the world and offering comfortable rooms, a 24/7 fitness area, free WiFi, a signature breakfast buffet and a knowledgeable team of experts to help guests make the most of their stay in every city they visit.
With top destinations in Playa del Carmen, Punta Cana, New York, Miami, Jamaica, Cancún, Nassau and beyond, Meliá International offers the finest hotel service for the most discerning travelers around the globe. Whether guests stay for business or pleasure, the company caters to each individual's needs with a variety of programs and membership opportunities.
The Business Program offers features including international discounts, free internet connections, customer loyalty perks and seamless meeting and events coordination. The company's exclusive vacation club, Club Meliá, sells memberships for intervals of 50 years and currently boasts more than 36,000 members across the best resorts in the Gran Meliá, Paradisus and Meliá brands. With more than 4.8 million members, MeliáRewards is committed to frequent-customer loyalty. The reward program's slogan, "Collect Emotion," demonstrates the company's mission to create a more emotional bond with guests so each traveler has a memorable personal experience during every stay at a Meliá hotel.
With business travel among Meliá's top priorities, the hotel company provides a specialized team of professionals dedicated to MICE. Each brand offers its own specialized service, such as the Red Glove meetings at Gran Meliá, EcoTouch at Meliá and Be Successful at TRYP by Wyndham hotels. Along with an extensive portfolio of business travel resources, Meliá International proudly provides all of the luxury guest experience amenities offered to its leisure travelers for a perfect bleisure experience with each visit.
Travel is all about the experience, and Meliá International fervently develops innovative entertainment programs, lifestyle concepts and leisure amenities in each of its hotel brands. Balance by Meliá promotes a healthy lifestyle for those staying with Meliá Hotels & Resorts, and the YHI Spa offers premier relaxation and wellness services for visitors in select Paradisus and Meliá Hotels & Resorts. Guests throughout the Meliá International collection of hotels and resorts enjoy a range of renowned restaurants, many featuring world-class chefs and novel culinary techniques, such as La Albufera, The Place or El Burladero, as well as trendy bars and lounges such as STK Radio Bar in select ME by Meliá hotels.
Guest comfort in Meliá's impressive collection of more than 99,000 rooms is a top priority for the hotel group, which is why each of its brands offers its own uniquely designed guest stay experience. As the name implies, Gran Meliá exudes luxury, from plush furniture and opulent décor to its personal butler services. In ME by Meliá hotels, guests enjoy whole new levels of personalization, from music and lighting to state-of-the-art entertainment and private, in-room check-in and check-out services. At Paradisus resorts, guests receive a regal treatment with Royal Service butlers, aromatic pillows and in-room Jacuzzis. Meliá Hotels & Resorts offer a functional and contemporary space, complete with DreaMax beds by Flex and open-plan glass bathrooms. Creative themed rooms under the Sol brand promise an extraordinary experience with each visit, from Sol Beach House to Sol Katmandu Park & Resort. Visit a TRYP by Wyndham hotel for distinctive concepts such as personal fitness rooms and family rooms equipped with bunk beds and baby kits.
Meliá International has numerous projects on the horizon, continuing its focus on international expansion. These include the opening in Brazil of the new TRYP Barra Pernambuco and the Gran Meliá Rio de Janeiro. In Europe, the Meliá Lisbon will be the first 5-star Meliá hotel in Portugal. In Africa, the hotel signed the Meliá Serengeti in Tanzania and Meliá Salamansa in Caso Verde. 2018 will see the opening of Meliá Ho Tram in Vietnam, and debuts in the Middle East include Meliá Almaty in Kazakhstan, INNSIDE Doha in Qatar and Gran Meliá Maldives.
Meliá Hotels International develops hotels and resorts that perfectly combine convenience, luxury, innovation and traditional high-quality service. We proudly offer the 2016 Hotel of the Year award to a collection of hotels changing the game and constantly raising the standards of employee and corporate responsibility, hotel guest experience and luxury. Congratulations from all of us at Global Traveler.
Hotel of the Year 2016
Meliá Hotels International
Sheraton Latin America
InterContinental Hotels & Resorts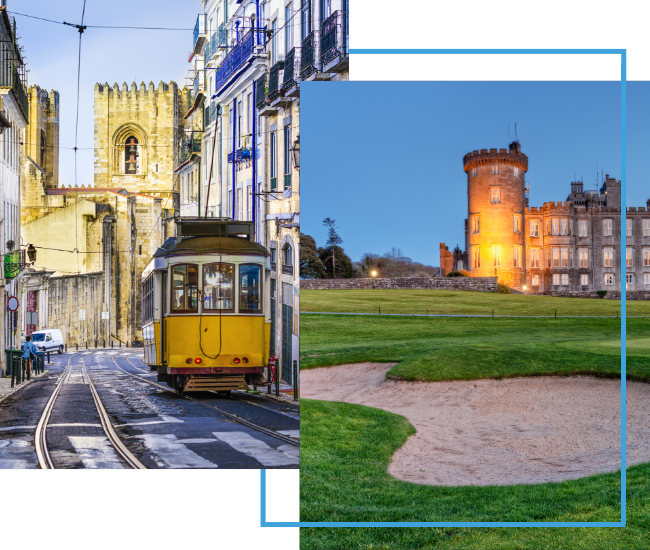 FX Excursions
FX Excursions offers the chance for once-in-a-lifetime experiences in destinations around the world.
Explore Excursions
A new and expanded campus at the Buffalo AKG Art Museum has been completed, reopening this summer and featuring new architecture designed by the architectural office of OMA New York, led by partner Shohei Shigematsu and project architects Lawrence Siu and Paxton Sheldahl, with Cooper Robertson (executive architect). The new expansion includes the Jeffrey E. Gundlach Building and extensive renovations to existing buildings. A $20-million commitment from New York State and Governor Kathy Hochul helped fulfill the expansion's budget and completes the $230 million capital campaign, the largest campaign for a cultural institution in the history of Western New York State.
Sponsored Content
United Airlines is in the midst of a major initiative to modernize its fleet over the next several years. After first announcing the plan in 2021, planes fitted with United's signature interior are finally beginning to appear across the airline's narrowbody fleet of Boeing and Airbus planes. United flyers are sure to notice these enhancements from the moment they step on board: Each new or updated plane sports remodeled seats, seatback entertainment screens for everyone, Bluetooth connectivity and more, all adding up to a better experience on every journey.
Ever since opening in 2021, Nobu London Portman Square has served as the focal point for many gatherings, stays and experiences. This fall the hotel's Nobu Bar adds four more reasons to visit with an exciting array of offerings, menus and events.