QUIET CONNECTICUT. The Land of Steady Habits. Not sobriquets you'd expect to define the home state of an emerging technology hub tucked between New York and Boston. In fact, Hartford — deeply engaged in the digitized economy — ranks as the fourth-best city for tech jobs in the country, according to the Brookings Institution. A big accomplishment for a mid-sized city.
The state and its capital boast a long history of ideas and inventions — from the Colt revolver to a Revolutionary War submarine to the Frisbee. The first insurance company opened here in 1810, setting Hartford on its path as the Insurance Capital of the World. Defining cultural figures such as Mark Twain, Harriet Beecher Stowe, J.P. Morgan and Katharine Hepburn called Hartford home.
As insurance, finance and health care drive the digital economy, this region proves a great place for people with technology skills to work, live and play. The commitment of CVS to keep its new acquisition, health insurer Aetna, in the city helps Hartford retain jobs and its status as insurance capital. And as technology transforms the insurance sector, the city looks to innovate within its legacy industries. Last year the National League of Cities and Schmidt Futures named Hartford "the country's premier destination for insurance technology," as part of the new City Innovations Ecosystem initiative.
Last December, India-based Infosys, a global leader in technology and next-generation services, opened its $21 million Technology and Innovation Hub in Hartford's recently refurbished Goodwin Square building, one of the company's six new regional U.S. hubs. It will hire 1,000 workers here by 2022 and focus on insurance, health care and manufacturing clients. The new InsureTech Hub startup accelerator will transform the insurance industry with new technology to improve the customer experience and simplify policy management.
In the manufacturing sector, Stanley Black & Decker's Advanced Manufacturing Center of Excellence, "Manufactory 4.0," leads the company's worldwide automation efforts with the internet of things, cloud computing, artificial intelligence, 3D printing, robotics and advanced materials, with the goal of bringing startups to Hartford. This May, the first-ever International Space Trade Summit in Hartford will give Connecticut's aerospace components manufacturers — including United Technologies Corp.'s Collins Aerospace — the opportunity to partner with global companies and stake a claim in the space sector.
Skilled talent is critical for employers, especially with rapid changes in technology. The state recently earmarked $2.5 million to open two technology training schools, one in Hartford, to provide hundreds of job seekers with skills in data analytics and code writing. Infosys partnered with the city's Trinity College to create educational programs that prepare liberal arts students and employees for the digital workplace of the future.
As Connecticut strives to attract and keep professional, creative millennials, Metro Hartford makes strides in the lifestyle assets that appeal to this demographic. These include the successful Lime bike-sharing program and a Complete Streets initiative, as well as the return of commuter rail with the opening of the Hartford Rail Line connecting to New Haven and Springfield. Professional sports get a boost with the arrival of the Hartford Yard Goats Double-A MLB team and the Hartford Athletic United Soccer League team. Visitors and residents enjoy a growing arts, craft brewery and restaurant scene as well as new neighborhood parks and communities in this vibrant, walkable city.
Facing bankruptcy before a controversial state bail-out kicked in, Hartford now works to change from a 9-to-5 city, attracting people to live downtown and encouraging daily commuters to stay to enjoy its offerings. Look for the June opening of Parkville Market, a vibrant food hall reminiscent of Manhattan's Chelsea Market, boasting more than 50 curated, owner-operated shops in the emerging arts enclave of Parkville.
Over the past 18 months, a dynamic entrepreneurial movement also emerged, with organizations providing support and space for innovators to connect and collaborate. Innovation Destination, TechStars and Upward Hartford all launched operations to empower entrepreneurs, and Makerspace CT will open soon.
Don't look to the skyline for dramatic changes. Rather than erecting new structures, developers focus on renovating historic factories and office towers into apartments. Since 2015 the downtown added 885 rentals receiving funding from The Capital Region Development Authority, with occupancy averaging 95 percent. Another 551 units are in progress, with 110 more on the drawing board.
Business visitors find Hartford a compact, convenient city. Bradley International Airport, 16 miles from downtown, boasts convenient parking, plentiful charging stations, free WiFi, restaurants and a relaxed atmosphere. All of these and direct Aer Lingus flights to Dublin make it an attractive alternative to New York and Boston gateways.
The 540,000-square-foot Connecticut Convention Center — the largest between New York and Boston — hosts trade shows, conventions and business events in a dramatic riverside setting.
The exciting news on the hotel scene is the reopening of the landmark Goodwin Hotel with a renewed cosmopolitan vibe in the heart of downtown. Maintaining its historic architectural details, The Goodwin excels at modern luxury in its guestrooms, duplexes and suites; J.P. Morgan called it home on his stays in Hartford. At its Restaurant Porrón, Chef Tyler Anderson goes all in with Spanish-inspired meals.
In a state that once hummed at the center of historic industrial revolutions, Hartford looks to transform with a new wave of technology companies and entrepreneurs, living up to the state's tourism motto: "Connecticut: Still Revolutionary."
SCENIC DRIVES
Connecticut's name derives from the Algonquian Quinnehtukqut, meaning "beside the long tidal river." The 410-mile Connecticut River flows from the Canadian border, passing through Hartford on its way to Long Island Sound. A charming ride takes you across the river on the Hadlyme-Chester Ferry, in operation since 1769, to Gillette Castle State Park. William Gillette, Hartford native and an actor renowned for his stage portrayal of Sherlock Holmes, built the 24-room castle in 1914 on his 184-acre estate that offers woodland hiking trails. Head south on I-91 to Exit 22S to merge onto CT-9S toward Middletown/Old Saybrook. Take Exit 7 for CT-82E; follow to CT 431 to CT-148W and follow the signs for the ferry. The ferry operates April 1–Nov. 30.
Enjoy a day in the coastal village of Mystic, about an hour's drive, where you can stroll among shops and restaurants and savor some of the best seafood in New England. Mystic Aquarium's indoor and outdoor exhibits feature rescued seals, beluga whales and endangered African penguins. Mystic Seaport Museum recreates a 19th-century seaport village with a collection of whaling ships and period crafts. Take I-91S to Exit 22S to merge onto CT-9S, from which you can pick up I-95N in Old Saybrook. Take Exit 90 and continue on Frontage Road to the aquarium, or turn right on Route 27 S to reach the seaport.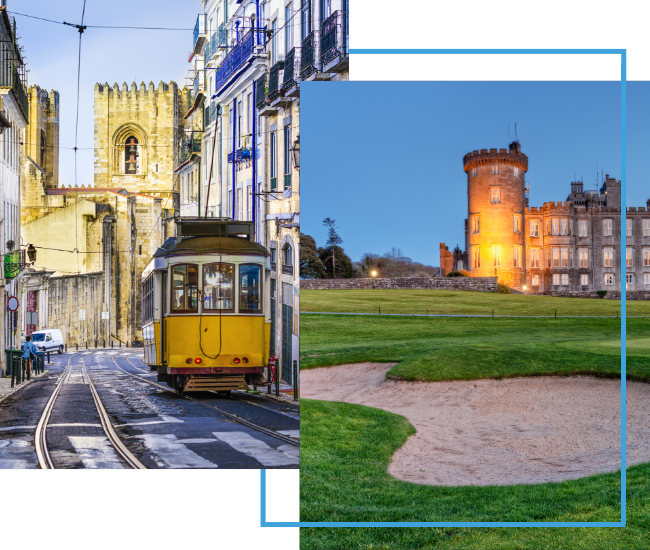 FX Excursions
FX Excursions offers the chance for once-in-a-lifetime experiences in destinations around the world.
Explore Excursions
Red Savannah launched a new series called In the Footsteps of…, which debuts itineraries of well-known figures, the first being Coco Chanel. As Chanel No. 5 celebrates its 102nd anniversary this year, the travel company invites fashion lovers, history enthusiasts and admirers of Coco Chanel to experience the new itinerary, In the Footsteps of Coco Chanel. The experience allows travelers to step into the remarkable life of one of most iconic figures in the fashion world.
Sponsored Content
Many small- and medium-sized businesses face time and budget constraints when organizing corporate hotel travel for employees. To address this problem, IHG® Business Edge emerged as a cost-free business travel solution for small- to medium-sized enterprises, offering travel managers exclusive access to enticing perks, handpicked educational resources and comprehensive company travel metrics. IHG Business Edge connects our loyal customers to our portfolio of 5,800 hotels and resorts across 18 brands in more than 100 countries.
Mazatlán, Mexico, has long been an attractive home destination for Canadian and American retirees, but, in recent years, young, digital nomads have also discovered the charms of this coastal city, finding inexpensive accommodations, beautiful weather and plenty of bandwidth for working remotely. The laid-back beach scene definitely eases the transition of relocating to Mexico's West Coast.