October might be the month of choice for spooky digs, but if you're up for a site combining history and beauty with a few thousand spine-tingling details, add Chapel of the Bones (Capela dos Ossos) to your travel list. Located in Evora, southeast of Lisbon in Portugal's Alentejo region, Chapel of the Bones is a tiny, ornate, 16th-century chapel holding more than 5,000 skulls and bones once belonging to monks.
The chapel itself is contained within the larger Church of São Francisco, a structure commissioned by two Portuguese kings: Dom João II and Dom Manuel I. Architectural details of
the church include a single nave and a ribbed, vaulted ceiling. Altogether, there are 12 chapels within. Decorations include a late Renaissance doorway with decorative features that change depending upon the point of view from which they're viewed, as well as carved woodwork and azulejo tiles.
The bone details are embedded in the walls and ceiling of the chapel, and can also be seen in the stone columns. Two complete skeletons are also displayed. While recognized as the largest of this type of chapel, Evora's Chapel of the Bones is actually one of six in the Algarve and Alentejo regions.
Others are located close by, including the Baroque-style Capela dos Ossos, located at Parish Church of Campo Maior. This church was constructed in 1776 following a devastating explosion in the powder magazine of the castle, killing more than two-thirds of the local population. The bones in this chapel belonged to the victims of the explosion.
Also close by is Capela dos Ossos de Monforte, the smallest bone chapel in Portugal and attached to the 18th-century Igreja Matriz de Monforte. Skulls are the theme here, including one displayed prominently above the chapel's access door.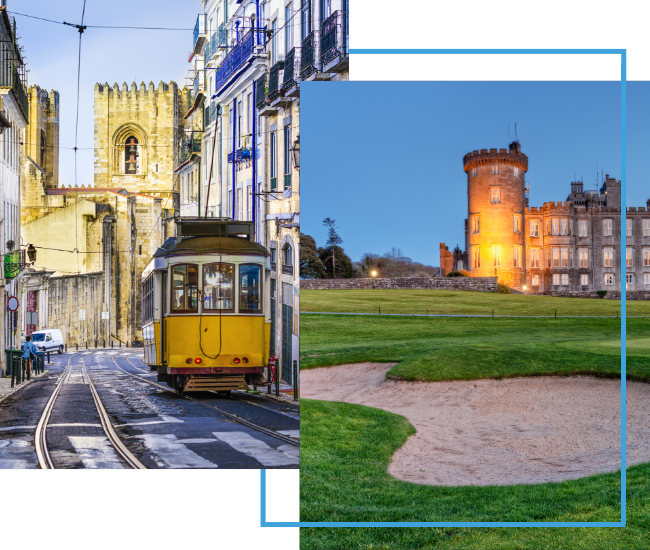 FX Excursions
FX Excursions offers the chance for once-in-a-lifetime experiences in destinations around the world.
Explore Excursions
There is something magical about sipping a glass of local wine while watching the sun slip into the Aegean Sea as the afterglow tinges traditional, white-washed Cycladic houses with glorious shades of rose, purple and gold. Ancient Greeks believed Helios, the Sun God, caused sunsets by driving his fiery chariot into the sea. Standing at water's edge in Mykonos, watching the sky slowly turn from purple to inky black, you almost believe it.
Sponsored Content
The Islands of Tahiti are among the most beautiful and sought-after vacation destinations in the world. The endless images of overwater bungalows with Bora Bora's majestic peak towering over waters of every shade of blue have an intrinsic pull. But with 118 islands and atolls to explore, there is so much more to this spectacular region of the Pacific.
I hadn't even made it to my first cup of coffee when I got an early phone call from my sister, who lives two time zones away. "OMG, Kristy, Patsy Cline came on twice while I was driving the kids to school today," she laughed. "You know what that means, right?" We both gasped and then instantly began singing the lyrics to "La Bamba," an inside joke we'd shared since our family's Alaskan cruise decades ago when we, unintentionally, won the ship's karaoke contest among a sea of Patsy Cline tributes.