Founded during the Spanish conquest. in. 1537, Guayaquil – the largest city in Ecuador, with a population of about 2.5 milloion –  is the country's main business center and port. During the past two decades this tropical city drenched with the brilliant colors of fruit trees, flowering palms, native plants and wild orchids, took on some of the most comprehensive urban revitalization projects in South America. These all led to new foreign direct investments, safer neighborhoods, historic restorations and an increase in leisure visitors.
The Malecón 2000 project revitalized about 1.5 miles of riverfront along Río Guayas, stretching from its southernmost point at Mercado Sur to Santa Ana Hill and Las Peñas north of downtown. Featuring restaurants, a museum, a performance space, a movie theater and a shopping mall, the area proves a pleasant and safe place to walk and explore the city. At the northern end, climb the 444 steps leading through small alleys dotted with multicolored houses to Santa Ana Lighthouse and spectacular views.
The once-polluted Estero Salado waterway now offers a waterfront park where bird watchers, joggers and visitors enjoy on-site attractions including a 1,300-foot boardwalk. Another project created Nuevo Parque Histórico, a park located in a mangrove wetland between the Daule and Babahoyo rivers, which merge to form Río Guayas. In 2013 the national government built two modern pedestrian bridges connecting downtown Guayaquil, Santay Island and the town of Durán to allow people to easily make ecotourism trips to areas east of the city.
The city expects its next major project, still in the design stage, to prove even more transformational. Ciudad Nueva Guayaquil will create three distinct districts — Marina, Central and Garden — on the 593-acre plot currently occupied by Guayaquil's airport, once the airport relocates farther from city center. The present terminal will remain, reutilized as a transportation center with retail and entertainment spaces.
These new mixed-use, live-work districts will all connect via a central boulevard, an extensive linear park with a stream and green spaces offering biking and walking paths, small cafés and social areas. According to Perkins Eastman, the project's design firm, the multibillion-dollar, 1 million-square-foot project will become a vital part of the city and include a new Guayaquil Convention Center and a Charles Darwin museum. "This New City vision will be a catalyst for economic growth, cultural activities and entertainment; it will be the spark that begins Guayaquil's journey to becoming the city of the future," said Stephen Forneris, a principal with Perkins Eastman.
Guayaquil boasts the largest seaport in Ecuador, handling 70 percent of the country's external trade. Combined with its industrial and agricultural production, Guayaquil contributes 25 percent of the country's gross domestic product. The city's sophisticated consumer base also draws international firms interested in reaching the southern Ecuadorian market.
As an example, in 2021 Bath & Body Works opened an outlet at Guayaquil's upscale San Marino Shopping Mall, the first of two planned in the country. "In Guayaquil, the Ecuadorian likes the new, the international, the exclusive, and that is what we bring: products never sold here before," said Fahed Safadi, general manager of the brand in Ecuador. In the same mall, Victoria's Secret opened last year, and many other globally recognized stores will arrive in 2022.
Global companies operating in Guayaquil include Johnson & Johnson, Nestlé, Deloitte, Audi, IBM, Unilever, Kimberly-Clark, Whirlpool, Cargill, PwC and Anheuser-Busch InBev.
CHECKING IN WITH FELIPE CORREA
Founder and managing partner, Somatic Collaborative design practice and professor and chair of architecture, University of Virginia School of Architecture
Many Guayaquil colonial buildings have been lost. Has the city done a reasonable job of restoring its historic structures?
The Las Peñas neighborhood is a great example of a conservation project that gave this area a new lease on life while also showcasing important samples of 19th-century architecture.
Most of the urban fabric downtown was built in the 20th century, yet one can find several architectural projects of design significance. Three that come to mind are Municipal Palace, Mercado Municipal Sur and the Moorish Clock Tower. All three show the civic dimension of public works projects in the early decades of the 20th century.
Other than the Ciudad Nueva project, what other urban revitalizations projects are in the planning stages?
In the last 20 years, Guayaquil witnessed major transformations in the rehabilitation and creation of new public spaces in the form of city parks. In addition to Malecón 2000, we have seen projects like Parque Los Samanes which, when fully implemented, will be the third-largest park in Latin America, serving as an important green lung and water management infrastructure for Guayaquil. Such projects are essential in a city that will have to aggressively confront and adapt to sea level rise and the impacts brought by environmental change.
What would you suggest first-time visitors see and do in Guayaquil?
I would take first-time visitors on a tour of the broader aquatic landscape of the city. The ecologies created by the mixing of waters between Daule River and Estero Salado (a salty estuary part of the Gulf of Guayaquil) create one of the most fascinating urban ecologies in the world and is a powerful laboratory on how cities engage their larger natural environment.
As an architect, what cultural attractions in the city do you find especially enjoyable?
I like to visit Centro Cultural Simón Bolívar/El Museo Antropológico y de Arte Contemporáneo. I always enjoy the temporary exhibitions and the larger archaeological collection they keep on display.
DIVERSIONS
For many leisure or business visitors to Guayaquil, the Galápagos Islands are a close bucket-list destination. Flights to Galápagos (one hour, 45 minutes) depart from Guayaquil, arriving at either Baltra Island or San Cristóbal Island. The archipelago of 19 islands lies 620 miles off Ecuador's Pacific coast and is a protected World Heritage site. Visits to most of the islands require a licensed guide from Galápagos National Park. The best way to appreciate the destination is with the smaller cruise boats carrying 16–32 passengers. Book multiday cruises at least a few months in advance and arrive in Guayaquil one to two days before your cruise date. Most Galápagos cruise itineraries are quite expensive but well worth the price.
If time allows, plan to visit the city of Cuenca, 8,500 feet high in the Andes Mountains, 3.5 hours east of Guayaquil. As the most important Inca ruins site in Ecuador, the entire Ingapirca complex is a sanctuary and bastion at the same time, with architecture similar to the buildings in Cusco, Peru.
Closer to Guayaquil find many of the best beaches on Ecuador's Pacific coast located in or near Salinas, a two-hour drive from Guayaquil. The resort town boasts miles of sandy beaches and dozens of small restaurants serving Ecuadorian-style ceviche or fresh shrimp on the grill.
LODGING
Hotel del Parque
Enjoy 5-star amenities in a peaceful oasis in Guayaquil Historical Park. The 46-room Relais & Châteaux property features Ecuadorian furnishings, marble bathrooms and the riverfront Casa Julian restaurant.
Km. 11⁄2 vía a Samborondón, Av. Los Arcos y Río Guayas, Samborondón
$$$$
Oro Verde Guayaquil
With 236 luxurious rooms and suites, the property offers stunning bathrooms, high-speed WiFi, a spa, outdoor pool, free parking, airport transfers and six dining venues. Executive club level rooms include 24/7 administrative assistance.
Av. 9 de Octubre 414 y García Moreno, Guayaquil
$$
Wyndham Guayaquil
This deluxe 175-room property on the boardwalk features large rooms, river views, complimentary breakfast, airport shuttle, parking, WiFi, fitness center, spa and rooftop pool. Walk to shops and Santa Ana Hill Lighthouse.
Calle Numa Pompilio Llona S/N, Ciudad del Río – Puerto Santa Ana
$$
DINING
Anatto
The Peruvian chef sees to the seafood, fish and Peruvian cuisine while the Brazilian chef handles roasts like roasted smoked beef rib. Try the popular surf and turf grilled loin, prawns, mushroom risotto and salad.
Q4F5+C8, Citadel la Saiba, La Saiba, Mz E villa 12, Guayaquil
$$$
Mami-T
This small eatery on the boardwalk in Puerto Santa Ana serves great fish dishes and the ubiquitous moors, an Ecuadorian rice and lentils dish with cheese, egg or guacamole. The sangria with chopped fruit or a cold local beer pairs perfectly in warm weather.
9, Edificio Riverfront II, local 5 y 9
$$
Terra Market
Avant-garde and inspired by Ecuadorian and other Latin American cuisines, the restaurant proves popular with ex-pats and locals. The chefs' imaginative cooking and selection of creative cocktails offer a lovely experience in a nice location.
Ubicados Km. 1.5 vía Samborondón, Edificio Xima local 2
$$
INFO TO GO
Guayaquil's Aeropuerto Internacional José Joaquín de Olmedo, located 4.5 miles from the city center, offers international and domestic flights from a modern terminal building. Best option for ground transportation is rental car (six outlets in terminal) or taxi ($10 one way); drive time is 10–25 minutes depending on time of day. Many hotels offer complimentary shuttle service.
JUST THE FACTS
Time zone: GMT-5
Phone codes: Country code: 593 City code: 4
Currency: U.S. dollar
Key industries: Agricultural and beverage processing plants; shipyards; iron foundries; cement and chemical plants; petroleum products; exporting cut flowers, bananas, coffee, cacao, shrimp and fish; pharmaceuticals; construction; tourism
OFFICIAL LANGUAGE
Spanish. Indigenous languages are official in regions where they are spoken; English is spoken at most hotels, larger shops, restaurants and businesses.
COMING & GOING
U.S. citizens must have a valid passport for visits up to 90 days; for longer visits they must obtain a visa before arrival.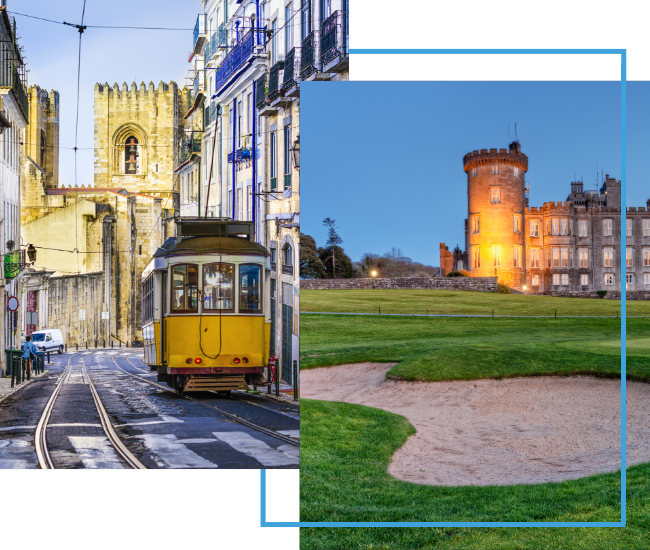 FX Excursions
FX Excursions offers the chance for once-in-a-lifetime experiences in destinations around the world.
Explore Excursions
One thing  surprising about the Prince Edward Island capital is its abundance of shops specializing in affordable, fashion-forward jewelry rendered in sterling silver, vermeil, 14K gold and semi-precious stones. Whether you prefer delicate pieces or bold wearable art, you can be assured the pieces for sale are inspired by the maritime island setting and, therefore, specific to the place where they are created. Here are a few shining, woman-owned examples:
Sponsored Content
Many small- and medium-sized businesses face time and budget constraints when organizing corporate hotel travel for employees. To address this problem, IHG® Business Edge emerged as a cost-free business travel solution for small- to medium-sized enterprises, offering travel managers exclusive access to enticing perks, handpicked educational resources and comprehensive company travel metrics. IHG Business Edge connects our loyal customers to our portfolio of 5,800 hotels and resorts across 18 brands in more than 100 countries.
Norway, a haven for visionary artists, architects and designers, showcases an exceptionally diverse array of cultural attractions. This year, the country commemorates exciting milestones and unveilings captivating enthusiasts of the arts, from iconic scenic routes to new museums to gallery openings. Up Norway features these new offerings in personalized itineraries catered to aesthetes.