Samsung GALA XY Tab 10.1
The brand-new GALAXY Tab 10.1 from Samsung is the thinnest mobile tablet on the market at just 0.34 inches thick and a scant 21 ounces. A true road warrior, it boasts HSPA+ network speeds of up to 21Mbps, as well as Bluetooth and WiFi 802.11 a/b/g/n connectivity to deliver rapid mobile download speeds and reduce data transfer times. Samsung's TouchWiz user experience is designed with a Live Panel menu, so you can customize the home screen to display a variety of content including digital pictures, favorite websites and social network feeds. In addition, the interface includes an application tray of commonly used features, such as task manager, calendar and music player, which can be launched while other major applications are in use, including large file downloads and document editing. The GALAXY Tab 10.1 is also pre-loaded with Readers Hub and Music Hub, providing instant access to more than 2.2 million books; 2,000 newspapers (49 languages); 2,300 magazines (22 languages) and 13 million songs. The devices are also designed with Samsung's Social Hub, which aggregates email, instant messaging, contacts, calendar and social network connections into a single interface. $499 (16MB), $599 (32MB).
SuperTooth HD Speakerphone
Introducing the SuperTooth HD — no, it's not a dental innovation but the most advanced Bluetooth speakerphone on the market, with the ability to communicate on social networks all via voice commands. With Twin Speaker V Array Technology, the SuperTooth HD features two speakers with a 5-watt audio output and a 5.4-watt amplifier, making it three times more powerful than any other speakerphone. The built-in dual microphones pick up voices more clearly; together, these advanced audio features produce unrivaled audio quality in both emission and reception. Using just voice commands, you can answer incoming calls, select pre-dialed phone numbers, check battery level or retrieve voicemail. The SuperTooth Handsfree Assistant feature allows drivers to compose and send Facebook, Twitter, email and SMS messages, all via voice. The SuperTooth HD can also read incoming SMS and email messages on Android and BlackBerry phones via the specific application. It's compatible with all Bluetooth-enabled phones, including iPhones, BlackBerrys and other smartphones with an Android OS or Windows Mobile operating system. $129.
Moshi iVisor for iPad 2
So you've managed to get your hands on the new iPad 2 — nice work! Now you need to keep it safe. The iVisor is an advanced screen protector that shields the iPad touch screen without hindering its appearance or functionality, and is the only screen protector on the market that is removable, reusable and 100 percent bubble-free. Featuring an anti-reflective matte finish that helps reduce glare and smudging, the iVisor AG has been expertly designed to adhere flawlessly to the iPad 2 screen for a precise fit. It's also equipped with a polymer adhesive that allows repeated cleaning and re-application, so it's the only screen protector you need for the life of your iPad 2. The iVisor's multilayer construction is engineered specifically to offer excellent scratch/smudge resistance while retaining optimal touch screen sensitivity and feedback. Available in black or white. $30.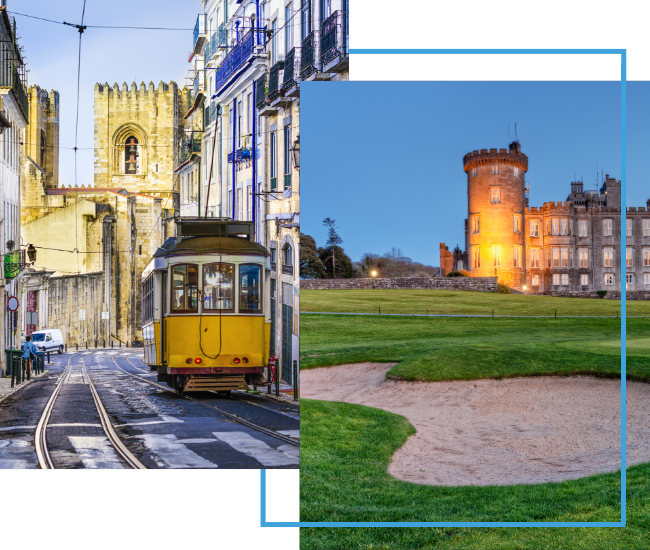 FX Excursions
FX Excursions offers the chance for once-in-a-lifetime experiences in destinations around the world.
Explore Excursions
As another phenomenal year of travel comes to an end, it's time, as always, for Global Traveler to celebrate and award those who do it best as we announce the 2023 winners of the GT Tested Reader Survey awards. But that's not the only cause for celebration here: We've hit another major milestone, as this marks our 20th year honoring the best of the best inn world of travel!
Sponsored Content
The Saronic or Argo Saronic Islands of Greece call travelers to explore its seven small islands and islets brimming with history, natural sites and more. With most easily accessible by boat, the islands' proximity to ports of Athens make the Saronic Islands an ideal destination for those preferring shorter boat rides. In fact, trips from Athens ports to the islands take only between 10 minutes and two hours, depending on the island you choose, making them perfect for day or weekend trips. From Piraeus port, you can access Hydra, Spetses, Aegina and Poros directly. Come explore these stunning islands with us and find the inspiration to plan your next trip to these islands. Hydra Hydra town curves around a slope overlooking the Argosaronic Gulf like an amphitheater and is considered one of the most romantic destinations in Greece. Most unique to the island is its lack of vehicles. People on the island get around on mules and donkeys as well as water taxis, making for a peaceful and laid-back day. Hydra lies a two-hour ferry ride from Piraeus port in Athens.
The highly anticipated GT Tested Reader Survey has more reason to celebrate in 2024 than ever before. This year marks the 20th anniversary of our GT Tested Reader Survey awards, with many of the winning brands earning milestone accolades for years of dedicated and consistent service.