Name: Tim Sheldon
Title: President, Caribbean & Latin America
Company, city: Marriott International, Inc.; Plantation, Fla.
Number of employees: More than 45,000 associates serve our guests in the Caribbean and Latin America.
Recent project: Opening Four Points in Havana, Cuba, was a highlight for 2016.
First job: I was a busboy/server in a Sheraton hotel in Fort Wayne, Ind., 31 years ago.
Little-known fact about you: I studied six years to become a Lutheran pastor while waiting tables at a hotel restaurant.
YOUR BUSINESS
What innovations/initiatives do you foresee in the industry over the next years?
I believe digital and mobile platforms will be a priority, while an increasing emphasis on enabling and delivering local experiences will be the most compelling.
Marriott launched innovative projects such as Content Studio, through which we lead conversations surrounding the travel sphere, as well as the integration of new technology including Alipay, Apple Pay, Mobile Checkin and Mobile Request to instantly connect with guests. Others include Canvas, a co-creation food and beverage incubator involving local startups, and Meetings Imagined, which reinvented how meetings are planned, making them more visual, social and purposeful.
What is the best career advice you've received?
The best advice is from Mr. Marriott himself: "Take care of the associates and they will take care of the guests." This remains a key element of Marriott's people-first culture.
What advice would you give someone starting out in the field?
Be willing and ready to take on any role or job. This industry rewards the curious and dedicated, and every opportunity brings learning and experience that will help you in the future.
Tim Sheldon as a Traveler
Favorite travel memory or story: Having traveled to 62 countries, it is hard to pick one, but I'd highlight the trip down the Nile River in Egypt with my wife, Janet, and a few friends. Quite the history lesson in style.
One travel tip you cannot live without: I always travel with Bose noise-canceling ear pods, which fit in my pocket.
Best advice for business travelers: Keep it super simple. Use technology. Ditch the briefcase. I use the iPad Pro for notes and reports; digital/ mobile technology for hotels, planes and everything on the ground. Never check a bag.
About Marriott International, Inc.
What can premium travelers expect from Marriott's acquisition of Starwood?
Guests can choose from the hotel industry's most diverse portfolio of brands with the largest luxury portfolio in the industry: 30 brands representing more than 5,700 properties in more than 110 countries. Members of Marriott Rewards — which includes The Ritz-Carlton Rewards — and Starwood Preferred Guest will be able to link their accounts and unlock the benefits of each program.
With the acquisition of Starwood, Marriott's portfolio in the CALA region nearly doubled. Tell us about the region's most unique properties.
The 180-room Four Points in Havana is the first and only U.S.-branded hotel in Cuba. It is located in the beautiful Miramar residential district, part of the modern municipality of Playa, surrounded by contemporary architecture. Old Havana, a UNESCO World Heritage site, is only a few miles away.
JW Marriott El Convento Cusco is built atop ancient Incan ruins and around a 16th-century convent. This resort is a true museum in the historic city of Cusco, with 153 rooms, two exhibition halls to showcase Peruvian artifacts and daily tours of the San Agustín Convent. We are steps away from the historic Plaza de Armas and only three hours from Machu Picchu.
The iconic Sheraton Libertador Hotel in Buenos Aires is intimate and inviting, with breathtaking city views. Located on Avenida Cordoba in the buzzing city center, designer boutiques, fine-dining venues, museums, cultural centers, modern theaters and cinemas surround the hotel.
Eight miles off the coast of Puerto Rico, the W Retreat & Spa – Vieques Island welcomes visitors to an undiscovered Caribbean paradise surrounded by pristine beaches, wild horses and the world's brightest bioluminescent bay. It features 156 stylish rooms and suites conceived by Spanish designer Patricia Urquiola.
What can travelers expect from Marriott in the CALA region in 2017?
CALA remains a key region, where we have operated since 1969 with the opening of the Paraiso Marriott in Acapulco. We see tremendous opportunity, especially in Brazil and Central America, and will expand our footprint there. We are working to create unforgettable experiences in the region for our Marriott Rewards members such as attending a samba school during Brazil's Carnival or an NFL game in Mexico City, while we enter new markets like Nicaragua and Bolivia in 2017.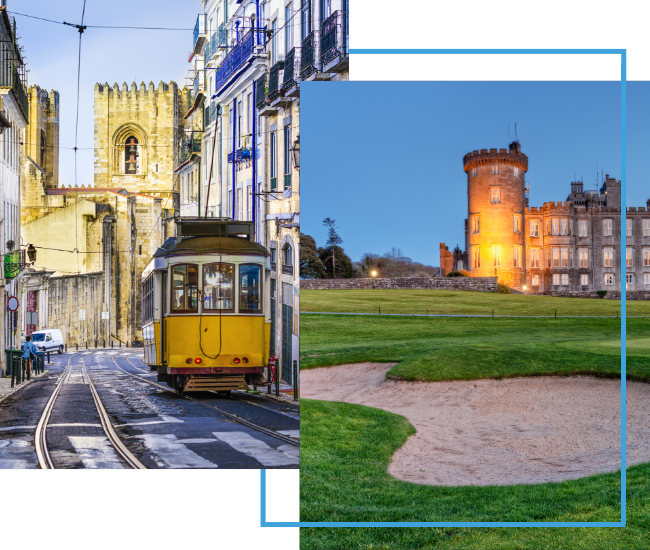 FX Excursions
FX Excursions offers the chance for once-in-a-lifetime experiences in destinations around the world.
Explore Excursions
Less than five years ago the world's first hybrid cruise ship, Hurtigruten Expeditions' MS Roald Amundsen, set sail for Antarctica in November 2019 with 450 passengers. The battery-hybrid-powered ship, named for the first man to cross the continent and reach the South Pole, was built specifically for voyages in polar waters. Its battery-hybrid power reduces the ship's consumption and CO2 emissions by 20 percent compared to equally sized ships.
Sponsored Content
Learning more about our readers' travel habits and preferences ensures Global Traveler delivers the content you desire. As the travel industry has adapted and changed over the last few years, it's more important than ever to connect. To best meet your short- and long-term travel content needs, please help us!
A few months ago, I flew Polaris business class on a United flight from Dulles (IAD) to Paris (CDG). It was only when I got to my hotel in Paris I realized that I didn't have my iPad or its bag or accessories. Since I had been working on it in the restaurant in the Polaris lounge and then went directly to the gate, I knew I either left it propped up on my table when I packed up or in my business-class seat. But what was the best method to alert the airline about my careless mishap and (hopefully) retrieve it? With spotty data and WiFi, searching for information on my phone was frustrating and slow. Here's what I learned from the anxiety-inducing experience (and unexpected ending) about what to do if you leave something behind on your flight: