Arrival/Check-In: I arrived at The St. Regis after my business meetings on my first day in Singapore. Truly, this is a luxury business traveler's dream hotel. The property screams timeless elegance from the moment you set foot on the grounds, and the entrance and lobby exude the luxurious vibe you expect from a St. Regis hotel. It is located in the heart of the city's premier shopping district, Orchard Road, and near the UNESCO World Heritage site of Singapore Botanic Gardens.
The St. Regis staff warmly greeted me as I arrived, and check-in took about 10 minutes. I was assigned a host to escort me to my room. I was blown away by the lavishness of the property — there are Swarovski crystal chandeliers, art collections and striking statues everywhere you turn.
Guest Quarters: The entry hallway into my executive deluxe guestroom was inviting, with an overall royal and grand feel. The room featured a plush, king-sized bed with a couch in front of the bed. (I melted into the bed because the linens and pillows were so comfortable.) One wall of windows provided spectacular views of the city. The lighting and chandeliers throughout the room created a warm ambience, plus a lighting control panel offered setting options for night lighting, reading, movie, cozy, bathroom lights and more. I found this quite useful in setting the tone in the room.
Catering to the luxury business traveler, the room included WiFi and a handsome writing desk. The French marble bathroom featured a marvelous freestanding bathtub and separate jet massage shower along with two separate vanities.
The room includes access to Remède Spa's wet lounge facilities, which I took advantage of during my stay. I'm never one to turn down a spa experience, especially while on a business trip.
Services/Amenities: The St. Regis Singapore offers five venues for food and drinks. I kicked off my stay at Astor Bar and tried the Chilli Padi Mary, The St. Regis's signature cocktail and local interpretation of a Bloody Mary, richly accented with Asian flavors. It was quite delicious, refreshing and spicy. A small jazz band played in the background, and seats filled with business travelers most likely kicking back after a day of meetings.
The property houses a private art collection boasting more than 70 works of art, including sculptures, paintings and prints by world-renowned artists. I took an art appreciation tour around the property and appreciated the beauty and importance of the collection.
During a tasting dinner at Brasserie Les Saveurs, Chef Thomas Cruise explained his artwork and vision for each plate and pairing. I sampled fine contemporary French dining at its best — magnifique!
The following day was a national holiday, Deepavali, and I enjoyed a beautiful dim sum brunch at the hotel's Yan Ting restaurant — another memorable culinary adventure.
The Experience: The St. Regis Singapore easily ranks as one of the best hotel stays I've ever experienced. The service was exemplary and the amenities premier. A world-class hotel, indeed, providing everything a luxury business traveler needs, all on site. The Singapore property features a specific style because of the art and statues throughout, and the guestrooms are beautifully decorated and maintained. I felt like royalty during my entire stay.
GT CHECKLIST
[checklist]
[item check=yes]Doorman/valet[/item]
[item check=yes]Less than 10 minutes for check-in[/item]
[item check=yes]Separate tub and shower[/item]
[item check=yes]Large vanity[/item]
[item check=yes]High-quality towels[/item]
[item check=yes]Powerful, unattached hair dryer[/item]
[item check=yes]High-quality bed linens[/item]
[item check=yes]Large, flat-screen television[/item]
[item check=yes]Large desk with convenient outlets[/item]
[item check=yes]Large, complimentary laptop safe[/item]
[item check=yes]Complimentary in-room WiFi[/item]
[item check=yes]Complimentary bottled water[/item]
[item check=yes]Stocked minibar[/item]
[item check=yes]Ample lighting[/item]
[item check=yes]In-room coffeemaker[/item]
[item check=yes]Iron and ironing board[/item]
[item check=yes]On-site restaurant[/item]
[item check=yes]24-hour room service[/item]
[item check=yes]24-hour state-of-the-art fitness center[/item]
[item check=yes]Turn-down service[/item]
[/checklist]
The St. Regis Singapore
29 Tanglin Road
Singapore 247911
Singapore
tel 65 6506 6888
stregissingapore.com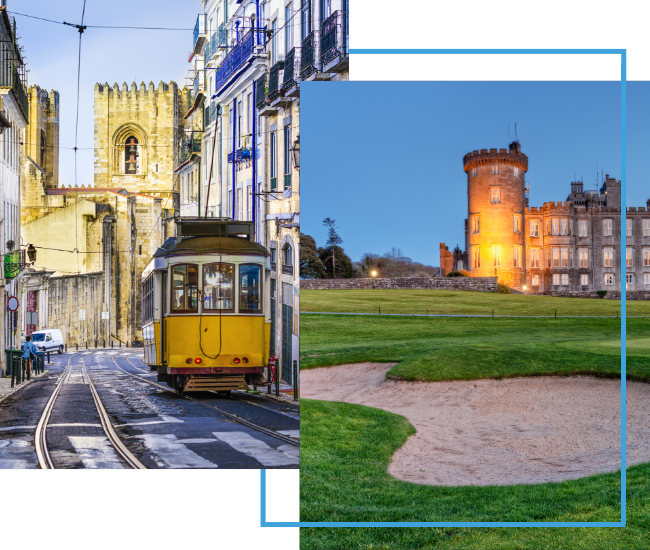 FX Excursions
FX Excursions offers the chance for once-in-a-lifetime experiences in destinations around the world.
Explore Excursions
Travel can take a toll on your body and soul; these products keep you looking (and feeling) good. From a clever shoe that puts a spring in your step (and is effortlessly easy to put on and remove) to a lightweight hair dryer and a night cream that works wonders on tired, dehydrated skin, here are three must-haves to tote on your next trip:
Sponsored Content
Don't risk losing all the money you've spent if you must cancel your trip at the last minute. Allianz Travel Insurance can give you:
Pleasant weather, autumn foliage and vibrant flowers are among the many delights awaiting nature lovers at botanical gardens and arboretums across the United States. However, some of these green spaces take on additional color this month and through Halloween when enterprising gardeners, landscape architects, management and other creative minds cast a spell with themed environments running the gamut from spooky to utterly bewitching.