AT THE SPRINGS RESORT & SPA in Pagosa Springs, Colorado, I'm soaking in a tub called "Lobster Pot." From the color of my skin — crimson — that nomenclature seems about right. Today's posted temperature reads 109 degrees Fahrenheit. Ouch. Or glorious. I can't decide. I take a whiff of the fresh, high-altitude, chilly air and ease further into a watery mélange of 13 curative minerals,  a medley composite that ranges from sulfur to potassium to lithium,  among others. Submerged in water from the world's deepest geothermal hot spring, I feel like an ingredient in a salubrious stew.
Balneotherapy and hydrotherapy are two lofty terms that refer to healing by the use of water. But the ritual of soaking for optimal health dates back centuries, perhaps millennia. Even animals and apes intuitively seek hot springs for healing. Think of the macaques (snow monkeys) who luxuriate in Japan; the horse in Avène, France, who legendarily cured his own skin disease four centuries ago in a silica-rich mineral spring (now frequented for eczema relief by humans); or the black bears who wander into backyard whirlpools and splash about as gleefully as teenagers. Ancient humans followed suit. Well-worn paths leading to hot springs around the globe attest to that. For indigenous peoples, thermal water (and the sea) counted as strong medicine.
Later, water-obsessed societies like the Romans constructed elaborate bathing and swimming complexes wherever they settled. In fact, the word "spa" may derive from Latin: salus per aquam means "health by water." But even earlier evidence, such as the remains of a bath house in Pakistan dating back to 2500 B.C., manifests a certain early understanding of water as wellness. From Etruscan settlements to Japanese onsens, Scandinavia's sauna/cold plunge traditions and Turkish hammam habits, healing water has played a key role worldwide. Today we have empirical evidence many of the minerals common in geothermal springs (and the sea) provide clear benefits. In addition, we know contrast bathing (hot and cold submersions, in turns) strengthens the immune system, and soaking not only instills a sense of well-being but relieves joint pain, detoxifies the body, oxygenates the blood and balances hormones, among other results.
At The Springs Resort & Spa, taking the cure means dipping into any of 24 thermal water-filled pools. Constantly fed by the famous springs, the tubs and immersion ponds of various shapes and sizes pepper a terraced hill which flows gracefully down to the San Juan River. With amusing names (Sunset Social Club, Clouds in My Coffee, The Cliffs), the steeping pools' temperatures vary daily, ranging from 83 to 114 degrees Fahrenheit. Overlooking the historic mountain hamlet and its (often) snow-capped peaks, the current Springs Resort & Spa, in the mode of the Roman bath houses, grew from an original motel set on the site. Throughout the decades it evolved through many renditions, from utilitarian soaking baths to a hippie heyday, resulting at last in today's elegantly appointed, casually vibed final transformation. Open yearround, with day pass access available for all ages, plus a special adults-only section including a café and a bar, The Springs draws après skiers, cabin dwellers, honeymooners, summer vacationers and families galore. To enjoy the best way to experience The Springs, stay in one of its 79 guestrooms, positioned adjacent to the retreat area. (The newest section garnered LEED Gold, the first of its kind in Colorado.) What's the. benefit of staying? Twenty-four-hour access to the pools — that's what!
While relentless dipping and dunking will satisfy the keenest spa lovers' wellness urges, a visit to The Springs' dedicated brick-and-mortar Pahgosa Spa for a massage with essential oils made from local plants or a results-driven facial provides a break from all that wetness. But to take the water theme to its zenith, sign up for AquaZen Therapy by David Dolan, a master of cranial-sacral massage, trained at the Upledger Institute. The treatment takes place in a picturesque upper-level pool where you'll float as Dolan. guides you through an underwater massage meant to lengthen your spine and rejuvenate the nervous and immune systems.
Located in southern Colorado, just about 30 minutes from Wolf Creek Ski Area and surrounded by wilderness, thick forests and craggy mountains, Pagosa Springs projects a nostalgic mountain village ambience fused with some non-kitschy Western élan. First discovered by the Ute Indians (pagosa means "healing or boiling waters" in their language), the Mother Spring plummets some 1,002 feet deep, anchoring the town — not to mention supplying much of its energy. It exudes just the right amount of contemporary hipness (think breweries and cool restaurants) while still having a certain old-fashioned getaway appeal. In an area well-suited to satisfy sports enthusiasts of all kinds (skiing, hiking, fishing, tubing and more), its 300-plus days of sunshine ensure that requisite, end-of-the-day soak is well-earned.
The Springs Resort & Spa
165 Hot Springs Blvd.
Pagosa Springs, CO 81147
tel 866 439 5934
pagosahotsprings.com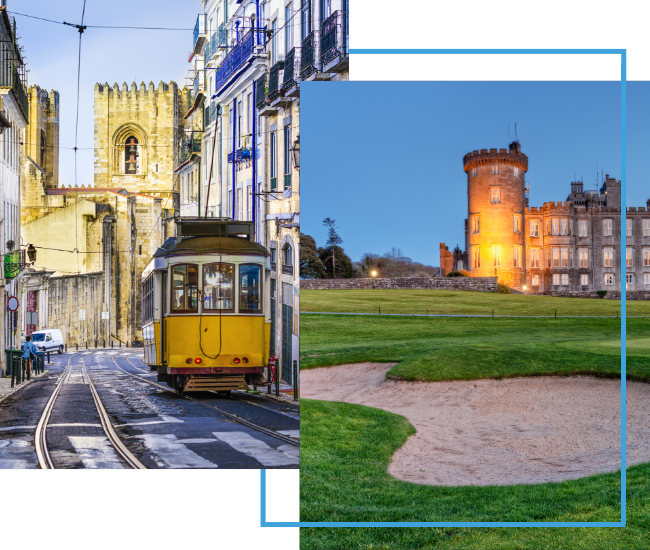 FX Excursions
FX Excursions offers the chance for once-in-a-lifetime experiences in destinations around the world.
Explore Excursions
If fabulous food and beverages are a must-have for any weekend getaway, then look no further than the City of Brotherly Love. Whether your palate has a penchant for vibrant Latin American fare or cozy French cuisine, whether you're an oenophile looking to swirl, sniff and sip your way around the globe or you'd rather sample farm-to-glass cocktails, Philly's got it all this fall. (With the exception of Bolo, which is a short taxi or Uber ride away and definitely worth the trip, the rest of these spots are all within walking distance of each other.)
Sponsored Content
In an increasingly digital and interconnected world, the Global Business Travel Association (GBTA) Convention remains an indispensable platform for business travel industry professionals seeking to make the most of the power of face-to-face connections. Taking place August 13–15 in Dallas, the 2023 GBTA Convention provides the unique opportunity for professionals and companies to join visionaries, thought leaders and industry experts for meaningful networking, cutting-edge insights and inspiring innovation.
From Santoríni to Dubai to New York, some hotels just have that "it" factor that draws visitors far and wide. For some hotels it's their proximity to popular landmarks and attractions, for others it's their amenities. But these hotels have something few can claim: a true room with a view.