Arrival/Check-In: I arrived at The Inn at Rancho Santa Fe around 2 p.m. after a 2.5-hour drive from Los Angeles. The front croquet lawns mimic an Old Hollywood feel, with history-rich black-and-white equestrian photos and crystal chandeliers in the entryway. I admired the teal and gray color palette as I walked into the inn, where a welcoming staff member greeted me with fresh water and lemon. Arriving for my best friend's wedding weekend, I knew immediately it would not be one to forget at this luxe countryside retreat full of history and present-day charm.
Guest Quarters: I stayed in a Premier suite located on the one-level, 21-acre property. My room was tucked away down a few lovely, flower-filled paths, past beautiful gardens and meticulously groomed lawns. It was extremely quiet and felt like I had been transplanted to an elegant countryside estate in Europe. I walked into my room and was happy to see a fireplace for chilly California nights, a wet bar, a king-sized bed with luxe linens, a chaise longue and a modern bathroom with an oversized shower. There was plenty of space to spread out, feeling like my own guest studio, including a private patio with garden views — such a pleasant surprise and a perfect place to relax between wedding activities during the weekend.
Services/Amenities: I loved that the hotel staff were more than accommodating and went out of their way to make our stay special. Everyone was extremely friendly and happy to hold a couple of things at the front desk the night of the wedding to make it convenient for me to grab items without going back and forth to my room. My friend's wedding took place on the front lower lawn, followed by a cocktail hour and reception at the Azalea Lawn. It was private and intimate, surrounding us with rich greens, bistro lights and a clear California sky. The natural elegance of the greenery and lush flowers created an enchanting space. I also enjoyed the nooks of the inn, including seated areas with fireplaces trimmed in geometric and floral tiles, as well as a whiskey bar, The Huntsman, located inside. There are so many thoughtful details at this property, and it truly created a weekend of memories I will always cherish.
TOP TAKEAWAYS:
◆ Character, history and location near the quaint downtown village of Rancho Santa Fe, boasting coffee shops, restaurants and neighborhood charm, makes the property and surrounding areas incredibly walkable — a fun and accessible weekend on foot.
◆ The locally sourced California restaurant, Morada, located at the front of the property, offered burgers, Reubens and baked mac and cheese as well as delicious salads that could be enjoyed inside on a studded leather seat or outside on the patio overlooking the front lawns. The fresh menu and open spirit created a dining experience to make guests feel right at home.
THE INN AT RANCHO SANTA FE
5951 Linea del Cielo
Rancho Santa Fe, CA 92067
tel 858 756 1131
theinnatrsf.com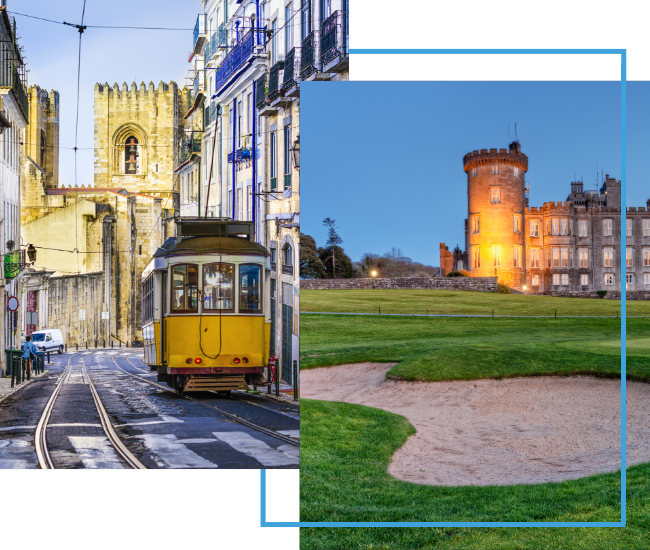 FX Excursions
FX Excursions offers the chance for once-in-a-lifetime experiences in destinations around the world.
Explore Excursions
Pleasant weather, autumn foliage and vibrant flowers are among the many delights awaiting nature lovers at botanical gardens and arboretums across the United States. However, some of these green spaces take on additional color this month and through Halloween when enterprising gardeners, landscape architects, management and other creative minds cast a spell with themed environments running the gamut from spooky to utterly bewitching.
Sponsored Content
United Airlines is in the midst of a major initiative to modernize its fleet over the next several years. After first announcing the plan in 2021, planes fitted with United's signature interior are finally beginning to appear across the airline's narrowbody fleet of Boeing and Airbus planes. United flyers are sure to notice these enhancements from the moment they step on board: Each new or updated plane sports remodeled seats, seatback entertainment screens for everyone, Bluetooth connectivity and more, all adding up to a better experience on every journey.
For travelers who love all things autumn, Crystal Springs Resort, New York City's closest destination resort, features special offers and experiences to meet the demands of everyone's fall bucket list. Located only 80 minutes outside New York City in Sussex County, New Jersey, Crystal Springs Resort offers a quick getaway to enjoy fall foliage. Are any of these new offers or experiences on your bucket list?