It's not the soft, white-sand beaches or the sparkling sunlight bouncing off its gentle waves that stand out as you travel through the Dominican Republic. It's the music, the way it works its way into life's everyday rhythm, from the lilting, lyrical play upon the Spanish accent to the controlled chaos of its city streets. Life stands out here. Unlike other islands dotting the Caribbean, the Dominican Republic has its own hustle and flow entirely independent from its tourism sector. This lends credence to its storied past as Europe's first and main entry point into the colonization of the New World. From the metropolitan vibes of Santo Domingo to those famous beaches, the Dominican Republic offers travelers a different take on the typical tropical escape.
Overlooking the expanse of Santo Domingo, you'd be forgiven if you thought you were traveling the streets of Miami or parts of Los Angeles. Over the last decade, the island's capital has boomed with new construction and now sports a trendy center city district complete with luxury malls, lodging and tourist attractions such as the seafront boulevard, El Malecón — formally known as George Washington Boulevard. Biking, inline skating and kite flying are popular along El Malecón; however, nothing beats an early evening stroll by the water, watching the strip come alive as night settles upon the sea. Here El Obelisco, a historic, obelisk-shaped monument built during Rafael Trujillo's presidency as a way to commemorate him, now pays homage to those who suffered and died during his regime. The variety of hotels, casinos, restaurants and live music venues makes El Malecón the city's commercial and entertainment center.
One of the newcomers to Santo Domingo's skyline, JW Marriott Hotel Santo Domingo certainly aims to impress. In addition to a chic rooftop infinity pool, my boyfriend and I were captivated by the Vertygo Lounge — a bar placed upon a dizzying glass skywalk that extends out over Winston Churchill Avenue, eight stories in the air. A unique benefit of booking the JW is its proximity to BlueMall, a luxury shopping experience with upscale dining and stores by Cartier, Louis Vuitton and Longchamp. This same site connects to the construction of the Caribbean's first World Trade Center complex, a nod to the growing strength of the country's economy.
Crossing one of the many intricate suspension bridges connecting the city's east side to the west over the Ozama River, you'll find Zona Colonial, a step back in time to Santo Domingo's former global prominence. A UNESCO World Heritage site, Zona Colonial boasts buildings dating back to the mid-16th century, hailed as some of the most beautiful in the Caribbean and the first in the Americas. Most of the buildings now house museums like the impressive Alcázar de Colón. Built in 1512, the Gothic- and Renaissance-style palace was the home of Christopher Columbus' son, Diego Columbus, and his son's wife, María de Toledo. Following the same Gothic architectural style are the ruins of the San Nicolás de Bari Hospital, the oldest hospital in the Americas. Close by and sitting at the end of Calle Las Damas is Plaza de España, a family-friendly yet romantic strip where you can enjoy anything from an outdoor concert, family walk or bike ride to a romantic dinner on a bistro terrace overlooking the ancient city.
Whether it's a blazing hot summer day or you just need some quick shelter from a passing shower, hop aboard Zona Colonial's appropriately named Chu Chu Colonial and tour the area as you relax. Sprinkled throughout the monuments, cafés and souvenir shops, ice cream stands and music-filled parks give a modern touch to the heavy sense of history. Arrive mid to late afternoon to enjoy an ice-cold Presidente under the soft glow of café lights and a radiant tropical sunset.
Our visit to the island wasn't simply a vacation. It was my first time back since emigrating to the United States 10 years ago and Nathan's first time seeing my home. While I came of age in the capital, my family hails from simpler roots in the country's largest province, San Juan de La Maguana. Heading west from Santo Domingo through mountain ranges and deserts, we found the province offers a contrasting lifestyle to the one in the capital. Both sides of my family come from this province; my maternal grandfather was a regarded professor in Las Matas de Farfán, one of the provincial towns, and trustee of the liberal/conservative political party in San Juan. He and my grandmother had 12 children, most of whom moved to different parts of the country after his death in 1995, but my paternal grandmother, father and most of their family still work and reside here. Although San Juan is a much smaller city, sites such as the San Juan Bautista Cathedral and the Corral de los Indios make it a worthy daytrip.
Characterized by its intramontane lands, San Juan does not have a marine coast but thrives instead on livestock and agricultural activities. My father and brother took us on a 40-minute drive north to Presa de Sabaneta — one of the province's three hydroelectric dams — along Rio San Juan. The energy generated by the dams provides power nationwide, and the expansive views entice visitors from all over. Flanking the fertile valley created by Rio San Juan are rice paddies, still hand-tilled using oxen, and vast fields of plátano and guineo. The area also offers a chance to interact with local wildlife — Nathan stumbled upon a strikingly azure juvenile cacata, the island's most well-known type of tarantula.
Travel (between provinces or simply across town) can be a bit tricky for both tourists and locals. Although the Dominican Republic boasts the most advanced system of highways in the Caribbean, its traffic laws are more tongue-in-cheek suggestions. Drivers lacking major city driving experience — think Los Angeles or New York — should take a backseat and leave the navigating to those more prepared. Although it has an extensive network of public transportation, I recommend booking passage with an established tour group if you don't know the island. That said, my boyfriend and I chose to rent a car from a local company for our drive to Bayahibe, La Romana, on the southeastern coast. After being stopped by an amet and having to "tip" the officer when he found expired insurance, we suggest looking over your documents carefully before departing the agency.
With limited time between reconnecting with family, we did steal away for a single night to the 5-star Catalonia Royal Resort in Bayahibe. Nestled within what seems like an infinite strip of resorts, the Catalonia Royal sets itself apart with its gorgeous beachfront, enthusiastic staff and made-for-Instagram grounds. Its all-inclusive restaurants provide a pleasantly diverse dining experience, ranging from Peruvian to Southeast Asian fare. Although modern and chic in the lobby and pool areas, the rooms have a classic European flair, and each includes either a balcony or swim-up access. Cabanas and lounge chairs spread the breadth of the resort's beachfront, affording access for all guests. Nathan and I enjoyed some downtime on the beach, although there were plenty of activities such as scuba diving, banana boating and sailing.
INFO TO GO
Eight international airports service the Dominican Republic, Punta Cana International Airport being the most trafficked and Santo Domingo's Las Americas International Airport a close second. American Airlines, JetBlue and Emirates are the carriers most frequently flown to the country, and each offers daily direct flights. Given the multitude of options, booking a flight into an airport close to your destination is almost guaranteed. Although Spanish is the official language, you will find English speakers in most tourist-friendly areas including airports, shopping centers, historic sites and resorts. Most major credit cards are accepted, and both the U.S. dollar and euro are often welcomed in resort-heavy areas like Punta Cana; however, currency exchange to the Dominican peso is encouraged elsewhere on the island.
LODGING
Catalonia Royal La Romana
An air of relaxed luxury, eye-catching grounds and chic suites make this adults-only resort perfect for everything from a romantic getaway to a trip with friends.
Carretera a Bayahibe, Bayahibe, La Romana
$$$
InterContinental Real Santo Domingo, an IHG Hotel
Focused on entertainment and dining, this hotel offers families and business and leisure travelers everything they need for a grand experience in the heart of the city.
Winston Churchill Avenue, Santo Domingo
$$$
JW Marriott Santo Domingo
A rooftop infinity pool above and luxury shopping center below, metropolitan and posh, this hotel caters to both business and pleasure. Center city proximity is an added bonus.
Winston Churchill Ave. 93, Santo Domingo
$$$
DINING
SBG Santo Domingo
Cosmopolitan center city atmosphere with a diverse and elegant menu, SBG is the perfect place to celebrate that special occasion or enjoy drinks with friends.
BlueMall, Calle Paseo de Los Locutores 9, Santo Domingo
$$$
Shibuya Ichiban
Peruvian accents flavor this modern take on Japanese cuisine. From island-inspired sushi to dumplings, take a break from shopping to treat yourself.
BlueMall, Winston Churchill Ave. 80, Santo Domingo
$$$$
Winston's Grill
Chef Carlos Sebastiani's menu takes you on an international journey, showcasing the talent of his team and the quality of the local produce. An extensive wine list and pleasant staff round out the experience.
JW Marriott Santo Domingo, Winston Churchill Ave. 93, Santo Domingo
$$$$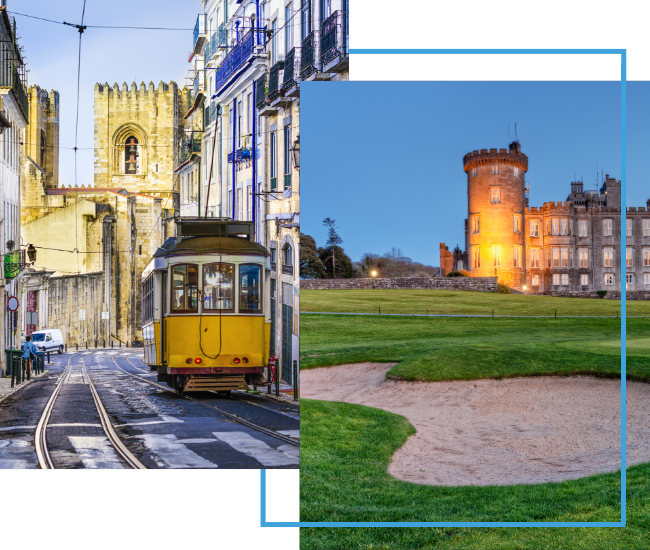 FX Excursions
FX Excursions offers the chance for once-in-a-lifetime experiences in destinations around the world.
Explore Excursions
There may not be snow in Los Angeles this season, but Waldorf Astoria Beverly Hills is certainly full of the holiday spirit, with Christmas, Hanukkah and New Year's events happening in the hotel's gorgeous event spaces.
Sponsored Content
Experience the life-changing destination of Greece by exploring its island gems in the Ionian Sea. Scattered off the western coastline of Central Greece, to the south of Peloponnese, the Ionian Islands are an island group comprising large and small islands.
Looking for fun things to stuff into the toe of a few holiday stockings? Here are some great choices: