An enduring love affair began the day I stood on the deck of a ferry and watched as the lush green cliffs of Lāna'i emerged from the swirling sea mist that cloaked the shore. My most powerful healing journeys always involved an immersion in nature, and this island, of all Hawai'i's many treasures, provides an environment ideally suited to balancing motion with contemplation.
This sense of harmony is especially intriguing, given the myths and lore embedded in the landscape. Long before it was hailed as the Pineapple Island to reflect its lush, plantation-covered plains and valleys — and much, much earlier than its incarnation as a setting for wellness and rejuvenation — Lāna'i Island was steeped in dark legends that told of man-eating fiends and cruel monsters who stalked the living.
These old stories, handed down through oral traditions, paint a fearsome tale of sorcery and mischief finally resolved when Kauluā'au, the errant son of a Hawai'ian chieftain, was banished to Lāna'i for uprooting all of the breadfruit trees on Maui. Young Kauluā'au eventually redeemed himself in his father's eyes through acts of courage and cunning that led to all the lingering forces of malevolence being successfully driven from the lovely island's shores.
Legends aside, it's difficult to imagine anything disagreeable lingering here. There's a pervading sense of serenity and an appealing, down-to-earth profile that hints at another era. Far less developed than Hawai'i's other public islands, there are no crowds or lines or traffic jams. In fact, there are no traffic lights anywhere, and most of the island's few roads aren't even paved.
It's a landscape ideal for rejuvenation. One of the best places to tap into the local tranquility is a hike to Mount Lāna'ihale, the dormant volcano located within the central region. The Munro Trail leads here; and if you climb on a clear day to the top along the sometimes rough, steep path, you'll be rewarded with views of five of the islands within the Hawai'ian archipelago.
An easier, more relaxing destination is Puupehe, or Sweetheart Rock, just past Hulopoe Beach near Four Seasons Resort Lanai at Manele Bay. Named for two mythical lovers who suffered a sad fate in a long-ago tale of loss, the rock rises dramatically from the waves offshore and is best viewed at sunset. If you're staying at the resort, you can request an evening picnic to enjoy while relishing the changing colors on the rock face.
At multiple locations on Lāna'i, it's possible to view ki'i pohaku — collections of ancient rock carvings — most of which have yet to be completely explained. Two main sites at Kaunolu and Luahiwa depict human figures mingled with birds, animals and canoes. The bird carvings are believed to be connected to the Hawai'ian myth of Halulu, a man-eating creature with wings. Halulu was so important, the Halulu Heiau temple was dedicated to it. This temple, regarded as an archaeological site of great significance, perches on the island's south shore close to the village of Kaunolu. It was King Kamehameha who had the temple constructed and who decreed that lawbreakers able to access the temple's sacred space before they were apprehended would be granted refuge.
Today, even cats find sanctuary on Lāna'i, evidenced by the hundreds being cared for at Lāna'i Cat Sanctuary on Kaupili Road. Visiting them might be good karma, but there are many ways to reach down and get back in touch with your own mana. One is to challenge body and mind to work together to overcome physical and mental hurdles, like the personal contest offered by the aerial obstacle course or the 1,200-foot-plus zipline at Lāna'i Adventure Park. The height provides views of Palawai Basin and Ko'ele. On horseback, you can also explore the thick upland forests of Cook and Norfolk pines — rainmaker trees whose long needles collect and funnel water from rain and mist, quenching the earth below.
Rising from the ground in sharp contrast with the lush greens of so much of the island is Keahiakawelo, also known as The Fire of Kawelo. A fascinating rock garden filled with towering stones and spires at the end of Polihua Road, it has its own legend — one that describes an ancient battle between competing Hawai'ian priests from this island and Maui over who would be able to keep a fire burning the longest. In his determination to win the contest, Kawelo, the Lāna'i priest, fed his fire with the trees and shrubs growing at Keahiakawelo, leaving behind a commanding setting of barren rock that's a powerful backdrop for self-guided meditation.
The sea itself, ebbing and flowing in tune with the island's shore, proves a wonderful place for introspection. Chartered snorkeling excursions can be planned, or you can make your own way to Hulopoe Bay and explore the waters in the company of scores of curious spinner dolphins who dwell there.
Whatever you plan for your own journey — whether it's soothing spa therapies and fine dining at the resorts or actively exploring the multifaceted landscape — I suggest arriving by boat from Maui. Not only is it a marvelous way to be initiated into the island's idyllic beauty, but you're likely to catch a glimpse of graceful whales as you cross the channel between the islands. While you may not be able to entirely cast your cares away, Lāna'i is unquestionably the perfect place to put them in perspective.
LODGING
Four Seasons Resort Lanai
Seaside splendor is the motif at this secluded getaway which boasts island-themed treatments at Hawanawana Spa, lagoon-style swimming pools and breathtaking botanical gardens filled with local flora.
1 Manele Bay Road
$$$$$
Hotel Lanai
This small historic property has 11 rustically elegant rooms in city center and dates to the days of the island's pineapple industry. Accommodations include Lanai Rooms, Garden Rooms and one private cottage.
828 Lanai Ave.
$$$$
Sensei Lanai, A Four Seasons Resort
Refined and exclusive, this adults-only resort has a wellness focus played out in bespoke health programs, a stunning spa, traditional Japanese onsen baths, fine dining and luxury lodging.
1 Keomoku Highway
$$$$$
DINING
Blue Ginger Café
Across from Dole Park, this institution is famous for baking its own hamburger buns and grinding its own fresh beef and secret seasonings to create a truly local burger experience.
409 Seventh St.
$$
Sensei By Nobu Lanai
Savor spectacular views from the dining deck plus a menu of innovative and classic hot and cold sushi dishes. A children's menu and tasting menu from Chef Omakase are both available.
Sensei Lanai Resort, 1 Keomoku Highway
$$$$
INFO TO GO
There are no direct flights between the mainland and Lāna'i Airport. Options include flights to O'ahu's Daniel K. Inouye International Airport, also known as Honolulu International Airport; Kailua-Kona Airport on Hawai'i Island; or Maui Kahului Airport. From any of these locations there are interisland transfers to Lāna'i. Lāna'i Airport can support air taxi and commuter charter flights. Expeditions Ferry provides round-trip boat service between Lahaina Harbor on Maui and Manele Harbor on Lāna'i. Service is subject to weather and sea conditions. Jeep rentals can be arranged at the airport or at hotels and resorts. The majority of roads are dirt and require a four-wheel- drive vehicle. Private resort transfers should be arranged in advance.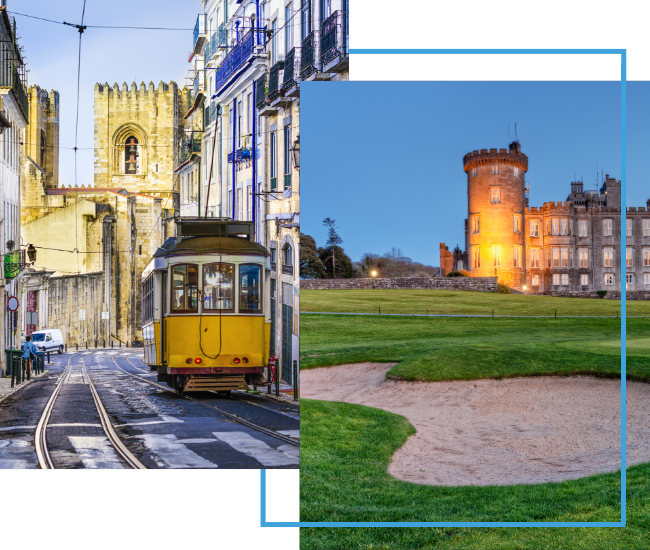 FX Excursions
FX Excursions offers the chance for once-in-a-lifetime experiences in destinations around the world.
Explore Excursions
Imagine yourself lounging in a stone cottage suite with a fireplace and freestanding tub, sipping hot chocolate in a rustic game and reading room with a raftered ceiling, and ice skating and cross-country skiing in the crisp mountain air. Sounds pretty perfect, doesn't it? Especially when you add in seasonal touches.
Sponsored Content
Incentive travel has long been a way for organizations to drive sales and reward employees with opulent trips to exotic destinations. Today it encompasses even more.
For the first time in Olympic history, when the 2024 Summer Olympics kick off on July 26, 2024, they will not do so in a stadium. Instead of an Olympic venue, the entire city of Paris will become the Olympic stadium, hosting the games among monuments, on bridges and on the grounds of some of the world's most historic sites. The Opening Ceremony will take place on the River Seine, where athletes will drift along on a flotilla of boats as spectators wave them on from the quays and bridges throughout the city.