Mexico City has seldom enjoyed the travel press limelight like its North American counterparts of Toronto and Washington, D.C., but in recent years the rest of the continent finally awakened to its wealth of reasons to visit. Despite claiming the largest number of museums in the world and housing great cultural institutions, it took Mexico City a long time to get the respect it deserves — partly because it's had to overcome so many obstacles, including a major earthquake that hit in 2017 and, now, the challenges of a global pandemic.
Every time, though, Mexico City bounces back from adversity by taking things up a notch. Despite the setbacks, each year the city gets a bit cleaner, a bit ritzier, a bit more confident in what it has to offer. Now, as it celebrates its 500th year, Mexico City is poised to rebound in a big way.
Jim Johnston, author of the popular book Mexico City: An Opinionated Guide for the Curious Traveler, said the real turning point came in 2015, when a flood of articles about the city's vibe started showing up in seemingly every travel publication. "Restaurants, bakeries and shops of all kinds popped up, many run by foreigners. This added an edge of adventure to the city, introducing Mexicans to a wider range of products and services," he said. "There is a big change in the perception of the city — fear has been replaced by fabulousness. In addition, the infrastructure has improved, the air is cleaner, and public transportation has improved."
He noted Uber and several bike-sharing options make getting around much easier. Plus, Uber's arrival allows jittery travelers to avoid having to phone a radio taxi company in Spanish to get a pick-up. "Uber and Airbnb have made it easier for visitors to move around the city and get to know a wider swath of neighborhoods," added Lydia Carey, Mexico City writer and author of Mexico City Streets: La Roma. In addition, the city now offers many culinary and culture tour options in English, giving foreign visitors a gateway into the local culture they could not easily find a decade ago.
"Mexico City has become the hub for innovation across Latin America," said José Pablo Toscano, CEO and founder, Jubel, a local travel startup. "Hundreds of millions of dollars are pouring in, and this has made the city much more dynamic and tech-forward."
This sprawling metropolis still has its problems, of course, due in part to an ideal Aztec settlement becoming a non-ideal modern city. Montezuma's capital was an island in the middle of lakes and marshes. Spanish conquistadors rode in looking like gods on horseback in 1519 and started their march of New Spain domination here. They drained the marshes and dismantled temples to build Catholic cathedrals and government palaces — which started sinking as soon as they were finished. The long-needed international airport expansion hit engineering snags and cost overruns in part due to the swampy location. President Andrés Manuel López Obrador moved forward with his campaign promise to cancel the project in favor of building a combined military and civilian airport at the Santa Lucía Air Force Base, scheduled to open in 2022.
In the meantime, new residents and visitors will keep coming, and the city now boasts five convention centers, more than 600 hotels and more than 53,000 rooms from budget to boutique to luxury. Visitors can easily spend a week in the center, though some companies have headquarters in the far-flung office park suburb of Santa Fé.
The air quality continues to improve in the capital as older buses and Volkswagen Beetle taxis fade into the history books. The city's liberal reputation also led to a thriving arts scene. "Mexico City has always been a liberal oasis," said Toscano. "This momentum has kept pushing the city toward social reforms." Being at the forefront of the gay rights and environmental movements brought a young and dynamic crowd into the business community.
Gentrification came on strong over the past decade in the neighborhoods of Coyoacán, La Condesa, Roma and San Ángel. This is not always ideal for local residents facing higher rents, but it makes these walkable sections of the city attractive places to stay or wander around. While most visitors once stuck to a limited corridor between the historic center and wealthy Polanco, these evolving, eclectic neighborhoods now offer interesting dining, drinking and shopping spots.
"There are more great gourmet food and drink options all the time, with Mexican craft beer and designer cocktails really taking center stage," said author Carey. "There are several microbreweries now within the city limits you can visit."
There's near-unanimous agreement the business climate for foreigners is getting better all the time. "The city is better positioned now to cater to all levels of tourism," said Carey. "The options for design- forward hotels, high-end shopping, luxury real estate and internationally acclaimed art haven't diminished the excellent street food, bustling markets and ancient history that make Mexico City unique. Investment is spreading out to some of the lesser-known neighborhoods still near the city center, too, like St. Maria de Ribera, San Rafael and Juárez."
"Recent policies have been very pro-foreign investment, so it's much easier to come in and take advantage of the many opportunities here," said travel startup founder Toscano. After keeping a surprisingly low profile for decades with both business travelers and tourists, Mexico City seems to be finding its groove.
CHECKING IN WITH RAFAEL LIZÁRRAGA
Chief commercial officer, Grupo Posadas
Historically, Mexico City has a reputation for recovering from adversity, including the 2017 earthquake. How will the city bounce back from the COVID-19 pandemic?
Indeed, when you look throughout our history, you will notice we experienced different events from which we have learned and moved forward. Our culture is a work culture. In Mexico we are distinguished by the quality and warmth of our service. We know we compete with many worldwide destinations, and this pushes us to be the best in our service and provide memorable experiences to all travelers that come to visit us. The pandemic is not an exception; and since the beginning we implemented different action plans that, over the last 15 months, have worked and led us positively to this stage of reactivation, which, fortunately, we are already experiencing today.
How has Grupo Posadas adapted during the global health crisis to maintain its high level of hospitality? Will it affect future plans in Mexico City?
Before this health crisis arrived in Mexico and seeing how it was starting in Asia, we went ahead and worked on detailed action plans that could allow us to be efficient in our operation without affecting the service and experience of each of our guests. We also implemented plans to help us save energy, minimize cost control spend that was not necessary at this time, etc. There is not nor will there be any affectation to our guests; therefore, we will continue to offer new experiences and always be at the forefront with what our clients seek in this new return to normality.
What is the outlook for business and investment opportunities in Mexico City? Mexico City continues to offer many opportunities for investment; by being so large, we continue to look for the best locations to develop more hotels with our brands, but considering any business line, it continues to be an important platform for both national and foreign investment.
Which activities do you recommend first-time visitors pursue to get a true sense of the city's diverse culture, history and heritage?
Ideally, I always recommend visiting Mexico City for at least seven days since it is the largest city of the world and offers so many great attractions. Of course, you cannot miss the visit to the Historic Center, the Cathedral, Templo Mayor, as well as walking Paseo de la Reforma and taking the obligatory photo with the Angel of Independence, going to the Anthropology Museum, visiting Chapultepec Castle, enjoying the Polanco zone and La Condesa area with all the first-rate gastronomic choices they offer. It is also highly recommended to go to Coyoacán and visit [the] Frida Kahlo Museum. A visit to Xochimilco and its trajineras will be memorable, and finally, if time allows, take a flight through the Santa Fé area, one of the most modern building zones of the city, where many of the most important business offices are located now.
DIVERSIONS
Museums or neighborhoods? Ruins or food tours? History or modern art? It's easy to find what gets you excited in this major metropolis.
The most spectacular museum in all of Mexico is the National Museum of Anthropology, containing the greatest collection of pre-Columbian art anywhere. Nearly 20 acres of displays cover every period of history in a dramatic building.
Next to Alameda Park, two adjacent buildings designed by the same architect capture the city's elegance at the beginning of the 20th century, with a mix of Belle Époque and Art Deco styles. The gilded Palacio Postal at Tacuba 1 is still used as a post office, and the Palacio de Bellas Artes at Avenida Juárez and Lazaro Cardenas houses an opera house and museum.
The huge Plaza de la Constitución in the center of the city is better known as the Zócalo. On one side of it, Palacio Nacional features a sprawling mural by Diego Rivera. On another side sits the propped-up Metropolitan Cathedral, which took 277 years to complete.
A daytrip 31 miles to the northeast is a must to see the spectacular ruins of Teotihuacán, which flourished from A.D. 100 to 750 and later was re-occupied by the Aztecs.
LODGING
Las Alcobas, a Luxury Collection Hotel, Mexico City
With chic high-tech rooms, some private-elevator suites and two highly acclaimed restaurants, this upscale boutique hotel attracts those looking for exclusivity.
Av. Presidente Masaryk 390, Polanco
$$$$$
Live Aqua Urban Resort México
Immerse in an idyllic getaway at this sophisticated luxury resort where every space "will delight your senses and set your imagination free," from the aromatherapy in the chic guestrooms to indulgent spa treatments to elegant contemporary Mexican cuisine.
Av. Paseo de los Tamarindos No. 98, Colonia Bosque de las Lomas
$$$–$$$$
The St. Regis Mexico City
Gleaming, modern and high-design, this luxury hotel features some of the most popular dining and drinking spots for business meetings.
Paseo de la Reforma 439, Colonia Cuauhtémoc
$$$$
DINING
Nicos
This modest lunch-only spot consistently lists among Latin America's 50 Best Restaurants (sponsored by S.Pellegrino and Acqua Panna) while focusing on Mexico's rich culinary heritage utilizing local products and seasonality.
Av. Cuitláhuac 3102, Clavería
$$
Pasillo de Humo
This relaxed Condesa venue is a great place to sample the superb Oaxacan cooking of Chef Alam Méndez, serving authentic dishes such as tlayudas but also incorporating elements of other regions of Mexico.
Ave. Nuevo León 107, Hipódromo Condesa
$$$
Pujol
Winning the Flor de Caña Sustainable Restaurant Award 2020, Pujol's seven-course tasting menu presents an upscale Mexican dining experience that simultaneously focuses on ecologically aware sourcing.
Tennyson 133, Polanco
$$$$
INFO TO GO
Benito Juárez International Airport lies less than 10 miles from most hotels. The airport is situated in two distinct terminal buildings connected by train. Buy an official taxi ticket before exiting for $9–18, depending on hotel zone. Mexico City's metro connects to the airport, but luggage is not allowed. Within the city it's best to take Uber or have the hotel or restaurant call a Sitio radio taxi rather than flagging one down on the street.
JUST THE FACTS
Time zone: GMT -6
Phone code: Country code: 52 City code: 55
Currency: Mexican peso
Key industries: Finance, food and beverage products, tourism, textiles, chemicals, furniture, plastics, metals, telecom, pharmaceutical products
COMING AND GOING
U.S. citizens must have a passport valid three months past departure date with two blank pages. No visa is required for visits of less than 180 days.
OFFICIAL LANGUAGE
Spanish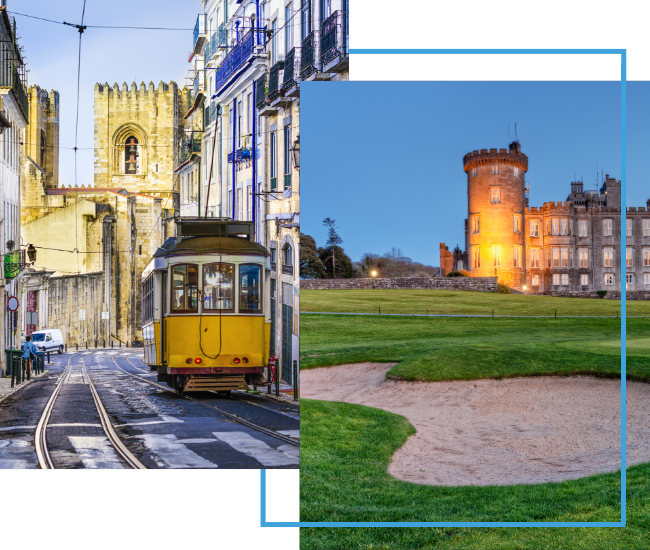 FX Excursions
FX Excursions offers the chance for once-in-a-lifetime experiences in destinations around the world.
Explore Excursions
Ideally positioned in Chicago's enticing River North district within a beautifully restored 1920's Art Deco structure, Freehand Chicago is surrounded by shops, museums, galleries and restaurants. The holiday season is the perfect time to visit — snowy cityscapes and glittering lights set the scene for shopping along the Magnificent Mile and State Street. Leisure time offers the opportunity to bask in the brisk winter air while ice skating in Millennium Park at McCormick Tribune Ice Rink. Complimentary ice-skating lessons are offered each weekend and on some winter season public holidays.
Sponsored Content
United Airlines is in the midst of a major initiative to modernize its fleet over the next several years. After first announcing the plan in 2021, planes fitted with United's signature interior are finally beginning to appear across the airline's narrowbody fleet of Boeing and Airbus planes. United flyers are sure to notice these enhancements from the moment they step on board: Each new or updated plane sports remodeled seats, seatback entertainment screens for everyone, Bluetooth connectivity and more, all adding up to a better experience on every journey.
Think of Tokyo and your mind may wander to the neon signs and bustling crowds of Shibuya and Shinjuku, or the tranquility of the Meiji Jingu shrine, but this huge city offers much to those who explore away from the main tourist areas.