Another breaded sardine leaps off the brightly patterned ceramic plate, destined for the floor. Though it's the second one (so far), two women seated well within range at the next table pretend not to notice, and the waiter — in the act of replacing the depleted bread basket — politely looks away.
I'm having trouble making accurate distance calculations with the tip of my fork, most likely due to a combination of excellent wine, dazzling sunshine and a general lack of sleep. I wait for my husband, James, to weigh in with something witty about the ratio of velocity to mass as it applies to appetizers, but he's just spilled his wine and can't muster the energy.
No rash judgments, please. We aren't usually quite so muddled. We've come to linger awhile in Marbella, a stunning seaside town on the Costa del Sol, on the heels of a hectic business trip — and the effects of long and late suppers, early mornings and days awash in relaxing sunshine are adding up.
Leaving the café, we stroll the waterfront promenade to where it's joined by the Paseo de la Alameda, a wide cobblestone pedestrian park area with fountains, greenery and benches covered in decorative ceramic tiles. Running perpendicularly away from the seaside Avenida del Mar and facing the Sierra Blanca mountains to the north, the broad avenue is sprinkled with 10 cast bronze Salvador Dalí sculptures and leads directly to the Old Quarter of the city.
Here, among the whitewashed building walls strung with bougainvillea, the scent of citrus is intoxicating. Orange trees line the plazas, planted deliberately centuries ago to help sanitize the air. The street plan was conceived by skilled Moorish builders who effectively cooled the small city by laying out the narrow streets and alleyways as channels that funnel fresh winds from the sea.
Beyond the ancient walls that once enclosed the city, silkworm cultivation flourished. Remnants of the walls still exist, along with a handful of structures reflecting various architectural styles: walls from an Arab castle; the Renaissance chapel Capilla de San Juan de Dios; the Baroque Church of Santa Maria de la Encarnación; and the Hospital Bazán, built in sections in both the Baroque and Mudéjar styles. Today, the old hospital has been converted to more artistic use, reestablished as the Museum of Contemporary Spanish Engravings.
We pause in front of the remarkable Ermita del Santo Cristo de la Vera Cruz to gaze at the roof of the church's square bell tower. Beautiful glazed ceramic tiles cover it, imparting a slightly jaunty air. As we continue our exploration, James points out that while the buildings lining the streets are orderly and straight, the churches are set at odd angles inconsistent with their surroundings. It's over tapas and glasses of chilled cava at a small café that we learn that nearly all of the churches within the Old Quarter were originally mosques, built to face Mecca. Under Catholic rule, the mosques were destroyed, and the churches were built upon their ruins with their doors still facing in the correct direction for Muslim prayer.
Making our way back through the sun-washed, light-drenched streets to the seaside promenade, we turn to admire the peaks to the west, standing out sharply against the late-afternoon sun. The mountains are one of the main reasons the Costa del Sol's weather is so agreeable year-round, providing a tall limestone line of natural protection from cold north winds.
In the early 1900s, the town's beauty, pleasant weather and potential as a resort destination were explored, and by 1926 two hotels opened for business. In 1943, the Marquis of Ivanrey, Ricardo Soriano, arrived on the scene, followed by an enthusiastic wake of European aristocrats and wealthy jetsetters. While even trendy St.-Tropez saw seasonal drops in visitors, Marbella's weather continued to draw crowds that included heiresses and princes. Adding to its current allure are 18 golf courses and a high ratio of Michelin-starred restaurants — all good reasons for business travelers to tack on a few extra days in Spain to unwind with accompanying family.
Flagging a taxi, we head to one of the city's most legendary addresses, the historic Marbella Club Hotel. This exclusive beach resort — which even has a section of ancient Roman roadways on the grounds — was once the private estate of Prince Alfonso von Hohenlohe. In 1954, the prince converted the estate into a luxurious boutique hotel that continues to draw celebrities — and today, at least, two Americans in search of seafood and ocean views. We score a table at MC Beach, a blue and white oasis open to the white sand a few short feet away, and relax over plates of seared tuna and grilled lobster.
The next day, we wrench ourselves from Marbella's beaches and take a taxi into Málaga, the birthplace of Picasso. The short journey is tantamount to a pilgrimage for James, and he's already smiling as we're dropped off on a small, charming street. A short walk leads to an alabaster-colored Renaissance-era building with a central courtyard open to the sky. Inside is a stunning collection of paintings, drawings and sculptures culled from the Picasso family's private troves. The extraordinary diversity represents all of the styles in which Picasso worked and created, including a number of realism paintings made even more dramatic positioned close to his more recognizable cubist works.
Later, we make a quick foray to the Museo Carmen Thyssen, located within the Palacio de Villalón. This 16th-century palace, with its carved wood ceilings and stunning Renaissance entryway, was only recently restored. It's since become the receptacle of works by the world's most recognized masters and some of the most important pieces of Andalusian art, including works by Manuel Barrón, Andrés Cortés y Aguilar and Genaro Pérez Villaamil.
Back in our rooftop suite at our own fabulous seaside hotel in Marbella, the Gran Meliá Don Pepe, we slip into swimsuits and out our terrace doors to our private dipping pool and hot tub. The late afternoon sky is clear and bright, and, relishing in down time after the whirlwind of our other business pursuits in Spain, we enjoy the views of both the coast of Africa and the Rock of Gibraltar from our deck chairs.
A shared glance toward the bottle of Champagne patiently waiting in its ice bath on our outdoor bar, and we reach a consensus regarding dinner. Despite the excellence of the dining room, it seems absolutely pointless to get dressed to go downstairs. The hotel's legendary RedLevel service is put to the test with an extensive room service order and passes with flying colors. We settle in to watch as the view from the terrace changes from sapphire shades of sea and sky to a wash of indigo velvet and golden lights twinkling on the distant African shore.
Morning, we know, will eventually arrive, and the sun blazing into the heavens will signal car service to the airport and a long flight back to home and work. At the moment, though, the water in our hot tub has reached the perfect temperature, and the bottle of Champagne has yet to be emptied. Offering a toast to the Costa del Sol in the deepening moonlight, there seems no reason to hurry things along.
Marbella Info to Go
Málaga-Costa del Sol Airport, about five miles southwest of Málaga, is the main gateway to the Costa del Sol, providing service to more than 60 countries and connections to Madrid (MAD) and Barcelona (BCN). There are three terminals, with a transportation hub located at T3. Access the bus station, taxis and suburban train line from arrivals levels; most major car rental agencies are represented. A train line from the airport links to downtown Málaga and Fuengirola. Taxis (about $105) and buses are available to Marbella, about 34 miles from the airport. Ask for a quote, as taxi rates vary by time of day and increase on holidays and weekends.
Where to Stay in Marbella
Gran Meliá Don Pepe This seaside grande dame with rooftop suites and exclusive RedLevel service, positioned on the Paseo Maritimo seafront promenade, features an excellent spa and dining. Calle José Meliá $$$$
Hotel Claude Marbella An intimate and elegantly swish boutique property is housed in a 17th-century mansion in a superb walking location within the Old Quarter. Calle San Francisco 5 $$$
Marbella Club Hotel, Golf Resort & Spa Long a destination of European jetsetters and royalty, this sprawling resort with 84 guestrooms and 37 suites is defined by elegance and luxury. Golf, spa and tennis are available. Bulevar Principe Alfonso von Hohenlohe $$$
Restaurants in Marbella
Asador T-Bone Grill by Matias Gorrotxategi Rated one of Spain's best grill restaurants, with an à la carte menu featuring Basque cuisine and roasting techniques made famous by the Gorrotxategi family. Gran Meliá Don Pepe Hotel, Calle José Meliá $$$
Bodega Bar El Pimpi Enormous vintage bullfighting posters cover interior walls, and there's a gorgeous outdoor terrace. Authentic local dishes include luscious paella with squid and clams and Spain's ubiquitous jamón (pork). Calle Granada 62 and Calle Alcazabilla, Málaga $$
Restaurante Skina Enjoy exquisite, Michelin-starred Andalusian cuisine in Marbella's pedestrian area of Old Town. Sit streetside on the terrace in the citrus-scented air. Calle Adúar 12 $$$
Read about bullrings in Ronda.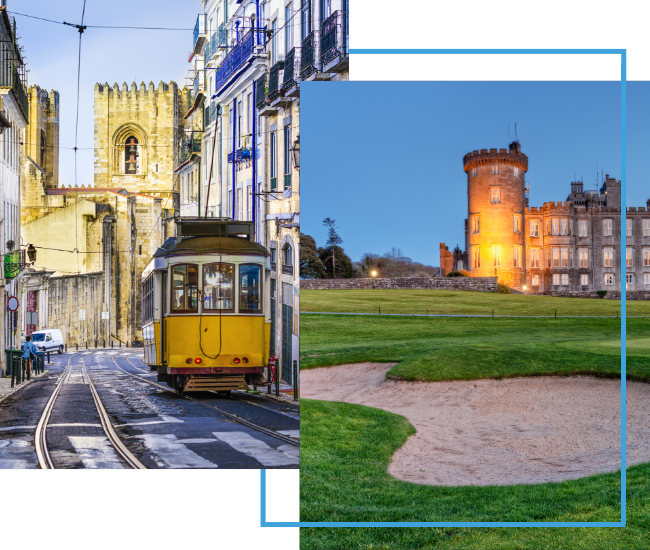 FX Excursions
FX Excursions offers the chance for once-in-a-lifetime experiences in destinations around the world.
Explore Excursions
There may not be snow in Los Angeles this season, but Waldorf Astoria Beverly Hills is certainly full of the holiday spirit, with Christmas, Hanukkah and New Year's events happening in the hotel's gorgeous event spaces.
Sponsored Content
Experience the life-changing destination of Greece by exploring its island gems in the Ionian Sea. Scattered off the western coastline of Central Greece, to the south of Peloponnese, the Ionian Islands are an island group comprising large and small islands.
Looking for fun things to stuff into the toe of a few holiday stockings? Here are some great choices: