Vibrant, contemporary Sydney — a bustling business center for the vast Asian-Pacific market — boasts one stunning amenity: 34 beaches 20 minutes from the city center. That makes Sydney a spectacular leisure city where you can cruise the harbor, ride ocean waves and savor fresh lobster at a boisterous sidewalk cafe or in solitude on a golden sand dune.
When the British established a colony in Sydney in 1788, Aboriginal villages ringed the harbor. To learn about the harbor's indigenous and European history, take the Djenbella Tour (www.tribalwarrior.org), a two-hour cruise aboard the city's oldest seaworthy vessels. As you sail past original settlement sites, the Aboriginal crew members describe life in harmony with the bountiful sea and fertile land, where art and storytelling flourished for 50,000 years. Afterward, stroll around Circular Quay (pronounced "key") and join the hub of activity at the Rocks. Brave the heights of Sydney Harbour Bridge (BridgeClimb, 5 Cumberland St., the Rocks, tel 61 2 8274 7777, www.bridgeclimb.com) and earn bragging rights after the heartpounding walk across catwalks, ladders and arches to the top-of-the-bridge view of the Port Jefferson inlet.
Next, pick up picnic supplies and fresh lobster at the Sydney Fish Market in Blackwattle Bay (Bank Street Pyrmont, tel 61 2 9004 1100, www.sydneyfishmarket.com.au). Rows of epicurean seafood such as Crystal Bay prawns, Northern Territory barramundi and Tasmanian salmon fill the ice beds. The fish market's celebrated cooking school offers tips on the art of cooking and eating seafood.
The Aussie symbol of outdoor leisure is a sun-drenched beach with mile-long combers. One of Australia's top beaches, Bondi Beach (pronounced "bon-dye") has an arcaded pavilion, promenade and park that retain the charm of its heyday in the 1930s. With a well-stocked hamper, you can while away the afternoon in the sand dunes, picking freshly cooked lobster from its shell and washing it down with Australian riesling.
If those perfectly curling waves call to you, head over to Lets Go Surfing (128 Ramsgate Ave., tel 61 2 9365 1800, www.letsgosurfing.com.au). The two-hour session is designed to get "surfies" of all ages skimming the waves. Later, join the other surfies in toasting the perfect ride at Moorish Restaurant and Bar (118-120 Ramsgate Ave., tel 61 2 9300 9511, www.moorishrestaurant.com.au).
After nightfall, check out a performance at the hot new Sydney Theatre at Walsh Bay (Hickson Road, tel 61 2 9250 1999, www.sydneytheatre.org.au). The Sydney Dance Company and the award-winning Sydney Theatre Company both perform at this 850-seat venue. When the curtain falls on the final act, take a cab to Tetsuya's (529 Kent St., tel 61 2 9267 2900, www.tesuyas.com), where the dining room overlooks a Japanese Zen garden and waterfall. In this serene oasis, chef Tetsuya Wakuda creates culinary magic in dishes such as confit of Tasmanian ocean trout with konbu and ocean trout caviar. He has won a worldwide following by merging his Japanese heritage with Australian products from farm and sea. Linger over an excellent martini at the sleek, contemporary Hilton Sydney (488 George St., tel 61 2 9266 2000, www.sydney.hilton.com). The dazzling art creates a good vibe for the late-night bar scene.
It's no mystery as to what makes the Aussie heart beat fondly for this spectacular city. Yours will, too, after a soul-satisfying day of culture, cuisine and outdoor thrills. For more information, visit www.sydney.com.au and www.australia.com.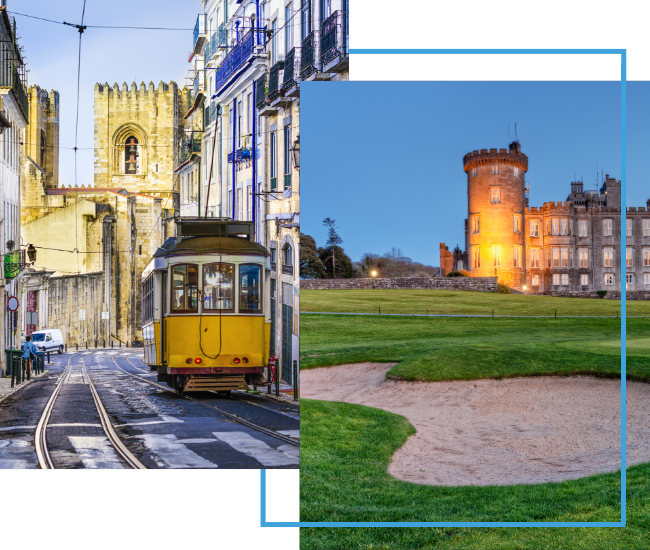 FX Excursions
FX Excursions offers the chance for once-in-a-lifetime experiences in destinations around the world.
Explore Excursions
It's time to start dreaming of your next trip. Here's some destination inspiration for you. Take a visual journey through these U.S. Christmas markets with us.
Sponsored Content
Whether it's the people, the craic (fun) or the coasts, travelers always find something to love about the island of Ireland. What fills your heart?
Everyone loves a good Christmas tree, but these iconic hotels around the world take it one step further with designer-styled trees illuminating lobbies and public spaces, wowing all who enter. From Lela Rose to Louis Vuitton, don't miss these ultra-luxury trees redefining tree decorating as we know it.