The first time I visited Bulgaria's capital, Sofia, the people were in a state of elated chaos. Free of Soviet control and four decades of Communism, Bulgarians were joyful, yet disoriented. I had heard a lot about how Sofia was working hard to shed its stifling Communist imprint. A more recent visit confirmed all this, yet today another major change looms, this time anticipated.
As Bulgaria positions itself to enter the European Union, just about everything and everyone seem to be looking westward. There is a new optimism. Streets are more vibrant, crowded with smartly dressed Bulgarians (only the chatter on their cell phones reveals their nationality).
Sofia, a city of 1.25 million, has continuously reinvented itself since its founding by a Thracian Serdi tribe around the 7th century B.C. Byzantines, Slavs and Romans were among those who fashioned the city in their images. Named St. Sofia (which means "wisdom" in Greek) in the 14th century, this is a place where rich history lives on in archaeological sites scattered throughout the city, where centuries-old castle gates and towers lie hidden beneath modern buildings. The ancient city council rests for eternity below the Sheraton hotel, while just behind it, above ground, is the historic St. George rotunda. Roman thermal baths lie below the Sofia mineral baths. On one visit, I was led through Roman ruins where a restaurant (La Rotisserie du Tzar Ivan Assen II) was being built beneath a nondescript building in central Sofia. The owner of the restaurant had discovered the ruins by chance.
On my return visit to Sofia, I again set up headquarters at the conveniently located Sheraton Sofia Hotel Balkan, which has long set the standard for hotels here — particularly with its well-appointed executive floors, which include a personal butler. The Sheraton has been refurbished to keep up with several leading hotel groups that have opened (Hilton, Kempinski and most recently the Barcelo Festa Sofia, the first Spanish hotel group to open a property in the city).
Although Sofia was heavily damaged during World War II, there remain many restored late 19th and early 20th century buildings. I stopped at the city's premier example from this period, the Alexander Nevski Cathedral, to again see the famed icons there. Later, I walked along the city's main shopping artery, Vitosha Boulevard, where the latest shops feature familiar European brands. At the quaint antiques shops on back streets, the old pottery jugs that I once purchased for $1 were nowhere to be seen. Another day, I headed south toward the Greek border, to see the stately Rila Monastery.
Back in Sofia, I found many new dining choices that quickly pushed memories of all those stolid, state-owned restaurants to the back of my mind. While Sofia offers a variety of international cuisines, I am always drawn to the food of this country, influenced by neighboring Greece and Turkey. On my first night, my Bulgarian friend, Nikolai, recommended that we visit Hadjidraganov's Houses. The restaurant, composed of charming rooms that were once ancient houses, offers a perfect introduction to the Bulgarian kitchen. Our meal began, typically, with the salads of which Bulgarians are so fond. This part of the meal sometimes lasts an hour. My favorite is shopska (a mix of chopped tomatoes, cucumbers, onions and peppers sprinkled with tangy local white cheese). For the entrée, I chose the rotisserie-grilled marinated lamb, while my friend opted for a traditional lamb dish.
Another option for experiencing good local cooking is Beyond the Alley, Behind the Cupboard. Located in a turn-of-the-century house in the residential Boyana area, at Chepishev, this venue serves traditional and international dishes and the best local wines. On another day, I ate at the Balkan, a popular restaurant in the Sheraton known for international and Bulgarian food.
Sofia also boasts a colorful nightlife, with music clubs, discos, bars and cafes. To find out what's happening, check out the Sofia Echo, Bulgaria's only weekly English-language newspaper. Although Bulgarian's Cyrillic alphabet can make navigating a challenge, most street signs in the city include a Roman translation, as do restaurant menus.
These days, the talk among Bulgarians is focused on their country's pending admission to the European Union, along with neighboring Romania. Anticipating a January 2007 or 2008 admission date, Bulgarians are heeding warnings that the vote depends on fundamental changes including judicial reform, reduction of corruption and organized crime, better border controls and improved standards of food hygiene. Requirements for E.U. membership also include legislation protecting intellectual and property rights.
Bulgaria has a functioning market economy with an annual growth rate of about 6 percent, but the somewhat sluggish government is not always responsive to private-sector needs, a vestige of Communist rule. Its plethora of regulations can frustrate business interests.
U.S. citizens considering investing in real estate here must first set up a local company, so it is prudent to have local business connections. Outside Sofia, I visited land that was available for development around a golf course, 45 miles from the city, but even with the low prices, real estate appears to be a more compelling investment for Europeans than Americans at this time.
Sofia is Bulgaria's financial and manufacturing center, with metal products being the largest industry. It remains the centerpiece of the country's improving economy. Investment, construction, tourism and banking are growing sectors. The city has a well-educated and computer-literate work force and, for now, labor is relatively cheap. For these reasons, it is attracting attention as an outsourcing hub for both American and western European companies.
Despite its smattering of ancient ruins, Sofia has never been much of a tourist draw, although among Europeans its proximity to the sea and low prices make it an appealing vacation destination. Most visitors are in Sofia to do business, but, like myself, find time to enjoy the city and its environs. For committed tourists, Sofia serves largely as the gateway to the beautiful countryside (the New England–like colors in the mountains can be spectacular in autumn) and to the popular seaside resorts along the Black Sea, favored by Europeans. But things are changing. This year, the upscale tour company Abercrombie & Kent is including Sofia on its private jet tour through Europe and the Mediterranean. Should European Union membership become reality next year, this Balkan capital undoubtedly will continue its ascent.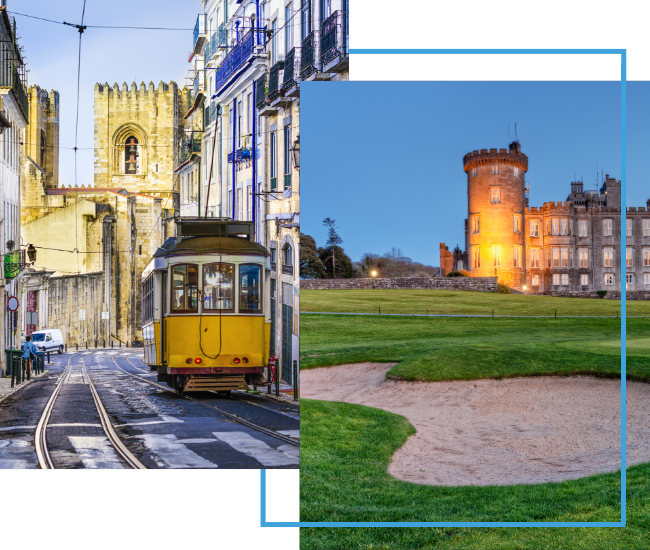 FX Excursions
FX Excursions offers the chance for once-in-a-lifetime experiences in destinations around the world.
Explore Excursions
More than 22 million visitors pour into Bangkok each year, adding to the roughly 11 million residents of the Thai capital famous for its bustling streets. Packed with food carts, markets and cultural spectacles, life in Bangkok is unusually defined by its vibrant street scene, both day and night. That means you don't necessarily need a solid plan when heading out on any given evening.
Sponsored Content
United Airlines is in the midst of a major initiative to modernize its fleet over the next several years. After first announcing the plan in 2021, planes fitted with United's signature interior are finally beginning to appear across the airline's narrowbody fleet of Boeing and Airbus planes. United flyers are sure to notice these enhancements from the moment they step on board: Each new or updated plane sports remodeled seats, seatback entertainment screens for everyone, Bluetooth connectivity and more, all adding up to a better experience on every journey.
As first-time restaurateurs, but with plenty of hospitality-related experience, Ria and Kevol (Kev) Graham were not entirely comfortable opening their first restaurant in the Brooklyn neighborhood of Williamsburg, where several upscale restaurants and 5-star hotel dining is just a block away. And to make matters worse, they opened in July 2020, when New York City was in the middle of the COVID-19 pandemic.