In 2012, I joined Team in Training, an initiative of The Leukemia & Lymphoma Society designed to train participants for halfand full marathons, bike races and triathlons while the participants fundraise on behalf of the organization. The training was an invaluable part of the process, as crossing the finish line on my first half-marathon — having never been a runner — gave me a surge of accomplishment. I met lifelong friends through the organization; I spoke with survivors and those stricken with blood cancers and was inspired; I saw real benefits to the dollars I raised. At the end of the day, I asked, what else can I do?
With nearly 1.2 million people in the United States living with or in remission from leukemia, lymphoma and myeloma, it's likely you've met or been impacted by someone with a blood cancer. Perhaps you are now asking yourself, what else can I do?
On March 1, Global Traveler is bringing you one way to help as we launch our 11th annual online travel auction. For the fifth consecutive year, the auction will benefit LLS. We ask you to stand with us in support. I'm still personally involved with the organization today in other aspects outside of Team in Training. Francis X. Gallagher, GT's publisher and CEO, serves on the Board of Trustees for the eastern Pennsylvania chapter. A handful of other involved parties at our company consistently contribute time, money and support. Near and dear to all of us, it would be a personal honor to have you join us in the fight to end blood cancers.
On a global scale, research funded by LLS is leading the way in finding a cure to all cancers. Stand behind the mission and stand with us: Cure leukemia, lymphoma, Hodgkin disease and myeloma and improve the quality of life of patients and their families.
Here you'll find a listing of world-class travel goods up for bid beginning March 1. These hotels, airlines and other companies understand the importance of the LLS organization, and we can't thank them enough for partnering in our efforts.
Be part of the cure; 100 percent of the proceeds benefit LLS. Trips around the world await lucky bidders — sometimes well under normal retail value. Your chance to bid on trips of a lifetime could mean a lifetime for someone struggling with a blood cancer.
Through May 1, log on to our website for rules and bidding instructions. Let the bidding begin — bid often and check back daily, as new items are added every day.
This year, GiveSmart will power our auction, an intuitive mobile bidding platform, allowing for seamless bidding, consistent updates and immediate processing.
Approximately every three minutes one person in the United States is diagnosed with a blood cancer. If you multiply that by minutes per day, days per week, weeks per month, months per year, you understand the scope of LLS's mission. Someday is today, and your efforts can help turn the goal of beating cancer into a reality.
What Are Blood Cancers?
Leukemia: Cancer that affects the blood and bone; the four most common types are acute myeloid, acute lymphoblastic, chronic myeloid and chronic lymphocytic.
An estimated 52,380 new cases of leukemia were expected to be diagnosed in the United States in the past year.
Lymphoma: A group of blood cancers that develop in the lymphatic system; the two main types are Hodgkin and non-Hodgkin.
Almost 80,000 new cases were expected to be diagnosed in 2014 in the United States.
Myeloma: A type of cancer beginning in the bone marrow and affecting plasma cells; it has several forms, including multiple myeloma, plasmacytoma, localized myeloma and extramedullary.
Myeloma belongs to a spectrum of disorders referred to as plasma cell dyscrasia.
GT and LLS
The team at Global Traveler works closely with the eastern Pennsylvania chapter of The Leukemia & Lymphoma Society. All of the money you contribute in our online auction benefits the chapter; here are other ways to directly support our efforts:
The Leukemia & Lymphoma Society of Eastern Pennsylvania: lls.org/epa
The Red & White Ball: redwhiteballphilly.org
BID TODAY
Auction items up for bid
Two round-trip International Business Class tickets on Air Canada
Two round-trip business-class tickets on Asiana Airlines from any U.S. gateway (HNL, JFK, LAX, ORD, SEA, SFO) to any destination
A two-piece luggage set from Briggs & Riley
Two round-trip business-class tickets from the United States to Asia on China Airlines
Two round-trip first- or business-class tickets between the United States and Asia on Delta Air Lines
Three-night stay, with breakfast, at Dorsett Shepherds Bush, London
Three-night stay in a Quay room at The Fullerton Hotel Singapore with American buffet breakfast for two persons at Town Restaurant
Three-night stay at Grand Hyatt Incheon
A full-size, seven-day car rental in the continental United States from Hertz
One million IHG Rewards Club points, courtesy of InterContinental Hotels Group
Four-night stay in a junior Harbour View suite, inclusive of Club InterContinental, at InterContinental Hong Kong, with an HK$3,000 food and beverage credit
Three-night stay for two people at Kowloon Shangri-La
Two round-trip business-class tickets from Newark to Paris on La Compagnie
Caviar Signature bracelet from Lagos
Three-night stay for two guests at The Langham, Chicago
Three-night stay and club access for two people at Lotte Hotel Seoul
Three-night stay in a cityscape guestroom at Mandarin Oriental, Las Vegas
One-night stay with dinner for two in Muze at Mandarin Oriental, Washington, D.C.
Two-night stay in a deluxe guestroom at Montage Beverly Hills
Two-night weekend stay for two at The Peninsula Beverly Hills
Two-night stay in a deluxe river-view room in the Shangri-La wing, including breakfast, for two at Shangri-La Hotel Bangkok
Two round-trip business-class tickets on Singapore Airlines from Houston (IAH) to Moscow (SVO) on Singapore Airlines
Four-night stay including breakfast at Steigenberger Hotel Am Kanzleramt Berlin, courtesy of the German National Tourist Office
Two round-trip Premium Business Class tickets on South African Airways from the United States to South Africa
Three-night stay in a superior room, inclusive of breakfast at Terrace, at The St. Regis Abu Dhabi
Two round-trip business-class tickets on Swiss International Air Lines from any SWISS-operated U.S. gateway to Switzerland
A Tamron SP 70-33mm F/4-5.6 Di VC USD Model A005 camera lens
Two round-trip tickets on TAP Portugal from EWR or MIA to Portugal in business class
A two-piece luggage set from Travelpro
A mid-week three-night stay for two people at Treetops Resort
Two round-trip business-class tickets on Turkish Airlines from any U.S. gateway to Istanbul
Two round-trip business-class tickets on United Airlines
How Else Can You Help?
Donate to LLS
lls.org/#/waystohelp/donate
Leukemia Cup Regatta
leukemiacup.org
Light the Night
lightthenight.org
Man & Woman of the Year
mwoy.org
School & Youth Programs
schoolandyouth.org
Team in Training
teamintraining.org
BID TODAY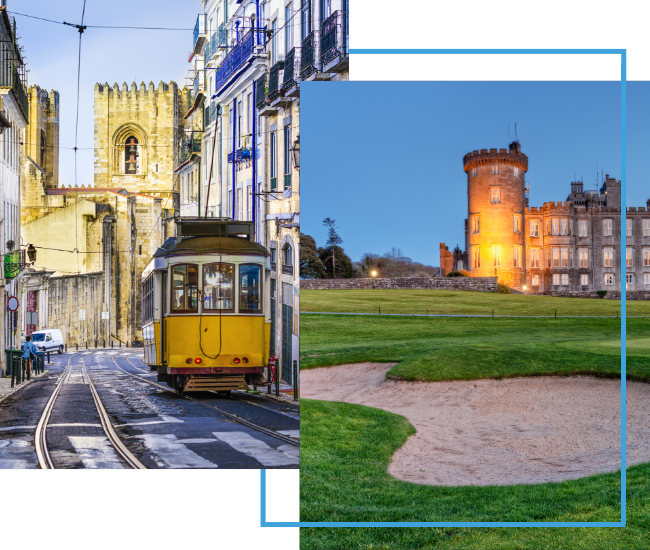 FX Excursions
FX Excursions offers the chance for once-in-a-lifetime experiences in destinations around the world.
Explore Excursions
There is something magical about sipping a glass of local wine while watching the sun slip into the Aegean Sea as the afterglow tinges traditional, white-washed Cycladic houses with glorious shades of rose, purple and gold. Ancient Greeks believed Helios, the Sun God, caused sunsets by driving his fiery chariot into the sea. Standing at water's edge in Mykonos, watching the sky slowly turn from purple to inky black, you almost believe it.
Sponsored Content
The Islands of Tahiti are among the most beautiful and sought-after vacation destinations in the world. The endless images of overwater bungalows with Bora Bora's majestic peak towering over waters of every shade of blue have an intrinsic pull. But with 118 islands and atolls to explore, there is so much more to this spectacular region of the Pacific.
The prospect of a post-visit treasure hunting session inside the shops of landmark museums such as the Louvre in Paris, the Uffizi Gallery in Florence and The British Museum in London can be irresistible. However, some of Europe's smaller and more unusual museums boast retail spaces with a surprising "wow" factor, often as well-curated as the galleries.