LOTTE HOTEL'S NEWEST EDITION Signiel becomes the first top-rated landmark hotel brand in Asia. Derived from the word "signature" and "Lotte," Signiel symbolizes excellence in luxury, impeccable service and accommodation — in every sense of the word.
Guests of Signiel's flagship location, Signiel Seoul, experience world-class accommodations in one of tallest hotels in the world. Located on floors 76–101 of Lotte World Tower, Signiel Seoul boasts unmatched, panoramic skyline views showcasing Seoul's breathtaking nightscape.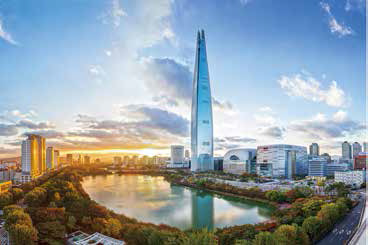 With 235 guestrooms, including 42 suites, Signiel Seoul brings a whole new experience that cannot be found anywhere else in Korea. Each room delivers incredible sights both outside the space and within. With individualized, world-class interior design blending Eastern and Western styles, each suite is more decadent than the next. Guests receive complimentary access to the high-tech fitness center, swimming pool and Salon de Signiel, an exclusive lounge for hotel guests.
The Royal Suite, located on the 100th floor, provides expansive space for any VIP guesat and is the most expensive hotel room in Korea. Signiel guests enjoy top-tier services such as personal shoppers, trainers and private services courtesy of the country's largest team of butlers. Guests travel in premium comfort and style as transportation services include private transfers by helicopter or Rolls Royce.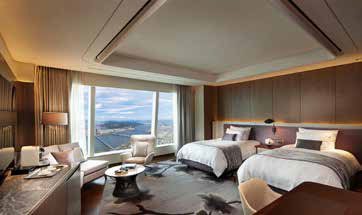 Appreciate fine French dining at Michelin chef Yannick Alléno's restaurant Stay, or anywhere else in Signiel Seoul, as chef Yannick directs the entire food and beverage experience at the hotel.
Indulgence awaits at the world-famous, French Alps-inspired Evian Spa, boasting services in skin nourishment and regeneration.
Host an event at the tallest banquet room in the world, The Grand Ballroom on the 76th floor. Luxury wedding concepts are led and developed by highly acclaimed event planner Kristin Banta, known for unique wedding concepts and events.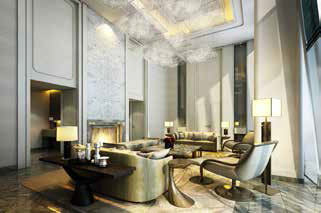 Signiel exceeds the highest of expectations. Signiel will be represented in Busan by 2019, with more to come.
Perfectly designed guestrooms and unrivaled customer service should put Signiel at the top of your hotel list in Seoul.
To learn more, visit lottehotel.com/signielseoul/en.
FX Excursions
FX Excursions offers the chance for once-in-a-lifetime experiences in destinations around the world.
Crystal Bridges Museum of American Art, located in Bentonville, Arkansas, presents Diego Rivera's America, the first major exhibition focused solely on the Mexican artist in more than 20 years, on view until July 31. Crystal Bridges is the second and final stop for the exhibition, the only remaining opportunity for visitors to experience Rivera's expansive vision of America.
Sponsored Content
Europe is more fun with a Portugal Stopover.
In San Antonio, Texas, old buildings are seldom destroyed. When they fall into disrepair, they are instead repurposed and restored to maintain the city's history and traditions for future generations to appreciate. Whether it's a former brewery or bank transforming into a chic hotel or a candy factory evolving into stylish lofts, this Texas city embraces both history and sustainability.