Ask a Seattleite where to find a great cup of coffee, and they may respond with a general wave of the arm that takes in the entire city. While Café Encore, one of the oldest coffeehouses in town, dates to 1958, Seattle is also famously home base to the Starbucks chain. In case you're curious, Starbucks got its start in the city's celebrated Pike Place Market after businessman Howard Shultz invested in a La Marzocco espresso machine and began serving delicious hot drinks that transcended the more everyday, pedestrian brew laced with cream and sugar.
The city remains the address for Starbucks' corporate headquarters, along with coffee chains Seattle's Best Coffee and Tully's Coffee. Positioned on an enviable stretch of terra firma between Puget Sound and Lake Washington, Seattle ranks as one of the largest metropolitan areas in the United States. Beyond the coffee arena, it attracts a number of internet and technology companies, along with a host of major players that include Amazon.com, T-Mobile USA, Expedia Group, Microsoft and Nordstrom. The city's waterside location, coupled with decades of smart development decisions, allowed the Port of Seattle to develop into a key trade gateway with Asia.
If you equate Seattle with puddles and cloudy skies, you may want to reconsider your assessment. Winters may be wet, but the climate is far more temperate than many visitors expect. It's what keeps locals outdoors, whether walking, hiking, kayaking or cycling in the numerous green spaces sprinkled throughout the city. Discovery Park, Seattle's largest, allows locals and visitors access to prime hiking areas along bluffs, on beaches and through forests. The meandering pathways around Green Lake and the wild land close by in the Cascade and Olympic mountain ranges all provide a diversity of recreational options for wellness wandering. The city even boasts a reclaimed railway right of way, the Burke-Gilman Trail, that stretches for 27 miles and offers multi-use space for hikers, runners and bicyclists. When it's time to slow down, a wide selection of options awaits. Yoga and movement studios including Sangha Seattle, Seattle Yoga Arts and 8 Limbs Yoga (with four separate locations) offer classes and destressing opportunities, while more trendy rejuvenation choices include cold cryogenic therapies for health enhancement and floatation isolation tanks for floating cares away. Respected addresses include Float Seattle, LifeFloat, Glacial Cryotherapy and Celsius Cryotherapy.
And remember — Seattle isn't all about coffee. Tea lovers can find refuge and a menu of astonishingly tasty treats at the elegant tearoom within Queen Mary Tea in Northeast Seattle. You can't miss the building, fronted by lush greenery and blooming flowers that tumble over the edge of the roof during warmer months, visible above a row of lace-curtained windows. Inside, sample tea from authentic English bone china with flavor choices that include Countess Grey Black Tea, Golden Monkey Black Tea, Rose Petal and Alice's Wonderland Rooibos.
For a truly magical tea experience, head to the Shoseian Tea House in the Seattle Japanese Garden. Sipping tea is only part of the traditional experience, which includes authentic tatami mats for seating and a 40-minute presentation on the Way of Tea ceremony, known as Chanoyu. Offered on Saturdays and held in the roji garden space, the ceremony proves a great way to relax and enjoy a beverage millions believe is good for both the body and the soul.
SCENIC DRIVES
Defining the horizon, Mount Rainier beckons from the city — and is happily accessible for daytrips. A number of circular drives around the mountain provide a sense of the area's grandeur and natural beauty, showcasing the dramatic peaks and forest-clad terrain surround- ing the iconic, 14,411-foot active volcano. Loop 1, the Circle Mount Rainier Drive, follows State Highway 410 from (and back to) the town of Enumclaw on a five- hour circuit. It takes in Federation Forest State Park, dramatic Skookum Falls, Tipsoo Lake and the Chinook Pass Summit.
Loop 2, the Scenic Byways Loop, wends from Packwood on U.S. Highway 12 through the eastern border of Mount Rainier National Park along the Chinook Byway and the White Pass Scenic Byway. In general, it requires about three hours to navigate the 129-mile-long drive.
Along Loop 4, the West Side Loop, the scenery includes old-growth forests of ancient trees, Big Bottom Valley and assorted wildlife. This route also traces a section of U.S. Highway 12 and begins and ends in Morton. Without stops, the drive takes roughly three hours. Be prepared to take your time, though; many of the twisting roads have steep drop-offs and require slower speeds. Roads along each of these loops are generally free of snow by late May, but be sure to check weather conditions before setting off.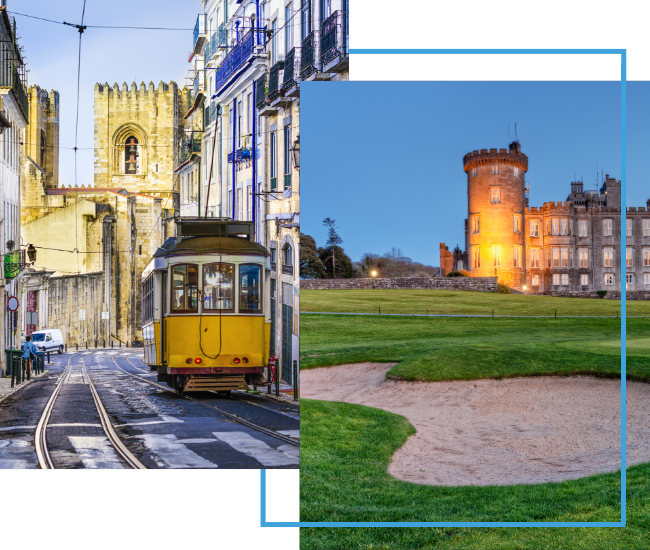 FX Excursions
FX Excursions offers the chance for once-in-a-lifetime experiences in destinations around the world.
Explore Excursions
Pleasant weather, autumn foliage and vibrant flowers are among the many delights awaiting nature lovers at botanical gardens and arboretums across the United States. However, some of these green spaces take on additional color this month and through Halloween when enterprising gardeners, landscape architects, management and other creative minds cast a spell with themed environments running the gamut from spooky to utterly bewitching.
Sponsored Content
Experience the life-changing destination of Greece by exploring its island gems in the Ionian Sea. Scattered off the western coastline of Central Greece, to the south of Peloponnese, the Ionian Islands are an island group comprising large and small islands.
For travelers who love all things autumn, Crystal Springs Resort, New York City's closest destination resort, features special offers and experiences to meet the demands of everyone's fall bucket list. Located only 80 minutes outside New York City in Sussex County, New Jersey, Crystal Springs Resort offers a quick getaway to enjoy fall foliage. Are any of these new offers or experiences on your bucket list?