Arrival/Check-In: I was traveling to Miami for a meeting with my former colleague, Olivia Falcione. After an early-morning flight from Philadelphia to Miami, we arrived well before our check-in time at Royal Palm South Beach Miami, the first hotel announced as part of Starwood's Tribute Portfolio. The property's history dates to 1939, when it was built as a four-story resort before being expanded two years later.
Unfortunately, our arrival coincided with check-out time, which meant the front desks were busy and our room was not quite ready. We killed time enjoying lunch at the alfresco Florida Cookery and wishing we could lounge by the pool instead of heading to meetings. We would soon find our room was well worth the wait.
Guest Quarters: Our two-bedroom suite on an upper floor was, in one word, gorgeous. The room opened into a foyer facing an amazing view of the ocean through a wall of windows in the living room area, which boasted several places to sit as well as a desk. The décor was sophisticated without losing a beach-like feel. A bedroom flanked either side of the front door, each with its own bathroom and each about the size of other full-sized hotel rooms I've stayed in.
Services/Amenities: Where to begin? We valeted our rental car and needed it several times throughout our stay to head to meetings. Each time it was delivered quickly. Other on-site amenities include two swimming pools, a poolside bar, a lobby lounge, a coffee bar, a full-service spa, a retail outlet, two restaurants and more than 10,000 square feet of indoor and outdoor meeting space.
With plenty of nooks to work in within the spacious lobby, we settled in to answer some emails one afternoon. A disgruntled guest was quite vocal in her somewhat irrational complaints to a member of hotel management, who handled the situation with respect, class and ease.
Olivia and I appreciated the hotel's proximity to other South Beach outposts and enjoyed an early morning walk along the beach path right outside the hotel.
TOP TAKEAWAYS
◆ Our two-bedroom suite boasted one of the best views I've ever experienced in a hotel room.
◆ The generously sized suite was perfect for two co-workers traveling together, offering us each a bedroom and a bathroom, with a communal living room.
◆ We had a package delivered to the hotel and needed to pick it up from the concierge. We were disappointed to note the concierge desk was not manned constantly, and we missed the attendant several times.
Royal Palm South Beach Miami, a Tribute Portfolio Resort
1545 Collins Ave.
Miami Beach, FL 33139
tel 305 604 5700
royalpalmsouthbeach.com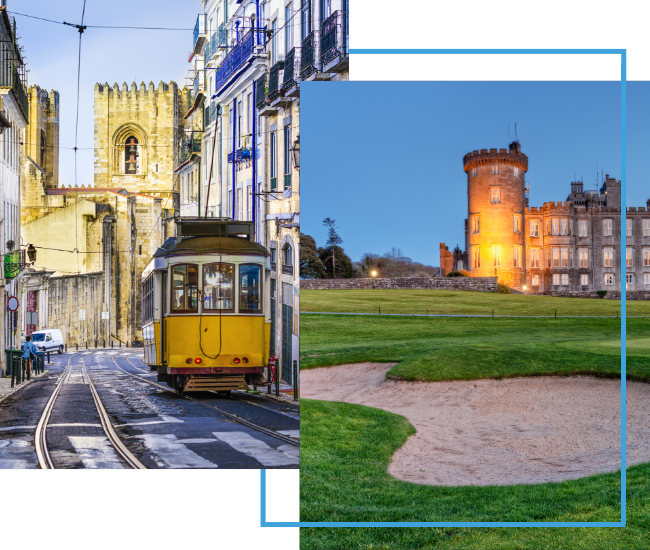 FX Excursions
FX Excursions offers the chance for once-in-a-lifetime experiences in destinations around the world.
Explore Excursions
In addition to intimate settings, smaller staff-to-passenger ratios, and personalized food and beverage options, river cruises have the advantage of providing a deeper dive into a region's culture, food and history. The Rhine, Rhône and Danube in Europe and the Mississippi River and St. Lawrence in North America have much to offer travelers with their itineraries, tying together beloved cities and lesser-known destinations along their routes.
Sponsored Content
In an increasingly digital and interconnected world, the Global Business Travel Association (GBTA) Convention remains an indispensable platform for business travel industry professionals seeking to make the most of the power of face-to-face connections. Taking place August 13–15 in Dallas, the 2023 GBTA Convention provides the unique opportunity for professionals and companies to join visionaries, thought leaders and industry experts for meaningful networking, cutting-edge insights and inspiring innovation.
With the holidays right around the corner, travelers are preparing for holiday travels. For those looking for a last-minute getaway filled with holiday cheer, consider Croatia. With a variety of winter activities perfect for travelers and locals alike, the Christmas countdown in Croatia is in full swing. Leading up to Christmas, Advent in Croatia makes it even more worth your while to visit the country with free winter incentives. If you plan on visiting Croatia, here are five cities going all out for the holiday season: