ARRIVAL/CHECK-IN: Talk about a grand entrance! After driving across the state of Pennsylvania and spending the last 40 minutes of our journey in a snowstorm, Nemacolin's The Chateau coming into view was a welcome and gorgeous sight. After stopping at a check- point where our temperatures were taken, we drove to the valet, where we were helped with our many bags (winter gear takes up a lot of luggage space!) and escorted into an equally gorgeous lobby, bedecked with red roses in a nod to Nemacolin's recent gig as host venue for the latest season of The Bachelor. Given the late hour, the lobby was quiet and empty. We were offered Champagne at check-in and were quickly on our way to our guestroom.
GUEST QUARTERS: Our room was generously sized. We entered into a vestibule with a closet and dressing area to the left and the marble bathroom — with stall shower, double sink and soaking tub — to the right. More rose petals adorned the bathroom. The shower offered little storage space for bath amenities and lacked strong water pressure, and certain room finishes could use a bit more attention to detail.
As we continued into the room, again we were taken by its spaciousness. Two nightstands flanked the king-sized bed, with a cushioned bench at its foot. Well across the room sat a dresser with the TV on top. When facing the bed, a wet bar with a mini refrigerator stood to the left along with another nook with a long, skinny table. Next to the dresser was an ample desk, and another small sitting area with two chairs and a round table sat near the three floor-to-ceiling windows overlooking the resort's private runway.
SERVICES/AMENITIES: This is where the resort truly shines! Depending on the season, the options for activities at Nemacolin are endless. We visited in winter and went clay shooting, took a safari tour (think white tigers, wolves, bears, buffalo and more), went snow tubing (recently renovated to include a Magic Carpet to take guests back up the hill), enjoyed the spa and took a painting class. One thing on our list we couldn't squeeze in was dogsledding. And that's just a few of the offerings. We can't wait to go back and experience zip lining, art tours, mini golf, fly-fishing and so much more. Be sure to read our blogs and check out globaltravelerusa.com, whereverfamily.com and trazeetravel.com for more in-depth content on the activities.
And the dining is just as appealing. We enjoyed both in-room dining and a visit to Rockwell's for breakfast. On our day of departure, the in-room dining must have been extremely busy as several items were forgotten and it lacked consistency from our previous experience. Barattolo offered the perfect venue for a cozy, romantic Italian dinner, and I encourage anyone visiting to take a "leap of faith" at Lautrec. Other options include Aqueous, PJ's Ice Cream Parlor, The Pantry and The Tavern.
TOP TAKEAWAYS:
Nemacolin is a family business, with the owner, Mr. Hardy of 84 Lumber, residing on site. Take a minute to peruse the exhibit on the Hardy family.
Speaking of family, the staff across the board is exceptional, and the feeling of family is evident among all employees.
One afternoon we enjoyed cocktails and wonderful live music in the lobby. Several times throughout our stay we both commented on the great music playing wherever we went.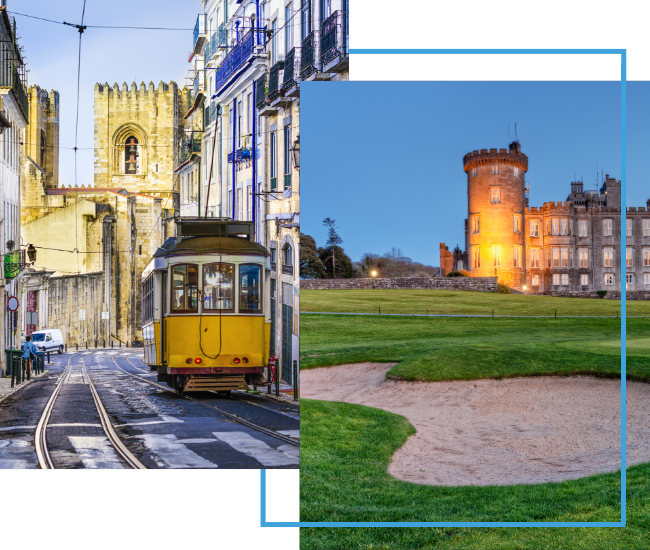 FX Excursions
FX Excursions offers the chance for once-in-a-lifetime experiences in destinations around the world.
Explore Excursions
Pleasant weather, autumn foliage and vibrant flowers are among the many delights awaiting nature lovers at botanical gardens and arboretums across the United States. However, some of these green spaces take on additional color this month and through Halloween when enterprising gardeners, landscape architects, management and other creative minds cast a spell with themed environments running the gamut from spooky to utterly bewitching.
Sponsored Content
IHG Hotels & Resorts is thrilled to announce the launch of a new mobile product feature for members: IHG Wi-Fi Auto Connect. This feature is now available exclusively in the IHG One Rewards mobile app for both iOS and Android users and will automatically connect IHG One Rewards members to WiFi upon arrival at more than 5,000 IHG hotels worldwide — no separate passwords or log-ins needed. This is in addition to the exciting benefits of being an IHG Business Edge member. IHG Business Edge provides small- and medium-sized businesses access to a user-friendly portal that displays comprehensive spending and savings data while providing the convenience of direct booking with a guaranteed discount.
For travelers who love all things autumn, Crystal Springs Resort, New York City's closest destination resort, features special offers and experiences to meet the demands of everyone's fall bucket list. Located only 80 minutes outside New York City in Sussex County, New Jersey, Crystal Springs Resort offers a quick getaway to enjoy fall foliage. Are any of these new offers or experiences on your bucket list?