THE BASICS
Name: Steve Smotrys
Title: Vice president, global sales and trade relations
Company, city: Seabourn; Los Angeles, California
First job: Financial analyst at Warner Bros. international theatrical division
Where to next: I keep thinking about our new expedition ships that will join our fleet late this year. I'd be thrilled to go anywhere they're sailing, but the top of my list is probably Antarctica.
A LITTLE BIT MORE
What actor or actress would play you in a movie of your life?
I've been told Matthew Goode resembles me. Not sure if he has the acting chops to pull it off, but he's got the look.
What would you be doing professionally if you weren't in your current industry?
I'd say in a leadership role in the world of conservation and sustainability.
What is your favorite book, movie or television show?
Paulo Coelho's The Alchemist inspires you to create a vision and teaches you about the rewards of hard work and the journey in pursuing it. Casino Royale is the perfect James Bond film. And I loved Mad Men for its characters and portrayal of the golden age of advertising framed by the historical events of the 1960s.
What historical figure, dead or alive, would you love to have dinner with?
A proper dinner requires a party of six, so I will take the liberty of inviting Ernest Hemingway, Bruce Lee, Quentin Tarantino, Paul McCartney and Walt Disney.
THE BUSINESS
What is your most recent project, and what was the inspiration behind it?
Collaborating with the whole Seabourn team to find ways to help our travel advisor partners. Obviously, we needed to become more financially cautious, but we fully understand advisors are critical pieces of the travel ecosystem. Their success is tied to ours.
What is your favorite aspect of the job?
Everything we do is with the goal of creating priceless memories, and that puts everything in perspective when I get caught up in the minutia of the day. I also love the amazing people I connect and collaborate with.
What's the biggest business risk you've ever taken?
After spending 13 years in the yield management world, I took a leap of faith to lead the sales team at Cunard. It's amazing how powerful coming into a different business function with a fresh perspective can be.
Who is someone you admire professionally in the travel industry?
I had the pleasure to work with Jan Swartz, president, Holland America Group, in my revenue management days and always admired what a dynamic leader she is.
AS A TRAVELER
Tell us about a travel nightmare: I have been fortunate to avoid any travel nightmares.
Share a comical travel experience: While staying at Rome Cavalieri, walking through the lobby hallway, I passed a man wearing ragged jeans, a tee and flip-flops. I thought I recognized him but couldn't place him. That night in the bar I approached a man with his back to me whom I thought was a waiter. "Excuse me, sir, could I order some drinks?" The man I passed earlier swung around, gave me an irritated stare, said, "I don't work here" and stormed past me. It was then I realized it was Anthony Bourdain.
What is your preferred method of travel — planes, trains, automobiles, cruise ships — and why? Cruise ship, of course! Nowhere else can you pick where you want to go, visit multiple places while only unpacking once, and choose exactly the onboard experience that fits your personality and style.
What has been the best example of customer service you've experienced during your travels? Before working for the company, I had the pleasure of sailing on Seabourn Encore. The service was unlike anything I experienced before. Not only was it high-touch but delivered with heart, warmth and authenticity. I'll never forget it!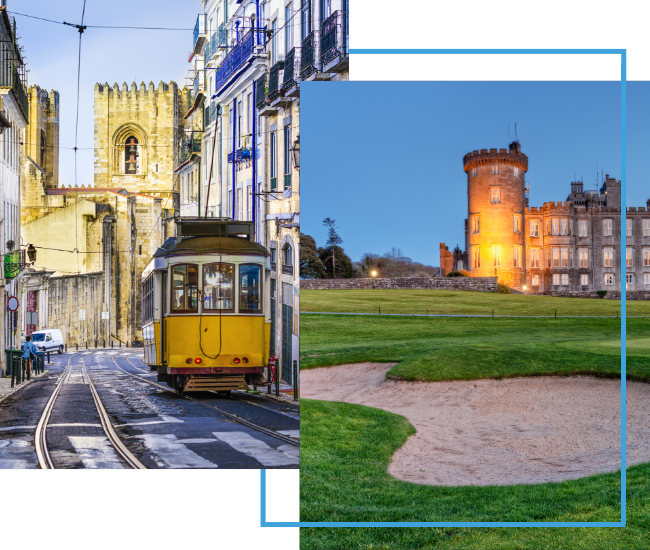 FX Excursions
FX Excursions offers the chance for once-in-a-lifetime experiences in destinations around the world.
Explore Excursions
Imagine yourself lounging in a stone cottage suite with a fireplace and freestanding tub, sipping hot chocolate in a rustic game and reading room with a raftered ceiling, and ice skating and cross-country skiing in the crisp mountain air. Sounds pretty perfect, doesn't it? Especially when you add in seasonal touches.
Sponsored Content
The Saronic or Argo Saronic Islands of Greece call travelers to explore its seven small islands and islets brimming with history, natural sites and more. With most easily accessible by boat, the islands' proximity to ports of Athens make the Saronic Islands an ideal destination for those preferring shorter boat rides. In fact, trips from Athens ports to the islands take only between 10 minutes and two hours, depending on the island you choose, making them perfect for day or weekend trips. From Piraeus port, you can access Hydra, Spetses, Aegina and Poros directly. Come explore these stunning islands with us and find the inspiration to plan your next trip to these islands. Hydra Hydra town curves around a slope overlooking the Argosaronic Gulf like an amphitheater and is considered one of the most romantic destinations in Greece. Most unique to the island is its lack of vehicles. People on the island get around on mules and donkeys as well as water taxis, making for a peaceful and laid-back day. Hydra lies a two-hour ferry ride from Piraeus port in Athens.
For the first time in Olympic history, when the 2024 Summer Olympics kick off on July 26, 2024, they will not do so in a stadium. Instead of an Olympic venue, the entire city of Paris will become the Olympic stadium, hosting the games among monuments, on bridges and on the grounds of some of the world's most historic sites. The Opening Ceremony will take place on the River Seine, where athletes will drift along on a flotilla of boats as spectators wave them on from the quays and bridges throughout the city.