THE CITY OF A THOUSAND spires stretches vastly from either side of the Vltava River, flanked by castle-topped hills to the west and a charismatic Old Town to the east. Prague experienced a renaissance of sorts in the past decade, attracting not only tourists who come to see its magnificent Old Town Square and centuries-old bridges but also professionals who discover newfound reasons to visit the next up-and-coming European metropolis.
In each of the past two years, Prague made the list of the world's top 10 cities for expatriates, enticing international businesses and freelance contractors who now call the Czech capital home. According to this annual survey conducted by Internations, Prague ranks highly in terms of job opportunities, job security and work-life balance. But even those who don't live in Prague still flock to the Eastern European capital for opportunities to grow their networks and connect with like-minded professionals. Prague was named the 20th-most visited city in the world by Euromonitor International. Since the Czech Republic's entry into the European Union in 2004, the number of foreign employees in Prague tripled to more than 500,000. Another survey by Arcadis lists Prague as the second-best city in which to live and do business in all of Central and Southeast Europe.
Despite a fairly robust public transportation system, Prague's City Council seeks to invest nearly $92 million into new parking lots and parking garages for commuters, a Council high priority for 2019. Prague's new mayor, Zdenĕk Hřib, announced upcoming construction of a new metro line (Line D), expected to be completed within the next four years.
Prague also plans to enhance its commuter rail system by adding high-speed daily trains that will connect Prague with surrounding cities such as Benešov and Kutná Hora, while other lines will see an increase in the frequency of train departures during peak hours.
Getting down to business in Prague typically involves a few beers and a hearty meal of dumplings or stew. As home of the world's first pilsner, Prague has no shortage of enchanting beer halls where groups can reserve tables to sample some of the city's oldest and highest-rated brews.
Before imbibing in the locally brewed delicacy, settle in for a working lunch at Field, a Michelin-starred restaurant on the north side of Old Town. Try the multicourse lunch tasting menu, available on weekdays for 1,300 Czech koruna (approximately $58), not including wine pairings. Start with an amuse-bouche of lamb, gouda and raisin, or a seasonal taste of pumpkin, spicy butter and black garlic. Main dishes run the gamut from pike perch with curry kale and horseradish to beef, potato, yolk and dill.
Just down the road find Prague's picture-perfect Café Imperial where high ceilings, intricate wall carvings, gold accents and porcelain dishware round out an interior fit for royalty. Book a private room for meetings or celebratory gatherings and sample Michelin-starred cuisine such as roasted goose with bread dumplings and white cabbage, or grilled pork chops with beer sauce and Lyonnaise potatoes.
More centrally located in Old Town is Restaurace Mincovna, a modern and clean space where sun creeps in to reflect off whitewashed walls and wood adornments. Long tables and comfortable taupe booth seating foster a setting for private conversations accompanied by traditional yet elegant Czech cuisine.
Authenticity appeases the palate at Lokál Dlouhááá in the heart of Old Town, serving carefully curated dishes constructed with only regional ingredients alongside authentic Czech beer poured directly from the vats in which it is made. Specialties include mushroom-braised local rabbit, pork knuckle roasted in dark beer and pork neck steak with fried onions and gravy.
Head toward the Vltava River to Estrella, a fine-dining vegetarian spot that incorporates organic ingredients into 20 percent of its seasonal dishes. A daily lunch menu includes soup, salad and a main course, which can be accompanied by a spot of only-local beer or wine, or a luscious dessert such as lavender panna cotta.
Take clients and colleagues to the water for a less traditional gathering on the eco-friendly vessels of Prague Boats. The plastics-free company hosts day cruises up and down the Vltava River, and boats of varying sizes can even be rented out for private functions such as holiday parties, team-building activities or business lunches or dinners, with capacities ranging from 11 up to 550, complete with catering and entertainment services.
When the workday is done, head to the 27th floor of Prague's City Tower for sunset and a few pre-dinner cocktails at Aureole. Panoramic views extend over the city and the river from the top of the country's tallest building, where guests can relax in one of two lounges, at the bar or on the outdoor terrace, and order Asian fusion dishes until 10 p.m.
Whether you're in Prague for business or pleasure, the medieval city caters to both, often simultaneously.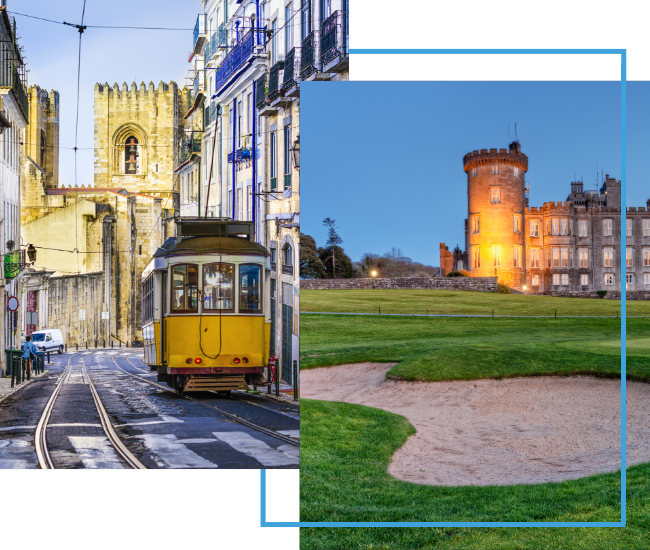 FX Excursions
FX Excursions offers the chance for once-in-a-lifetime experiences in destinations around the world.
Explore Excursions
If fabulous food and beverages are a must-have for any weekend getaway, then look no further than the City of Brotherly Love. Whether your palate has a penchant for vibrant Latin American fare or cozy French cuisine, whether you're an oenophile looking to swirl, sniff and sip your way around the globe or you'd rather sample farm-to-glass cocktails, Philly's got it all this fall. (With the exception of Bolo, which is a short taxi or Uber ride away and definitely worth the trip, the rest of these spots are all within walking distance of each other.)
Sponsored Content
The Global Business Travel Association (GBTA) believes business travel is a fundamental force for good and brings the industry together to connect, innovate and set new standards. With members from across the globe, GBTA engages the many voices of business travel to build a collective future, providing a platform for buyers and suppliers to come together, connect with peers, grow their network and shape the future of the industry.
From Santoríni to Dubai to New York, some hotels just have that "it" factor that draws visitors far and wide. For some hotels it's their proximity to popular landmarks and attractions, for others it's their amenities. But these hotels have something few can claim: a true room with a view.