A short plane ride brings visitors from Kuala Lumpur, Singapore and Bangkok to the island known as the "Pearl of the Orient." Malaysia's smallest province, only 200 miles north of Kuala Lumpur, includes a sliver of mainland. Primarily, though, Penang consists of a 112-square-mile island, a microcosm of vacation facilities providing a wealth of choices for studying the local culture, hiking through jungle trails, basking on the beach, sampling diverse cuisine — or partaking of all four.
One of Asia's most famous resort destinations, the island is officially named Pulau Pinang for the betel nut-producing areca tree. Settled by Capt. Francis Light, who "negotiated" to provide military protection to the local sultan of Kedah, it is the oldest British settlement in the region. Strategically located on the "watery road" between China and India, it served as the major port on the Straits of Malacca until 1819, when it was overshadowed by the founding of Singapore. Today's population of 1 million combines descendants of Chinese, Malay, Indian, East Asian, Portuguese, Dutch and British settlers who came to trade and prosper here.
Most visitors start at George Town, the charming capital city so dominant in the province it is interchangeably referred to as Penang. With the highest concentration of colonial buildings in Southeast Asia — 12,000 original structures still stand — it exudes Old World charm and achieved UNESCO World Heritage status in 2008. Sightseers stroll its grid of narrow streets lined with low-slung townhouses, tea shops, temples and pastel shop houses with bright red Chinese signs. Besides Old Town, Chinatown, Little Italy and the contrasting 58-story cylindrical KOMTAR shopping mall, visitors wander the city's must-see sites on heritage walks or wind through town on free on-off shuttle buses with numbered stops at notable sites. Another option is to engage one of the colorful trishaws, though it's important to haggle with the driver for an acceptable price.
A good first stop is Fort Cornwallis, the star-shaped wooden stockade built in the early 1800s now enclosing a pleasant park. Exhibits in the barracks and gunpowder magazine describe and illustrate important battles and activities. Note the sample Malay wooden kampong house near the entrance and a charming Christian chapel at one corner inside. Said to be a fertility symbol, "Serai Rambai," an original cannon, has a surface well worn from fingers touching it for luck.
Outside the fort stands the stately Penang Clocktower. Built to commemorate Queen Victoria's Diamond Jubilee, it measures 60 feet tall, one foot for every year she had been on the throne. Monumental public buildings encircle the adjacent expansive town green, Padang Kota Lama, where colonials promenaded. The buildings include Town Hall, the Legislative Building and the Penang Art Gallery, two blocks away. The Penang Museum and Art Gallery is one of the country's best. Faded photographs, rickshaws and a mother-of-pearl opium bed trace the festivals and history of the diverse local cultures through time.
A vivid example of the Chinese legacy is the Khoo Kongsi Clan House, an elaborately decorated complex of a temple and meeting places built by one of the prominent local clans which formed to safeguard shrines and look after members' welfare. The statue of a watchman guards the entrance, and the ornate Dragon Hall displays ceramic sculptures of immortals and carp.
The seafront Esplanade offers a pleasant place for an evening stroll. Other tourist stops include the Acheen Street Mosque with its Egyptian-style minaret and the mossy Old Protestant Cemetery at the edge of town which contains the graves of founder Francis Light and Thomas Leonowens, the husband of Anna in The King and I, a movie partly filmed in George Town.
One local structure with its own 2000 UNESCO State Monument award is the Cheong Fatt Tze Mansion, the Chinese equivalent of a stately home. Built by a local "Rockefeller of the East" merchant and one of Asia's most carefully restored houses, it oozes ambience — carved moldings, teak and terra-cotta floors, gilded wood-carved doors, ceramic ornaments, stained glass, seven staircases, antiques and replicas. Surrounding its lovely courtyard, 16 "decadent" rooms rent to overnight guests who want the experience of living in the eclectic architecture favored by the wealthy Straits Chinese.
Another heritage accommodation, the stately Eastern & Oriental Hotel, dates from 1885 and was built by the same Sarkies brothers who operated Singapore's Raffles Hotel and The Strand in Yangon. Designed with the lacy façade and Moorish minarets of colonial-style mansions, the E&O offers an oasis of tea rooms, manicured lawns and tropical gardens. Stopping by to settle into an armchair in the dark wood clubby atmosphere of Farquhar's Bar for a sundowner cocktail is almost mandatory.
Beyond George Town lies a landscape of jungle, lakes, beaches, a cozy national park and a cool hill station. Touring the island's 50-mile circumference is easy. Closest to George Town sits the early inland resort Penang Hill, also called Bukit Bendera or Flagstaff Hill. Customarily 41 degrees Fahrenheit cooler than in town, its temperate, unpolluted air attracted British vacationers in pre-air-conditioning days. At 2,273 feet above sea level, the summit features a food court and souvenir stalls with panoramic views all the way back to the mainland. Under a broad overhang red roof on nearby Strawberry Hill ridge, David Brown's Restaurant and Tea Terraces serves English cuisine — rarebit, bangers and mash, beef Wellington — as well as Penang specialties in an Old World atmosphere. A historic funicular train ascends to the summit in nine minutes, or hikers can walk up the five-mile footpath that starts at the Moon Gate of the Botanic Gardens. Established in 1884 and also known as Waterfall Gardens, the 74-acre preserve of flora and fauna includes pavilions dedicated to orchids, palms, bromeliads and a cactus garden.
Penang National Park — the smallest national park in the world — spreads across the northwest corner of the island. Trails, campsites and canopied walkways introduce visitors to a full range of tropical habitats: hilly forest, wetlands, mangroves, mudflats, beaches and corals interspersed with rocky outcrops. Within the park lie a turtle conservation center and the 19th-century Muka Head lighthouse. In spring and fall, visitors may have the chance to see a meromictic lake formed during the change in monsoons, when the water doesn't merge but lies in distinct layers, with denser, salty seawater lying under fresh, cool water from the mountain stream. The park's remote beaches are considered the best on the island, and a clan of crab-eating macaques inhabit one of them, Monkey Beach.
A well-marked network of trails and a forestry museum are situated at Teluk Bahang Recreational Forest on the north coast, where visitors can swim or splash around in pools and a number of small waterfalls. Nearby, an abandoned rubber plantation was transformed into the award-winning Tropical Spice Garden. Said to be the largest showcase of tropical herbs and spices in the world, it offers garden tours and cooking classes. Less than a mile away, 4,000 butterflies of 120 species inhabit the two landscaped acres of Penang Butterfly Farm, scheduled to reopen in early 2016 after a major redevelopment.
While there is so much to see and visit, some travelers prefer merely to chill out at the beach. Around the corner from George Town lie the hot, white sands of Batu Ferringhi beach, described as an upmarket version of the Costa Brava. Once a hippie nirvana, its mile-and-a-half stretch is now lined with a string of international-standard hotels and resorts offering a full complement of water sports: swimming, surfing, parasailing, kayaking, jet skiing and banana boat rides.
A longtime favorite resort is Lone Pine, first built in 1948 and now affiliated with the E&O. Originally a local doctor's beachside bungalow, the low-rise, upgraded complex retains the casual feel of a surf shack with white shutters and louvered walls. Shangri-La operates side-by-side hotels. Its Golden Sands Resort touts rooms with wraparound balconies in a "cerulean heaven." The more exclusive Shangri-La Rasa Sayang, designed in distinctive Minangkabau architecture, exhibits Malaysian artifacts and provides signature CHI spa treatments in private villas, with rejuvenating and purifying Wholistic Wellness Escape packages beginning every Monday or Thursday. Palm trees and swimming pools dominate the shore side of the PARKROYAL, offering spa services and located steps away from the local night bazaar, a major daily event. Every evening around 7 p.m. a carnival atmosphere prevails as vendors set up booths selling ornate curios, mementos, souvenirs, beach accessories and food.
All over the island delicious cuisine remains a big attraction, blending influences of the diverse population. Besides native Nyonya dishes, international flavors abound in local specialties such as laksa Penang, a sour fish and tamarind-based soup; ikan bakar barbecued fish; the pasembur "salad" medley of cucumbers, potatoes, bean curd, prawn fritters and fish balls tossed in sweet and spicy peanut sauce; and cendol for dessert — green rice flour jelly served over shaved ice mixed with coconut milk and palm sugar. While restaurants are numerous, the delicious, inexpensive versions sold by hawkers at the outdoor open markets at Bata Ferringhi and on Gurney Drive in George Town make a visit to Penang a gastronomic journey.
Penang Info to Go
Daily shuttle planes from Kuala Lumpur, Bangkok, Singapore and Hong Kong fly into Bayan Lepas International Airport, about 12 miles south of George Town. From Kuala Lumpur, Air Asia, Malaysia Air and Malindo Air offer numerous daily one-hour flights. Arriving by car or train, visitors cross over on the ferry from Butterworth or drive across the eight-mile-long bridge, one of Asia's longest, modeled on San Francisco's Golden Gate.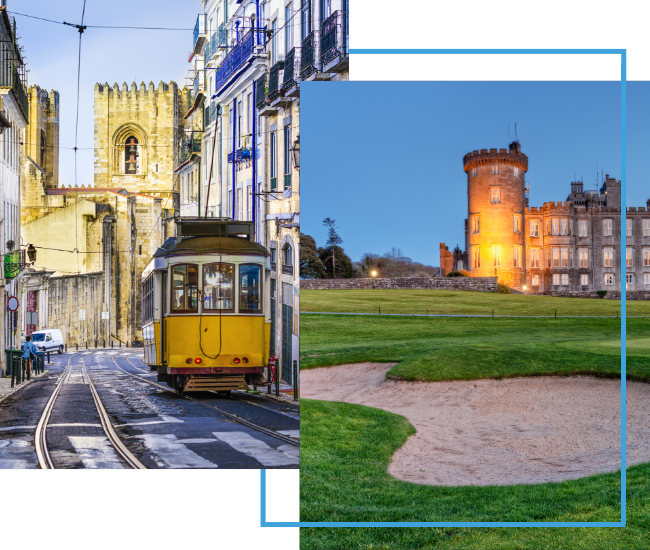 FX Excursions
FX Excursions offers the chance for once-in-a-lifetime experiences in destinations around the world.
Explore Excursions
A new and expanded campus at the Buffalo AKG Art Museum has been completed, reopening this summer and featuring new architecture designed by the architectural office of OMA New York, led by partner Shohei Shigematsu and project architects Lawrence Siu and Paxton Sheldahl, with Cooper Robertson (executive architect). The new expansion includes the Jeffrey E. Gundlach Building and extensive renovations to existing buildings. A $20-million commitment from New York State and Governor Kathy Hochul helped fulfill the expansion's budget and completes the $230 million capital campaign, the largest campaign for a cultural institution in the history of Western New York State.
Sponsored Content
Whether it's the people, the craic (fun) or the coasts, travelers always find something to love about the island of Ireland. What fills your heart?
Ever since opening in 2021, Nobu London Portman Square has served as the focal point for many gatherings, stays and experiences. This fall the hotel's Nobu Bar adds four more reasons to visit with an exciting array of offerings, menus and events.