Pebble Beach is on nearly every golfer's list of courses to play, ranking up there with Pine Valley and the Old Course in Scotland. I have been lucky to play the course three times, twice as the guest of Malaysia Airlines some 20 years ago and most recently as part of the Chase United MileagePlus Club Card Inside Access program.
Inside Access offers certain Chase Card members access to once-in-a-lifetime events including celebrity meet-and-greets, private outings on select golf courses and chef events. Each scheduled experience has limited space; you can log on to insideaccess.com to check out upcoming offers and book your experience with your Chase card.
In 1919, Samuel Finley Brown Morse, distant cousin of the creator of Morse code, convinced the Pacific Improvement Co. that a golf course at Pebble Beach would help development and land sales. So began the dream of one of the most famous and sought-after courses in the world.
Morse died in 1969, but Pebble continued as a haven for golfers and a viable tract of land for investors. In 1979, Twentieth Century Fox used its profits from Star Wars to purchase the course. When industrialist Marvin Davis purchased Twentieth Century Fox, he built The Inn at Spanish Bay, where some say the warmth and service is the best.
Japanese businessman and golf fanatic Minuro Isutani bought the resort and course in 1990 at the height of the Japanese economy. Isutani ran into some legal and financial problems, selling the facilities to The Lone Cypress Co. (formed by the Japanese Sumitomo Bank and Taiheiyo Club) in March 1992.
In 1999, like white knights charging in to save the American icon, Arnold Palmer, Richard Ferris, Peter Ueberroth and Clint Eastwood — along with William Perocchi and GE Pension — purchased Pebble, promising to never let it leave American control again.
Pebble runs like a machine, and so many want to play the course and are willing to pay the exorbitant fees that golfers tee off nonstop. Only Pebble Beach Resorts guests may reserve a tee time, 24 hours or more in advance, and a minimum two-night stay is required. With greens fees of $495 and caddie fees starting at $80, you need to consider a daily expenditure of about $1,500 (golf, fees, hotel, meals). Add a stop at the pro shop and you'll easily push this to $2,000. Thus the appeal of the Chase Inside Access event: You couldn't go wrong with the two-night, two-rounds package at about a third of the normal fees.
The package also included a wonderful instruction and practice program at the new Pebble Beach practice facility headed by Laird Small, one of the most popular golf instructors in the country. Laird's friendly team took us through driving, putting, chip shots and a special presentation and instruction program with Laird himself.
One of the issues at Pebble Beach is the pace of play. Our round took more than five hours, and I am told this is a continuing problem they are addressing at the "Pebble Machine." I would suggest fewer tee times and a few more serious marshals to get players moving. I don't care what golfers pay for a round, they are not entitled to play slowly: That is a fundamental of the sport. The course can do with fewer players (and their revenue) in the interest of what is right for the game.
We attacked the course as a threesome — myself, Andrew Marler of Facebook and Mike Abbott of Softcard, accompanied by our caddie/stand-up comedian John. On the back nine, David Gold, general manager, partnerships, JPMorgan Chase, joined in on the fun.
Hole 1 | 377 yards, par 4
Hole 1 is intimidating, as it is the beginning of the journey many golfers have waited all their lives to play. Nerves build up, tourists are watching and — as if there is not enough going through a golfer's head — you can add, "I am hitting my first drive at the most famous golf course in the world!" I have seen it countless times: Low handicappers get so much in their heads, they hit lousy tee shots until they settle down.
I took the bull by the horns and swung a wild drive left into the rough while my partners, Mike and Andrew, hit two decent drives much farther and favoring the left fairway, one making the trap. Your drive should favor the left, as this is a slight dogleg right.
I was way out and, throwing caution to the wind, laid a wood on my ball and sailed it high with a slight fade to the green. I nearly made a birdie on the first hole, setting the stage for the day. Mike and Andrew (whom I later named "Wonder Boy") carded a 6 and 4, respectively.
Hole 3 | 390 yards, par 4
After parring the previous par 5, I felt very good but wondered if I could sustain this level of play. Hole 3 is intimidating: a severe dogleg left with a line of pine trees which make cutting the corner difficult. I took my power fade off to the left, nearly catching a pine branch and landing dead center in the fairway about 140 yards from the green. Mike and Andrew both bit off more than they could chew, getting tangled in the trees and falling down safely in play — but near the 16th green. John, our illustrious caddie, found their balls so they could punch their drives back into play.
I was sitting pretty and took a high iron to the green but hooked it to the left trap. Thankfully, the trap caught the ball, as it was running hot and a woman was walking her child in a stroller behind the green (typical tourist interaction at Pebble). I slammed out of the bunker, rolling across the green and just off. From here, I lined up my chip and, to the shock of all the team, chipped in for par. That is one way to get it!
Hole 5 | 192 yards, par 3
This is probably the most important hole on the course, and it did not exist in its present state prior to 1999. During the first 79 years of course history, the fifth hole took a turn inland and was a true disruption to the flow and beauty of Pebble. I remember how disconnected the course felt when I first played here. The previous owners, Taiheiyo Club, were not without controversies, but they did acquire this plot of land and finally completed the original vision of the course.
Today's Hole 5, designed by Jack Nicklaus, is truly one of the most beautiful holes at Pebble. After admiring the plaque thanking the Japanese investors for their thoughtful efforts to create this hole, we teed it up to test Jack's creation. We honored them well, Mike and Andrew landing on the green while I landed left and chipped and putted for a triple set of carded pars.
Hole 6 | 506 yards, par 5
I distinctly remembered how difficult Hole 6 played years ago. This time around, we had a team discussion with the caddie and determined the best play was to aim left and do our best to avoid the cliff down to the beach on the right side. Andrew was well on his way to earning his coveted Wonder Boy nickname when Mike videotaped him driving the ball perfectly left center of the fairway, with my commentary heard in the background: "I don't think that's gonna be a problem, it's gonna be nice." I understand it had thousands of views on Instagram.
I tried to follow Andrew's power but came up just short of the two bunkers on the left side, squarely ready to lay on some wood for the battle up the enormous hill to the green. Mike, who never listens, went right, his ball sailing over the cliff to wayward beachcombers collecting starfish and shells.
I laid my 3-wood on the ball and successfully secured placement on the top for an easy chip and two-putt for par. I was so proud of myself as I remembered how I struggled on this hole nearly 20 years ago.
Hole 7 | 106 yards, par 3
This is probably the most famous hole at Pebble due to its beauty and the effect of the wind on club selection. In the same day, the wind can change your selection from an easy sand wedge to a hard 5-iron. The left bunker is the most-hit bunker in the country; many a U.S. Open has been won and lost on this hole.
Laird Small, famed Pebble Beach golf instructor, was on hand to offer history and commentary and watch Mike and me sail into the Pacific Ocean. Wonder Boy nailed it for an easy par.
Hole 8 | 427 yards, par 4
Hole 8 is laid out as a dogleg right, but a deep cliff cuts the fairway in half right where your drive would land. You must lay up your shot before the cliff. I took the drive, the only time John steered me wrong, and slammed the ball right into the chasm, joining the rolling Pacific Ocean and gone forever. The entire team struggled with Hole 8, but we were overwhelmed by the topography and beauty.
Hole 17 | 177 yards, par 3
As darkness drew upon us, we had to join the group in front of us for an eightsome for holes 17 and 18. As you can imagine, this meant a bevy of balls were shot all over the green and in the rough. I slammed a shot right and was able to chip and two-putt for a bogey. Mike, through a comedy of errors, carded a 5, but Wonder Boy, through all the confusion, scored a birdie. We all took a good look at the Pacific Ocean and turned our sights to a dark finishing hole.
Hole 18 | 543 yards, par 5
We played lights out, literally, as we closed the day at Pebble Beach, again teeing off as an eightsome and racing to play our shots. I drove precariously close to the water's edge; the entire hole runs the length of the Pacific Ocean. My second shot landed in the long sand trap lining the left side all the way to the green. Staff at Pebble Beach drove their oversized transportation golf carts up to the green to shine their lights so we could putt in comfort, a nice touch. We hustled off the green, shaking each other's hands, thankful we were able to play the course. From there we attended a closing Inside Access dinner and awards ceremony, a special night at The Inn at Spanish Bay.
Pebble Beach Golf Links
Pebble Beach Resorts
17-Mile Drive
Pebble Beach, CA 93953
tel 800 877 0597
pebblebeach.com
The Inn at Spanish Bay
1700 17-Mile Drive
Pebble Beach, CA 93953
tel 831 647 7500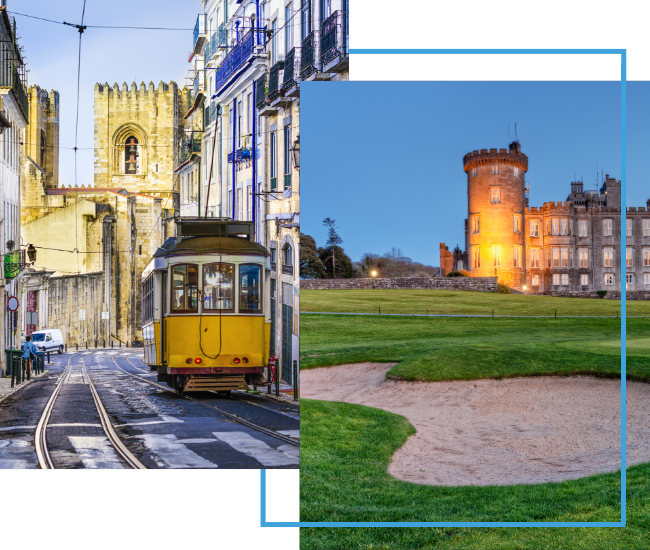 FX Excursions
FX Excursions offers the chance for once-in-a-lifetime experiences in destinations around the world.
Explore Excursions
Mazatlán, Mexico, has long been an attractive home destination for Canadian and American retirees, but, in recent years, young, digital nomads have also discovered the charms of this coastal city, finding inexpensive accommodations, beautiful weather and plenty of bandwidth for working remotely. The laid-back beach scene definitely eases the transition of relocating to Mexico's West Coast.
Sponsored Content
Incentive travel has long been a way for organizations to drive sales and reward employees with opulent trips to exotic destinations. Today it encompasses even more.
For its third year, Global Traveler awards the airline, cruise line and hotel brand best representing diversity, equity and inclusion within the travel industry. Over the past year Global Traveler analyzed many airlines, cruise lines and hotel brands to determine which companies prove most committed to changing the world through diversity and inclusion.