Name: Michael Rutter
Title: Chief revenue officer
Company, city: Aer Lingus; Dublin, Ireland
Number of employees: 4,000
Recent project: Re-imagining and re-launch of Aer Lingus business class
First job: General secretary, U.K. students' union
Little-known fact about you: I ran the European launch of Ray-Ban's Men in Black campaign, dressing up as Tommy Lee Jones to deliver the launch show to 1,000 European opticians.
Your Business
Essential business philosophy: Treat business like sport. Inspire your team with clear goals and motivate each member differently depending on their needs. Lead by example; do and be seen doing, don't just delegate. Keep it simple and constantly ask what "good" looks like and what we need to do to be good.
Best way to keep a competitive edge: Set up a benchmarking approach with competitors across the globe and a listening process for feedback from at least 2 percent of your customer base every month. Become the customer; regularly fly the product and the competitive product, not as a VIP but as the punter. Foster a risk culture which supports blue-sky thinking. Such a culture allowed me to be the first to introduce baggage charges which transformed aviation profitability in 2005.
Yardstick of success: Shareholder return generated, our Net Promoter Score, the level of risk my team takes and the level of business my team generates
Michael Rutter as a Traveler
What is the most important item you take when traveling? My Wenger backpack as a carry-on, with compartments for power cables/plugs, MacBook/iPad/Kindle and other essentials
How do you spend your time on board? I largely spend my time working. In-flight WiFi keeps me productive; I am lucky Aer Lingus has WiFi across the Atlantic to keep me in control of things.
What is your favorite restaurant in the world? Jing Fong Restaurant, New York City; I love dim sum and old, chaotic Cantonese restaurants.
What is your favorite destination in the world? La Manga Club, Murcia, Spain, where we bought a house; I've watched my kids grow up there, and I can kick back and forget the everyday pressures.
About Aer Lingus
Aer Lingus recently debuted a refreshed business-class product. Tell our readers about the new cabin.
The stunning new business cabin features a 6-foot, 5-inch fully lie-flat bed; quiet nighttime flights; a best of modern Ireland food platform; a new 16-inch HD touch-screen entertainment system with major increases in film and TV content; free WiFi across the Atlantic; and fantastic in-seat features including laptop storage and massage functions. Aer Lingus remains the best value business class between Europe and North America (prices are 20 percent below the European average) but now with no compromise on product.
What can premium travelers expect from the on-the-ground experience?
First, a new arrivals lounge opened at Dublin Airport with facilities for showering, changing and pressing clothes, allowing business-class passengers to freshen up. A dedicated business-class check-in area will be unveiled at Dublin Airport. A brand-new business-class lounge opening at JFK's Terminal 5 offers the airline's first pre-dine service for business-class guests. Finally, guests can pre-clear U.S. Immigration and Customs in Dublin and Shannon airports, saving hours and avoiding lines upon arrival in the United States. Ireland is uniquely positioned to take advantage of this service; nowhere else in Europe offers it, making Dublin a great choice as a European transit gateway.
What can North American travelers look forward to from a visit to Ireland in 2015?
My top 10: Literary Dublin, Killarney National Park, The Wild Atlantic Way, Rock of Cashel, Kilmainham Gaol, Brú na Bóinne, Giant's Causeway, Dingle Peninsula, Cliffs of Moher and a perfect pint with perfect music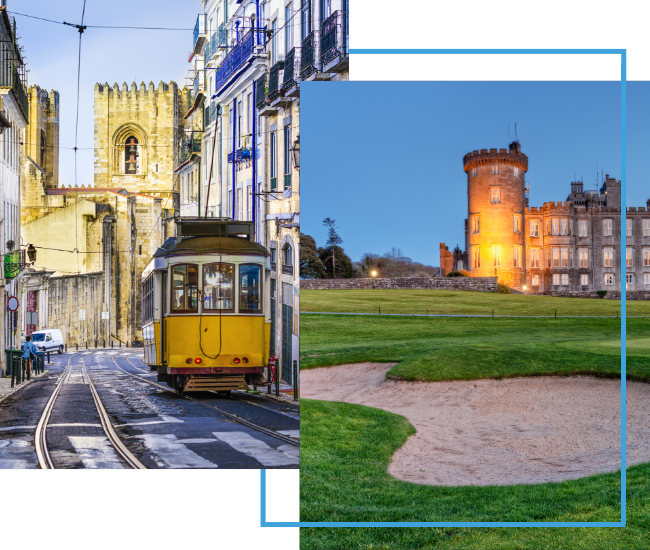 FX Excursions
FX Excursions offers the chance for once-in-a-lifetime experiences in destinations around the world.
Explore Excursions
A new and expanded campus at the Buffalo AKG Art Museum has been completed, reopening this summer and featuring new architecture designed by the architectural office of OMA New York, led by partner Shohei Shigematsu and project architects Lawrence Siu and Paxton Sheldahl, with Cooper Robertson (executive architect). The new expansion includes the Jeffrey E. Gundlach Building and extensive renovations to existing buildings. A $20-million commitment from New York State and Governor Kathy Hochul helped fulfill the expansion's budget and completes the $230 million capital campaign, the largest campaign for a cultural institution in the history of Western New York State.
Sponsored Content
Are you looking to enhance your business trip with a little leisure? Look no further than Portugal, a country renowned for its captivating blend of history, culture and natural beauty. And with TAP Air Portugal, you can effortlessly transform your business trip into an unforgettable bleisure adventure. Discover why Portugal and TAP Air Portugal are the perfect combination for an enriching and rejuvenating experience.
Ever since opening in 2021, Nobu London Portman Square has served as the focal point for many gatherings, stays and experiences. This fall the hotel's Nobu Bar adds four more reasons to visit with an exciting array of offerings, menus and events.