Name: Nancy Deck
Title: Vice president, multi-brand and loyalty marketing, Hilton Worldwide
Company, city: Hilton Worldwide; McLean, Va.
Number of employees: 130,000-plus
Recent projects: We launched new HHonors rewards in 2012 (Points & Money, Premium Room and Room Upgrade). We also launched HHonors Global Shopping Mall, a site where members can transform points into experiences or gifts, and HHonors Shop-to- Earn Mall, online shops where members earn Bonus Points through purchases.
First job: In high school, I worked in an old-fashioned toy store; every item was gift-wrapped, and I tested the toys. Even then, I had client service on the brain.
Little-known fact about you: Travel is not only my job, it's also a passion. My favorite travel experience thus far was wine tasting in Mendoza, Argentina.
Nancy Deck's Business
Essential business philosophy: Our company's vision is to spread the light and warmth of hospitality — and that informs everything we do on a daily basis.
Best way to keep a competitive edge: Listen to our guests and members; put their needs first, all the time.
Yardstick of success: Delivering the best travel experiences for guests and HHonors members. That's tough to measure, and we do so carefully, using guest surveys and looking at indicators like how often a guest returns to our properties.
Nancy Deck as a Traveler
What is the most important item you take when traveling? My iPad, loaded with books, apps and information about where I'm visiting
How do you spend your time on board? I divide my time between work, reading and crossword puzzles, and on long flights, movies.
What is your favorite restaurant in the world? I love to try new and different restaurants, so I don't have one favorite.
What is your favorite destination in the world? One favorite is Italy — the perfect combination of great food, art, fashion, architecture, shopping and people-watching.
About Hilton Worldwide
What can travelers expect from HHonors and Hilton Worldwide? From iconic luxury properties like the Waldorf Astoria to innovative focused-service hotels like Home2Suites, our brand portfolio is the largest and most diverse in the industry. Our Request Upon Arrival program allows guests to make a service request via our mobile apps prior to arrival. Hilton HHonors is the only program to offer guests the ability to earn hotel points and airline miles for the same hotel stay and enjoy hotel rewards with no blackout dates or capacity controls on all standard rooms.
What makes the Hilton properties unique? Hilton Worldwide has more than 3,900 hotels in 90 countries and 10 brands, which means we have a hotel for any occasion and any traveler at any time. We also have nearly a century of experience as a hospitality pioneer. That's given us deep knowledge of guests' needs and tremendous insights into how to best serve them, which, in turn, helps us improve our products and services. For example, HHonors last year introduced our New Reward offerings based on guest feedback, offering members more choices to redeem points for any available room, anywhere, anytime.
What is the most challenging aspect of competing in the current marketplace? The contraction of business travel as a result of the economic recession has been one of the biggest challenges we faced as an industry. But a more systemic, long-term challenge for us — especially as we grow around the world and as the economy recovers — is striking the right balance between thinking locally and globally in both our operations and our marketing. Hilton Worldwide's value proposition is that each of our properties, in each of our markets, provides a consistently excellent experience. But we also have to adapt to the individual traveler and the individual market — from speaking the right language to understanding the culture where we're operating — to ensure we're accurately reflecting the experiences and expectations of all our guests.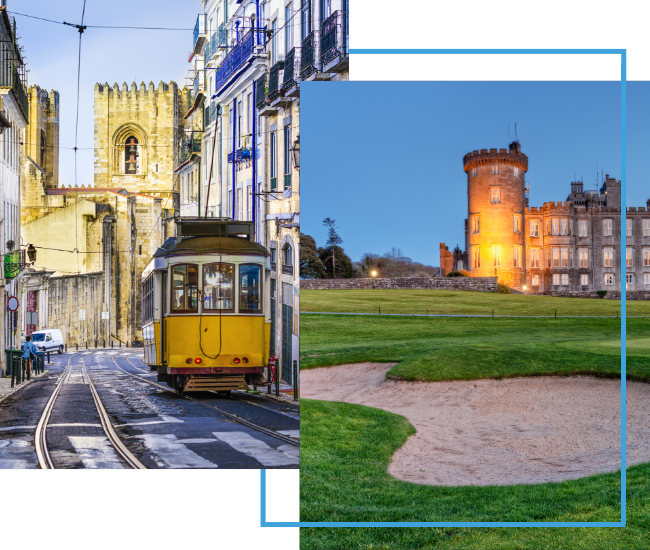 FX Excursions
FX Excursions offers the chance for once-in-a-lifetime experiences in destinations around the world.
Explore Excursions
Less than five years ago the world's first hybrid cruise ship, Hurtigruten Expeditions' MS Roald Amundsen, set sail for Antarctica in November 2019 with 450 passengers. The battery-hybrid-powered ship, named for the first man to cross the continent and reach the South Pole, was built specifically for voyages in polar waters. Its battery-hybrid power reduces the ship's consumption and CO2 emissions by 20 percent compared to equally sized ships.
Sponsored Content
Are you looking to enhance your business trip with a little leisure? Look no further than Portugal, a country renowned for its captivating blend of history, culture and natural beauty. And with TAP Air Portugal, you can effortlessly transform your business trip into an unforgettable bleisure adventure. Discover why Portugal and TAP Air Portugal are the perfect combination for an enriching and rejuvenating experience.
A few months ago, I flew Polaris business class on a United flight from Dulles (IAD) to Paris (CDG). It was only when I got to my hotel in Paris I realized that I didn't have my iPad or its bag or accessories. Since I had been working on it in the restaurant in the Polaris lounge and then went directly to the gate, I knew I either left it propped up on my table when I packed up or in my business-class seat. But what was the best method to alert the airline about my careless mishap and (hopefully) retrieve it? With spotty data and WiFi, searching for information on my phone was frustrating and slow. Here's what I learned from the anxiety-inducing experience (and unexpected ending) about what to do if you leave something behind on your flight: