Moscow has always carried a certain "off-limits" intrigue for me, a curious mixture born of Cold War secrecy, covert operations and conspiracy theories. So when we had the opportunity to visit the largest city on the European continent, populated with 12.1 million urbanites, it was inevitable we would catch the next plane to Russia. (But not before going through the onerous Russian visa process.)
Located near the 56th parallel north, Moscow is one of the northernmost and coldest metropolises in the world. But for all that chill, it is defined by a fascinating array of architecture, ranging from the iconic onion domes of historic buildings and the famous Stalinist skyscrapers known as the Seven Sisters to the modern architecture built from about 1990 to 2010. As a result, Moscow offers an eclectic architectural conglomeration representing the storied history and many faces of Russia.
If Moscow is considered the heart of Russia, then Red Square is indisputably the heart of Moscow. The centerpiece remains the rainbow-colored, onion-domed St. Basil's Cathedral — an iconic example of Russo-Byzantine architecture. No trip to Moscow is complete without snapping the obligatory photo of the cathedral.
You and your traveling companion must also save time to visit the famous GUM Department Store and plan to lunch at Stolovaya No. 57 for bargain-based good Russian food. Then head over to the famous red brick enclosure that houses the monolithic buildings of the Kremlin, Russia's equivalent of the Capitol Building, and the Kremlin Armory, a unique collection of historic Romanov artifacts, jewelry and crowns including some treasured Fabergé eggs. Check out Catherine the Great's resplendent coronation dress.
Be sure to experience the Moscow Metro, as traffic can be quite unpredictable and nerve-wracking. Besides being one of the deepest underground rapid transit systems in the world and one of the largest, the system showcases rich architecture and Soviet-style art throughout its 200 stations. It's also the least expensive and most dependable way to get around the city.
Because Moscow boasts more than 500 museums, it can be difficult to choose favorites as so many are world-class, representing some of the finest collections in their specialized niches. Two of my favorites focus on my interests in space travel and Impressionist art.
The Museum of Cosmonautics traces the history of space exploration from the former Soviet Union to modern-day Russia, beginning with the historic launch of Sputnik in 1957, effectively ushering in the space race. Located at the base of the Monument to the Conquerors of Space, popular exhibits include taxidermy space dogs; the space capsule used by Yuri Gagarin, first human in outer space; and modules from Russia's Mir space station as well as a Soviet moon rover.
The Pushkin State Museum of Fine Arts, one of the largest and most important museums in Russia, houses a rich collection of European and international art dating from antiquity to the 20th century. Among its more than 650,000 works of art, the French Impressionist collection is priceless.
For a different point of view, experience the fairy-tale illumination that takes over the city after sunset. Thousands of LED lights sparkle in the dark, outlining buildings, cathedrals, bridges, main streets, squares, monuments and statues in ever-changing hues ranging from gold, orange, red and pink to violet, blue and green. With such a nightly display of light and color kinetics, there's no reason to be afraid of the dark.
The best thing about Moscow's night lights is they shine year-round. And for out-of-towners, the best way to experience the magic of Moscow at night is by joining a guided tour. We signed on for an optional tour offered by Viking River Cruises. The 3.5-hour escorted tour featured a walk through Red Square to hook up with a boat on the Moskva River, followed by a bus tour. Many local guides also offer similar customized tours.
Moscow Info to Go
International flights arrive at the modern Domodedovo International Airport or the overcrowded Sheremetyevo International Airport. Both lie about 20 miles from the city center, with taxis from either for less than $50 to the city center. Note fares must be paid in Russian rubles. A Russian visa is required along with a passport valid for at least six months after proposed departure date from Russia. The passport must have blank pages. As the Russian visa process can be rather burdensome, consider using the services of private companies that offer visa support for Russia.
Where to Stay in Moscow
HILTON MOSCOW LENINGRADSKAYA With baronial architecture that dominates the skyline, the Hilton Leningradskaya was originally one of Moscow's Stalin skyscrapers. Today it offers 273 guestrooms and a lobby listed as a historical monument. Kalanchevskaya St. 21/40 $$$$
HOTEL METROPOL The old-style Russian hotel, located in a most desirable location next to the GUM Department Store and opposite Red Square and the Bolshoi, offers 365 guestrooms and suites. Teatralniy Proezd 2 $$$$
THE RITZ-CARLTON, MOSCOW Popular with businesspeople and celebrities, The Ritz-Carlton is located on Moscow's most famous street. The ultimate in luxury, guestrooms vary in both size and view. Tverskaya St. 3 $$$$$
Restaurants in Moscow
BUONO The social elite enjoy classic Italian cuisine in an elegant setting on the 29th floor with some of the best views of the city. Book ahead to snag a window seat. Radisson Royal Hotel, Kutuzovsky Ave. 2/1, Building 1 $$$$$
CAFÉ PUSHKIN Dine like a czar in a posh, pre-Revolutionary atmosphere. Sample superb Russian favorites like blini, black caviar, borscht or pelmeni meat dumplings followed by selections from the impressive vodka bar. Reservations are a must. Tverskoy Blvd. 26a $$$$
STOLOVAYA NO. 57 Enjoy hearty classics at bargain prices in this themed Soviet workers' cafeteria. Located in the GUM mall off Red Square, you'll encounter government officials, local staffers and families. All comrades bus their empty plates. GUM, Red Square 3 $$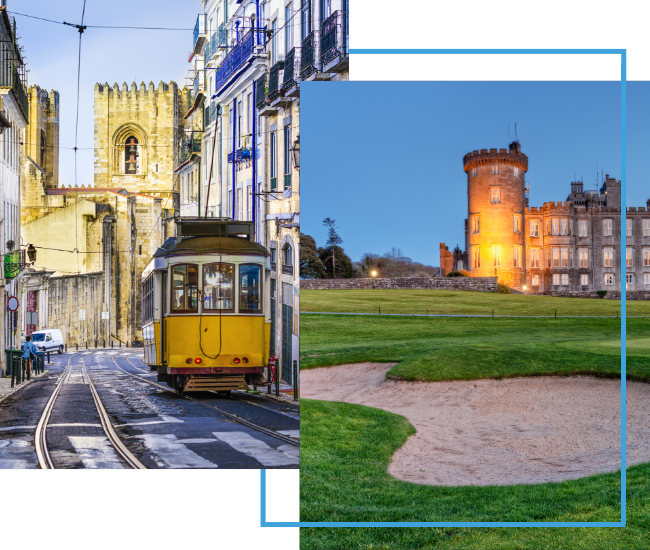 FX Excursions
FX Excursions offers the chance for once-in-a-lifetime experiences in destinations around the world.
Explore Excursions
One thing  surprising about the Prince Edward Island capital is its abundance of shops specializing in affordable, fashion-forward jewelry rendered in sterling silver, vermeil, 14K gold and semi-precious stones. Whether you prefer delicate pieces or bold wearable art, you can be assured the pieces for sale are inspired by the maritime island setting and, therefore, specific to the place where they are created. Here are a few shining, woman-owned examples:
Sponsored Content
Learning more about our readers' travel habits and preferences ensures Global Traveler delivers the content you desire. As the travel industry has adapted and changed over the last few years, it's more important than ever to connect. To best meet your short- and long-term travel content needs, please help us!
Norway, a haven for visionary artists, architects and designers, showcases an exceptionally diverse array of cultural attractions. This year, the country commemorates exciting milestones and unveilings captivating enthusiasts of the arts, from iconic scenic routes to new museums to gallery openings. Up Norway features these new offerings in personalized itineraries catered to aesthetes.