GASTRONOMY, GLAMOUR, GRANDEUR. The words alone evoke visions of Paris, the cultural capital that particularly lures women to professional events. Why not? The city, with its Haussman-style architecture, tree-lined boulevards and historic riverbanks offers an unparalleled backdrop for business. And women are unabashedly enthralled by its stellar reputation for food, fashion and romance.
Essentially, Paris takes on a bagel shape, though two teeny ancient islands stud the open middle. (On Île de la Cité, construction started for Notre Dame Cathedral in 1163; on Île Saint-Louis, private hôtels particuliers gentrified the island in the 17th century.) Cut the crusty bread irregularly in two to visualize how the river winds its way through the city, dividing it into Rive Gauche, the artsy Left Bank, and Rive Droite, the sophisticated Right Bank.
With two international airports and flights from more than 500 cities — plus high-speed TGV trains connecting major European cities to its grand gares, the railroad stations — Paris proves emminently convenient to reach. And you'll find taxis (with marked taxi stands), high-tech ride-hailing companies and efficient mass transit between airport and centre-ville.
In the City of Light your gatherings may take place in a giant convention center, ornate hotel or splendid department store. Perhaps you'll convene within an imposing historical monument, one-of-a-kind art gallery, architecturally  significant museum, glorious garden, impressive rooftop terrace, over-the-top nightclub, underground cabaret or cave (wine cellar), or on a vessel on the river. Not surprisingly, women appreciate conducting business within such emblematic cultural venues.
Meeting spaces stud many of the city's 20 arrondissements. In the 1st, one of the oldest quartiers (neighborhoods) near the Louvre, a former 12th-century fortress, the Carrousel du Louvre, features a chic upstairs lounge, with event space in the adjacent royal gardens at The Espace Ephémère des Tuileries and at the Palais Royal gardens. (Try to reserve a table at Le Grand Véfour in the gardens.) In the trendy Marais, in the 4th, groups gather within the neo-Renaissance Hôtel de Ville and the Centre Pompidou, where the outdoor escalator leads to an amazing art collection; the bonus is on the terrace, with its Seine views. In the 8th, one-of-a-kind locations include Musée Jacquemart-André, the art-filled, 18th-century- styled house museum facing elegant Parc Monceau; and Hôtel Salomon de Rothschild, a sumptuous private mansion with idyllic spaces: 13 indoors and three on the estate grounds.
During Paris Fashion Weeks, designers showcase their collections in stylish venues. Chanel chose the Grand Palais, in the fashionable 8th; Hermès and Lanvin showed at the Espace Eiffel, in the 7th; and Agnès B. and Yves Saint Laurent in the strikingly modern Palais de Tokyo, in the 16th. Other wonderful spaces in the 16th include those within the Fondation Louis Vuitton — Frank Gehry's soaring, ship-shaped opus which reinterprets 19th-century glass garden buildings. The terrace views there extend above the Bois de Boulogne (the city's major park) to city landmarks, including the Eiffel Tower.
You and Francophiles may recall the mile-long Champs-Élysées reaches the Arc de Triomphe at the Étoile, where 12 streets converge. (It was commissioned by Napoleon in 1806 and completed in 1836, after his death.) Beyond that, l'Avenue de la Grande Armée extends to the convention center, Le Palais des Congrès de Paris, at Porte Maillot in the 17th. The convention center houses almost 344,000 square feet of meeting areas, directly connected to the Hyatt Regency Paris Étoile. This 34-story skyscraper offers the largest meeting spaces inside a Parisian hotel and includes 35 modular event spaces which accommodate up to 2,800 guests. Renovated in 2018, the hotel offers panoramic Parisian views from its 995 rooms, and its culinary staff caters meals within hotel and convention center spaces. (If you prefer a smaller, boutique hotel, consider the chic La Villa Maillot, just a few short blocks away.)
A few of the hundreds of Parisian hotels provide striking and significant event space. A case in point: the art-filled Hotel du Collectionneur, the city's largest 5-star hotel, located near the Étoile and featuring an ornate façade and stunning Art Deco décor with a monumental staircase. It provides 487 rooms; 18,000 square feet of meeting space; and 20 meeting rooms, including one lavish reception room that can host up to 650 people. Its newly designed bar, restaurant and outdoor terrace made a swank debut in late 2018. The recently restored Hôtel de Crillon — with its pink marble floors; high, painted ceilings; and black, gold-trimmed, wrought iron railings — still feels like the 18th-century palace Louis XV commissioned in 1758 for the Count de Crillon. The 124-room hotel offers 6,600 square feet of meeting space; one 1,000-square-foot room boasts 20-foot ceilings, tall windows, formal molding and chandeliers. Outside, you'll find the Place de la Concorde, the Musée d'Orsay, the Tuileries Gardens and Place Vendome.
American women, especially, adore Paris; among visitors, 61 percent — including those traveling to MICE events — are female.
UNIQUE VENUES
The Bonaparte Dinner at Shangri-La Hotel, Paris, within a magnificently restored early- 20th-century palace, recreates an era when Prince Roland Bonaparte, Napoleon Bonaparte's nephew, hosted opulent banquets. The evening revives these traditional soirees, beginning with close-up views of the glittering Eiffel Tower from the terrace and an aperitif toast. A butler, costumed in style Napoleon, welcomes the host and guests and announces, "Madame [or Monsieur] est servie," before opening the doors to the Louis XIV-inspired, gold leaf-gilded Grand Salon and the regal four- course meal prepared by Michelin-starred chef Christophe Moret, which follows. The lavish dinner for 20 — complete with candelabra, a floral table runner and Limoges porcelain — is served at a single oval table. Round tables are available for groups of up to 80.
shangri-la.com/paris
Among the many vessels that cruise the Seine through the historic heart of the city, one — the new silent, electric motor yacht Ducasse sur Seine — boasts the multi-Michelin-starred chef's team of 36 chefs, who prepare farm-to-table cuisine on board. Exquisitely served culinary specialties highlight each two-hour lunch or dinner voyage for 12 guests at La Table du Chef; 20 at Le Carre on the upper deck; and up to 102 guests at Le Pont Principal, which can also be divided for 45 guests.
ducasse-seine.com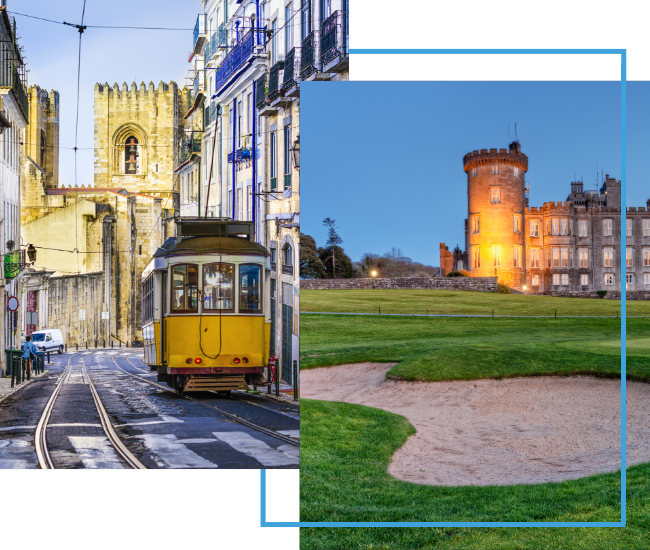 FX Excursions
FX Excursions offers the chance for once-in-a-lifetime experiences in destinations around the world.
Explore Excursions
Corsica with steep, gray cliffs overlooking the Mediterranean and sandy beaches attracting summer visitors, is a French-governed island sometimes confused with Sardinia and Sicily, Italian islands to the south. Fortunately, all three islands share the same love for good wine, food and sun-splashed beaches.
Sponsored Content
The Global Business Travel Association (GBTA) believes business travel is a fundamental force for good and brings the industry together to connect, innovate and set new standards. With members from across the globe, GBTA engages the many voices of business travel to build a collective future, providing a platform for buyers and suppliers to come together, connect with peers, grow their network and shape the future of the industry.
If you're ready to do a little holiday catch-up with your besties, make a beeline for Conrad New York Downtown. The lobby metamorphosed into a holiday forest of heavenly scented, decorated Virginia Spruce trees. Make your first stop ATRIO Barista Station in the lobby for a complimentary hot spiced apple cider (until Dec. 3) or hot chocolate (Dec. 22­–24).