©Trekandshoot/dreamstime.com
Los Angeles is a kaleidoscope of colorful neighborhoods, towering palms, frenetic freeways and brilliantly lit neon streetscapes — sprawling over a mesmerizing, undulating topography — making this Southern California city of 3.7 million residents one of the most intriguing destinations in the world.
Covering more than 500 square miles, L.A. stretches from the shimmering ocean at Pacific Palisades to 5,000-foot Mount Lukens in the San Fernando Valley. It encompasses rivers, desert terrain, steep valleys, stone-walled canyons, thick forests and about 80 different neighborhoods housing an amazingly diverse population. Its gross metropolitan product of $831 billion makes Los Angeles a true top-tier city along with New York, London, Hong Kong and Tokyo.
The Port of Los Angeles is the busiest container port in the country, and the city's high-tech, aerospace and financial services industries are thriving; but it's the omnipresent Hollywood aura that sets the tone. Dozens of local TV news stories appear every day involving current and former actors, their sons and daughters, wives and husbands. The Los Angeles Times business section runs a daily feature called "Company Town" which provides an endless supply of news about the city's entertainment industry, concentrating on film studios and industry executives; and with many of America's major entertainment firms maintaining headquarters here — including Universal, Warner Bros., Paramount, Sony Pictures, The Walt Disney Company and MGM — there is no shortage of news.
The American motion picture industry, which began in Hollywood in 1914 with D.W. Griffith's The Birth of a Nation, has prospered in recent years. The number of domestic tickets sold in 2011 is expected to hit 1.3 billion, resulting in total ticket revenue of $10.8 billion, the highest annual ticket revenue in motion picture history. Los Angeles has felt the effects of this in everything from higher occupancy rates at hotels in neighborhoods like Beverly Hills, Bel Air and Santa Monica to a burgeoning commercial and residential downtown district, spurred not only by the film industry but by the success of downtown's L.A. Live entertainment complex. Completed in 2010, the complex includes the Staples Center and Nokia Theater, JW Marriott and Ritz-Carlton hotels, the Grammy Museum, a 17-screen movie theater, 20 restaurant venues and numerous other entertainment options. Combined with the 2003 opening of the Frank Gehry-designed Walt Disney Concert Hall located just blocks away, downtown Los Angeles has become both a working environment and an evening hotspot for Angelinos.
Although 20th-century poet, writer and satirist Dorothy Parker once said that "Los Angeles is 72 suburbs in search of a city," she would change her mind after seeing today's downtown. Yes, the slowdown in the national economy dampened the pace of development; but new restaurants, hotels, corporate offices and residential conversions are still shaping L.A.'s Central Business District. More than 15,000 new residents have moved into the area in the past six to eight years, with many purchasing spacious loft apartments in converted Art Deco office buildings. The increase in the downtown residential population to more than 51,000 has brought higher sales prices for apartments as well as office space; and real estate activity in most of L.A.'s iconic communities has climbed back to pre-recession levels, with some properties in fashionable Malibu and trendy Venice selling for $3,000 per square foot.
However, for all its glittering movie premieres, high-end hotels and restaurants, and Bentleys and Ferraris cruising down Wilshire Boulevard, L.A.'s economy is still very much intertwined with Los Angeles County, a sprawling, 4,000-square-mile territory with hundreds of diverse communities — the most populous county in the country, with almost 10 million residents.
In the County of Los Angeles, where foreclosures and cuts in government sectors in towns outside L.A.'s magical orbit have soured local economies, the unemployment rate jumped to 13 percent by the end of summer; and towns like Industry City (23 percent unemployment), El Monte (17 percent) and Baldwin Park (16.5 percent) are feeling the nation's economic slump more than most. Thus, while the coastal regions of Los Angeles County have managed to buck the negative trends, towns in the Central Valley and the Inland Empire have experienced difficult times.
The City of Los Angeles, however, like other top-tier cities that maintain a thick patina of wealth, is always evolving; and the next several years will bring more dramatic changes. The $50 million Wallis Annenberg Center for the Performing Arts will open in 2013 in the restored 1930s Beverly Hills post office building. Local philanthropists Eli and Edythe Broad are building The Broad, a $130 million art museum to open in 2013 across from Walt Disney Concert Hall. A $1 billion, 68,000-seat NFL stadium, to be called Farmers Field, has been proposed for downtown L.A. by Anschutz Entertainment Group. City officials have already approved the plan for the stadium, which would be situated next to the existing Convention Center, and several NFL teams are considering moving to the city, with a tentative first game in 2016. Plus, the Los Angeles River, a forlorn, 51-mile-long waterway that was channelized in the 1930s, is being revitalized with a master plan that includes replacing much of the industrialized land along the river with parks and housing in a more natural environment.
---
DIVERSIONS
More than 60 cultural institutions across Southern California will join together to celebrate the birth of the L.A. art scene in a Getty-initiated project called
Pacific Standard Time: Art in L.A. 1945–1980
(http://www.pacificstandardtime.org). Through exhibitions, lectures, symposia, films, live performances and educational programs, this unique joint venture continues through April 1, 2012.
The $2 billion L.A. Live (800 W. Olympic Blvd., tel 213 763 5483, www.lalive.com) entertainment, sports and residential complex is a dazzling and vibrant downtown venue. the four-story
Grammy Museum
(tel 213 765 6800, http://www.grammymuseum.org)
at L.A. Live explores music's cultural history through exhibits,
films and public programs.
The Los Angeles County Museum of Art
(5905 Wilshire Blvd., tel 323 857 6000, http://www.lacma.org) began a transformation in 2008 with several additions including the Broad Contemporary Art Museum and the stunning Renzo Piano-designed Resnick Exhibition Pavilion, surrounded by Robert Irwin's Palm Garden. Michael Heizer's Levitated Mass, consisting of a 340-ton boulder hanging over a 450-foot slice in the ground, will complete phase two of the museum's makeover. LACMA will feature "California Design, 1930–1965: Living in a Modern Way" through March 25, 2012, as one of its five Pacific Standard Time exhibitions.
The Museum of Contemporary Art (tel 213 626 6222, http://www.moca.org), aka MOCA, has three locations within L.A., all devoted to modern art: MOCA Grand Avenue, the Geffen Contemporary at MOCA, and MOCA Pacific Design Center in West Hollywood. The upcoming exhibits "Under the Big Black Sun: California Art 1974–1981" and "Naked Hollywood: Weegee in Los Angeles" are two of the museum's Pacific Standard Time shows, both through February 2012.
One of the most-talked-about exhibitions in the city is at the new dinosaur
hall at the Natural History Museum of Los Angeles (900 Exposition Blvd., tel 213 763 3466, http://www.nhm.org). The 14,000-square-foot hall opened this summer with 300 dinosaur species, including the world's only Tyrannosaurus rex growth series.
Go on location with a guided studio tour at one of the three major motion picture
companies: SONY Pictures Studios (10202 W. Washington Blvd.,
Culver City, tel 310 244 8687, www.sonypicturesstudios.com),
Universal Studios Hollywood (100 Universal City Plaza, tel
818 777 1000, www.universalstudioshollywood.com)
and Warner Bros. Studios (3400 Riverside Drive, Burbank, tel
818 972 8687, www.wbstudiotour.com).
Indulge in the art of food and drink at two lesser-known but terrific new food
stops: Public School 612 (612 S. Flower St.,
tel 213 623 1172, www.publicschool612.com),
offering after-work small plates and a large selection of handcrafted beer in
a modern, congenial downtown setting; and VŪ (4175 Admiralty
Way, tel 310 439 3033, www.jamaicabayinn.com),
a casual waterside restaurant at the Jamaica Bay Inn in Marina del Rey where
you can sit on the sun-splashed patio, order a California wine and grilled polenta
or ahi tuna, and enjoy lunch L.A.-style.
Lodging
LUXE SUNSET BOULEVARD
The Bel Air/Brentwood boutique is a luxurious urban retreat offering free
WiFi, an outdoor heated pool with private cabanas and the Zen-inspired
sanctuary spa. 11461 Sunset Blvd., tel 310 476 6571, www.luxesunset.com
$$$–$$$$
THE REDBURY @ HOLLYWOOD AND VINE
At this 2010 property, 1930s Hollywood meets 1960s SoHo London in spacious
guest flats featuring kitchens, terraces and free WiFi. 1717 Vine St.,
tel 323 962 1717, www.theredbury.com
$$$$
SLS HOTEL AT BEVERLY HILLS
The chic luxury of the Philippe Starck-designed property, close to Beverly
Hills shopping, attracts actors, athletes and film industry executives.
465 S. La Cienega Blvd., tel 310 247 0400, www.slshotels.com
$$$$
Dining
CATCH
Overlooking the Pacific and serving fresh seafood and homemade desserts,
Catch is a good choice for a business lunch or a sunset dinner. Hotel
Casa del Mar, 1910 Ocean Blvd., Santa Monica, tel 310 581 5533, www.catchsantamonica.com
$$$–$$$$
DELPHINE EATERY & BAR
Under Executive Chef Sascha Lyon, the Mediterranean-style brasserie serves
great shellfish, salads, grilled swordfish and an extensive French wine
list. 6250 Hollywood Blvd., Hollywood, tel 323 798 1355, www.restaurantdelphine.com
$$$
RAY'S & STARK BAR
The restaurant and bar are getting lots of buzz as new additions to LACMA.
Enjoy a Mediterranean farm-to-table menu, indoors or out. Los Angeles
County Museum of Art, 5905 Wilshire Blvd., tel 323 857 6180, www.lacma.org/visit/plan-your-visit/restaurants
$$–$$$
Info To Go
Los Angeles International Airport (LAX) is 10–15 miles from most L.A.
hotels, about 25–60 minutes by car. Numerous airport hotels, just minutes
from the terminals, offer free shuttle service. Transport to downtown
includes the LAX FlyAway bus to Union station ($7, 30–50 minutes), the
free lax shuttle bus to the Metro Green Line Aviation Station (60 minutes),
a shared shuttle to downtown hotels ($16, 30–60 minutes) and taxis ($46.50,
20–60 minutes). Visit www.discoverlosangeles.com.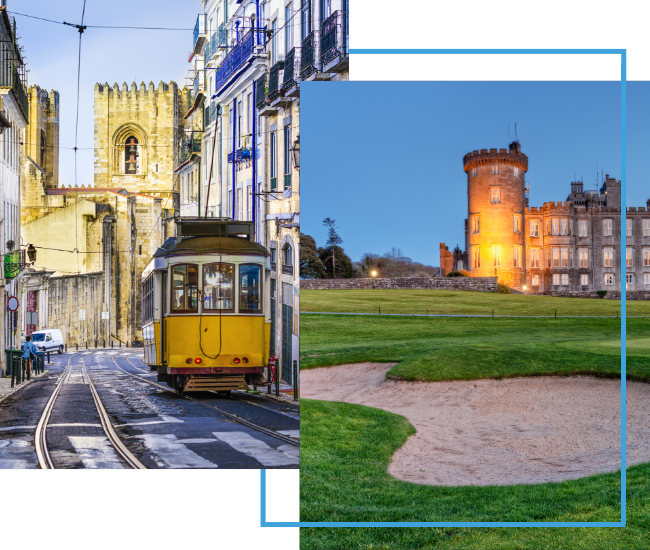 FX Excursions
FX Excursions offers the chance for once-in-a-lifetime experiences in destinations around the world.
Explore Excursions
Corsica with steep, gray cliffs overlooking the Mediterranean and sandy beaches attracting summer visitors, is a French-governed island sometimes confused with Sardinia and Sicily, Italian islands to the south. Fortunately, all three islands share the same love for good wine, food and sun-splashed beaches.
Sponsored Content
IHG Hotels & Resorts is thrilled to announce the launch of a new mobile product feature for members: IHG Wi-Fi Auto Connect. This feature is now available exclusively in the IHG One Rewards mobile app for both iOS and Android users and will automatically connect IHG One Rewards members to WiFi upon arrival at more than 5,000 IHG hotels worldwide — no separate passwords or log-ins needed. This is in addition to the exciting benefits of being an IHG Business Edge member. IHG Business Edge provides small- and medium-sized businesses access to a user-friendly portal that displays comprehensive spending and savings data while providing the convenience of direct booking with a guaranteed discount.
If you're ready to do a little holiday catch-up with your besties, make a beeline for Conrad New York Downtown. The lobby metamorphosed into a holiday forest of heavenly scented, decorated Virginia Spruce trees. Make your first stop ATRIO Barista Station in the lobby for a complimentary hot spiced apple cider (until Dec. 3) or hot chocolate (Dec. 22­–24).