Arrival/Check-In: I drove from Los Angeles to San Francisco on a weekend; the weather and traffic were just fine. But the InterContinental sits on a busy one-way street in the heart of the city right next to the convention center, and congested traffic is the norm. The hotel driveway was backed up so I waited about five minutes before turning my car over to the valet. The lobby is a nice mix of white marble and dark wood alongside gem-colored chairs and lounge space. The registration desk sits off to the right. A friendly staff member helped me check in and escorted me to the elevators midway through the lobby. On my way, I scoped out the location of the bar and the Michelin-rated restaurant, Luce, situated farther into the first-floor space.
Guest Quarters: My guestroom, a king corner room, presented amazing panoramic views of the San Francisco skyline. As I first stepped into the room, I noticed it was uncomfortably warm. In this "green" hotel, a room card needs to be inserted for the air-conditioner to turn on. Luckily, the room cooled down in less than 15 minutes. Near the main entrance of the room were a small closet and an adjacent full-length mirror, and to the right, a large bathroom. A marbled single-sink counter was brightly lit and offered plenty of room and drawers for personal items. The shower/tub combination was a decent size and provided good water pressure along with clean-scented amenities.
Around the corner, the room opened up, with floor-to-ceiling windows allowing natural light into the room and giving views of urban San Francisco. The king-sized bed faced the windows and sat across from a long, dark wood dresser holding a flat-screen TV and minibar items. A good-sized desk with outlets for my laptop faced the other window and offered a great place to do some work. However, I spent most of my time working and reading on the chaise lounge next to it.
Services/Amenities: The inviting Club, located on the fourth floor, consists of a lounge area and plenty of seating to enjoy breakfast. I had a mimosa on Sunday morning and grabbed some excellent snacks before dinner meetings. A large patio area provides a pleasant area to relax in good weather. The fitness center is a great space filled with cardio equipment and free weights along with an indoor lap pool, perfect for the chilly weather that hits the city.
Luce, the Michelin-starred and only restaurant on site, is a great place to dine with friends in the evening and is quiet enough during the day for a business meeting.
The Experience: The hotel is located in the heart of the SoMa (South of Market) district, next to the Moscone Center and within walking distance of Union Square for great shopping and restaurants. My stay felt familiar and easy, essential for business travelers. The only thing you need to look out for is high-priced ($53) overnight parking rate.
GT CHECKLIST
[checklist]
[item check=yes]Doorman/valet[/item]
[item]Less than 10 minutes for check-in[/item]
[item]Separate tub and shower[/item]
[item check=yes]Large vanity[/item]
[item check=yes]High-quality towels[/item]
[item check=yes]Powerful, unattached hair dryer[/item]
[item check=yes]High-quality bed linens[/item]
[item check=yes]Large, flat-screen television[/item]
[item check=yes]Large desk with convenient outlets[/item]
[item check=yes]Large, complimentary laptop safe[/item]
[item check=yes]Complimentary in-room WiFi[/item]
[item]Complimentary bottled water[/item]
[item check=yes]Stocked minibar[/item]
[item check=yes]Ample lighting[/item]
[item check=yes]In-room coffeemaker[/item]
[item check=yes]Iron and ironing board[/item]
[item check=yes]On-site restaurant[/item]
[item check=yes]24-hour room service[/item]
[item check=yes]24-hour state-of-the-art fitness center[/item]
[item check=yes]Turn-down service[/item]
[/checklist]
InterContinental San Francisco
888 Howard St.
San Francisco, CA 94103
tel 415 616 6500
ihg.com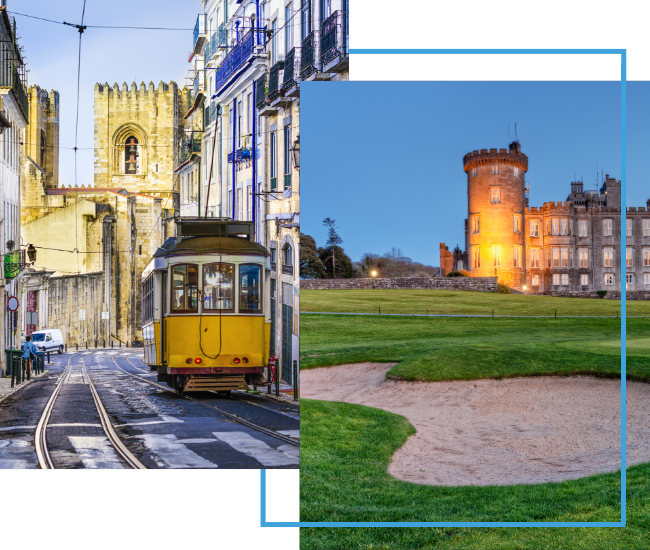 FX Excursions
FX Excursions offers the chance for once-in-a-lifetime experiences in destinations around the world.
Explore Excursions
There's no doubt the northern lights are awe-inspiring and spectacular. Unfortunately, they're also fickle and fleeting, and despite your best-laid plans of checking this item off your bucket list, sometimes Mother Nature's luminescent show just doesn't cooperate. But one cruise line has a new fail-safe in place.
Sponsored Content
Are you looking to enhance your business trip with a little leisure? Look no further than Portugal, a country renowned for its captivating blend of history, culture and natural beauty. And with TAP Air Portugal, you can effortlessly transform your business trip into an unforgettable bleisure adventure. Discover why Portugal and TAP Air Portugal are the perfect combination for an enriching and rejuvenating experience.
Think you need a degree in sailing to enjoy a yachting holiday? Dream Yacht Worldwide, a leader in yacht charters, wants you to relax and enjoy the journey. Newly expanded to include the British Virgin Islands, Martinique, Tahiti and the Seychelles, the "Easy Crewed" offered by Dream Yacht Worldwide also include charter options in Greece and Croatia.