IN 2001, SHORTLY AFTER the American development firm Gale International and its Korean partners POSCO E&C and Incheon Metropolitan City envisioned a new urban business district near South Korea's major airport, the Songdo International Business District became the largest Korean–U.S. joint real estate construction venture in history.
The $35 billion project, almost fully operational, is nearing its completion date of 2018. Located on 1,500 reclaimed acres along the Incheon City waterfront, it lies one hour from Seoul and just 20 minutes from award-winning Incheon International Airport. The SIBD remains one of the world's most sustainable urban districts, with the highest concentration of LEED-certified buildings in the world. When construction began, this huge project was called "The City of Tomorrow," but now — with its soaring, post-modern glass skyscrapers, deluxe hotels, fastest internet speeds in the world, underground pneumatic tunnels for refuse and enough green space to satisfy the most serious environmentalists — tomorrow has already arrived.
For business travelers, the SIBD's location near one of the world's most dynamic and efficient airports offers a distinct advantage. A short taxi ride across the Incheon Bridge connects Yeongjong Island, where the airport is located, to the bustling metropolitan area of Korea's third-largest city. Future airport plans make the area even more attractive. The American casino operator Mohegan Tribal Gaming Authority partnered with Incheon International Airport Corp. to develop a casino resort complex. It will include a three-tower luxury hotel with 1,350 guestrooms; retail and food venues; an entertainment arena; amusement parks; a 200,000-squarefoot casino; and the first private jet terminal in the world connected to an integrated casino resort. The first phase is expected to open in 2020.
The SIBD features schools, hospitals, parks, bike trails and cultural venues. Within the district, the 100-acre Central Park includes a manmade waterway filled with sea water, along with Venice-style water taxis.
With 106 buildings and 22 million square feet of LEED-certified space, the SIBD makes up about 40 percent of such space in South Korea, including the first hotel in Korea (Sheraton Grand Incheon), the first residential tower in Korea (Central Park 1) and the first convention hall in Asia (Songdo Convensia) with LEED certification. The Jack Nicklaus Golf Club Korea, the focal point of SIBD's green space program, offers an 18-hole championship course and a 50,000-square-foot clubhouse.
Since many of Incheon's deluxe international hotels reside in the SIBD, begin your day early with a jog in Central Park or work out at the fully equipped fitness center, sauna and indoor swimming pool at the 5-star Sheraton Grand Incheon Hotel. The 319- room Sheraton also offers a good place for a power breakfast with colleagues and local business clients at Feast, an all-day dining venue offering a large à la carte and buffet menu. The unique experience includes open kitchens and food cooking stations throughout the restaurant, a casual outdoor area and private dining options.
Continue client meetings in one of the Sheraton's 17 high-tech function rooms. If visiting a trade show or corporate event, walk to the modern Songdo Convensia, a 581,000-square-foot, state-ofthe- art, five-floor convention center. The venue can host 450 exhibitor booths plus events and performances. Meeting rooms feature wireless internet, voice-operated cameras and LCD projectors.
For a business lunch, The Oak restaurant on the 36th floor of the deluxe Oakwood Premier hotel offers excellent Korean cuisine plus salads, pasta, steaks and fresh fish, all complemented by the view. Or walk to the architecturally unique Gyeongwonjae Ambassador, part of the Accor chain, where your guests will enjoy dining at the hotel's sophisticated Sura restaurant. Surrounded by traditional Korean décor, savor a high-quality lunch prepared using fresh ingredients and served on beautiful earthenware. Both venues require reservations and offer a quiet and elegant experience for a productive business lunch.
Depending on your guest list and sense of adventure, you may visit Dae-Wang Grilled Shellfish & Seafood Soup on Wolmido, a small island connected to Incheon by a new road, about 25–30 minutes by taxi. With its delicious grilled shellfish and kalguksu — a Korean soup of wheat flour noodles, broth and chicken — Dae-Wang offers a view of the West Sea.
In the afternoon visit the Tri-Bowl, one of Incheon's most eye-catching structures. Resembling an upturned bowl with three foundations appearing to float upon an artificial pond, the Tri-Bowl's aluminum sheathing reflects sunlight during the day and is illuminated at night. Its performance hall provides floor space for exhibitions, concerts and other events.
If your local contacts enjoy talking business while playing golf, as many do in golf-crazed Korea, reserve time at the Jack Nicklaus Golf Club. If bad weather interferes, set up a meeting at the clubhouse, banquet hall or garden villa; the restaurant and bar provide additional space.
Although there are no wineries in the Incheon region, several excellent bars serve good wine and light snacks for relaxation after a day of meetings. The Thirsty Monk is a wonderful pub located in the Orakai Songdo Park Hotel near Central Park. Along with a Western-style menu and award-winning Bavarian Weihenstephan beer, Thirsty Monk boasts a cellar with a great collection of European wine. Or try Serendip, an Italian restaurant and wine bar in upscale NC Cube Mall Canal Walk in SIBD, or La Vista, a French restaurant in old Songdo serving excellent French wine and appetizers in a second-floor wine bar.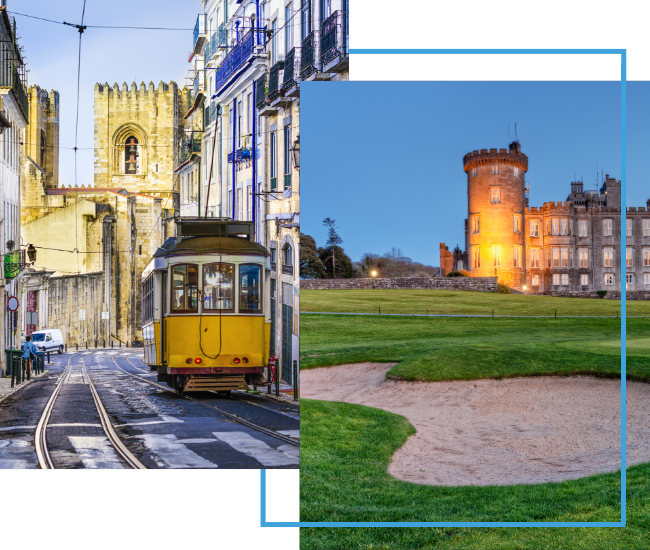 FX Excursions
FX Excursions offers the chance for once-in-a-lifetime experiences in destinations around the world.
Explore Excursions
There is something magical about sipping a glass of local wine while watching the sun slip into the Aegean Sea as the afterglow tinges traditional, white-washed Cycladic houses with glorious shades of rose, purple and gold. Ancient Greeks believed Helios, the Sun God, caused sunsets by driving his fiery chariot into the sea. Standing at water's edge in Mykonos, watching the sky slowly turn from purple to inky black, you almost believe it.
Sponsored Content
Are you looking to enhance your business trip with a little leisure? Look no further than Portugal, a country renowned for its captivating blend of history, culture and natural beauty. And with TAP Air Portugal, you can effortlessly transform your business trip into an unforgettable bleisure adventure. Discover why Portugal and TAP Air Portugal are the perfect combination for an enriching and rejuvenating experience.
The prospect of a post-visit treasure hunting session inside the shops of landmark museums such as the Louvre in Paris, the Uffizi Gallery in Florence and The British Museum in London can be irresistible. However, some of Europe's smaller and more unusual museums boast retail spaces with a surprising "wow" factor, often as well-curated as the galleries.