During the 1990s, domestic and international travel increased dramatically in almost every region of the world. But when COVID-19 hit the travel industry in early 2020, airport managers gazed at empty terminals and parking lots and either stopped all construction work or took advantage of the suddenly quiet, traffic-free landscape to speed up expansion projects. For many airports, working through the pandemic meant they were able to complete their new runway and terminal projects, which included installing colorful new artwork that greeted millions of passengers in summer 2021 when TSA lines and flight schedules returned to pre-pandemic levels.
In New York City, LaGuardia Airport's Terminal B continued its $4 billion renovation through the pandemic. The project is the largest public-private partnership in U.S. aviation history according to LaGuardia Gateway Partners, the developer and operator of Terminal B. The revamped terminal now features soaring ceilings, natural light, enhanced security screening and some of the most exciting airport art in the country.
"We are thrilled to partner with New York City's Public Art Fund on this innovative project to transform Terminal B into a modern, top-class airport terminal for travelers," said Stewart Steeves, CEO, LaGuardia Gateway Partners. "Our goal in building a new Terminal B was to not only implement state- of-the-art advancements but also create a space that represents the soul of New York. We are confident that through this partnership, we have selected artists and unique pieces for the new terminal that reflect this vision."
LaGuardia's Terminal B artwork includes artist Sarah Sze's powder-coated aluminum and steel Shorter Than the Day; Sabine Hornig's La Guardia Vistas, composed of latex ink and vinyl mounted on glass; and Jeppe Hein's beautiful aluminum red benches called All Your Wishes.
At Salt Lake City International, major expansion and innovation plans continued through 2020–2021. The current multibillion-dollar redevelopment program includes the demolition of the old terminals, the opening of a brand-new terminal in fall 2020 and the installation of large-scale artwork in the new terminal building. Unlike most airports that add tweaks and terminals piecemeal, SLC opted for a total rebuild, making the airport "the only truly new 21st-century airport in the country," according to Billy Wyatt, executive director, Salt Lake City Department of Airports.
Some of the new art installations at the new SLC terminal include The Falls and The Canyon, which help to "celebrate the natural beauty of Utah," said artist Gordon Huether. "We are delivering a totally immersive, inspired and powerful experience to all that enter here."
The 400-foot by 22-foot Canyon features tensile membrane fins comprised of aluminum tubing and composite fabric, and The Falls, a 65-foot installation, hangs six stories from the terminal ceiling to the floor.
The SLC terminal also offers mid-concourse Tunnel Murals by local artist Traci O'Very Covey and Texas-based artist DAAS. Each artist painted two 144-foot murals that bring Utah's four seasons to life. O'Very Covey created the summer and fall murals while DAAS created the winter and spring murals. "I love painting large-scale murals," said O'Very Covey. "The mural art I create conveys multifaceted themes in symbolic ways as filtered through my imagination."
At Denver International Airport, a $1.5 billion program that started in 2018 will add 39 new gates and other improvements. The third-largest airport in the world (at 52 square miles), DEN displays a large amount of artwork in and around its iconic terminal building. In 2021 the airport dedicated its newest piece, called Luminous Wind, to former Denver Mayor Federico Peña, who played a vital role in getting DEN built. The 27-foot sculpture, part of the city's public art collection, is located next to Peña Light Rail Station, a few minutes from Denver Airport Light Rail Station. It was created by artists Laura Haddad and Thomas Drugan. Also noteworthy at DEN are Alex Sweetman's Art Chronicles, composed of seven large photo murals; Betty Woodman's 28 hand-thrown ceramic vases called Balustrade; and Ned Kahn's Field of Air, an outside, wind-activated sculpture using brushed aluminum blades.
Philadelphia International Airport has also been completing modernization projects, and its Art Exhibitions Program continues adding to its nationally recognized, award-winning visual arts initiative. Noted Philadelphia artist King Saladeen installed his largest artwork to date, a four-part painting called Create Your Gold, currently on view between terminals C and D. Saladeen's painting, filled with vibrant colors, shapes, patterns, markings and text, also boasts imagery that includes his trademark JP the Money Bear and Philadelphia's skyline.
Construction is proceeding at Houston's George Bush Intercontinental Airport (IAH) as part of expansion plans which include erecting a new terminal building. Both IAH and the city's close-in William P. Hobby Airport (HOU) use artwork as part of Houston's bid to be a host city for the 2026 FIFA World Cup international men's soccer championship. In July 2021 HOU unveiled a 10,000-square-foot mural called Gateway to the World in support of the World Cup bid. Local artist Mario Figueroa, Jr., known as GONZO247, worked with six other artists to complete a massive 20-foot by 500-foot mural which adorns the Price Compressor Co. Building at HOU. The mural includes iconic Houston imagery and highlights the city's passion for soccer. It is visible from aircraft departing and arriving at Hobby. Huge ceramic soccer balls are being painted and displayed inside IAH and HOU.
"As a long-time art curator and visual artist, I am thrilled to promote art on a global scale," said Alton DuLaney, director and curator, Houston Airports' Public Art Program. "I look forward to bringing collections that will engage an eclectic range of audiences and enhance their travel experience."
The art soccer balls and rodeo art pieces are the latest additions to IAH's art collection. Included in the rodeo art is Elvis Cowsley in Grazeland by artist Patricia A. Hilton and Rodeo Boot by Paige Atkinson. Radiant Fountains by artist Dennis Oppenheim is the airport's most recent installation, with three illuminated towers that interpret a drop of condensation splashing in a pool of water. It is located outside the terminal, adjacent to the car rental center.
San Francisco International Airport's public art program is provided by the San Francisco Arts Commission and maintained in partnership with SFO Museum. SFO Museum reaches millions of airport visitors annually with a broad range of innovative programming in 25 galleries located throughout the terminals of the airport. Since opening in 2019, SFO's newest terminal, Harvey Milk Terminal 1, installed more than 30 commissioned and purchased artwork pieces including Liz Glynn's Terra-Techne (cast stainless steel and terracotta) and Dana Hemenway's The Color of Horizons (hanging light sculpture with wood, steel, rope, extension cords, glazed ceramics and LED lights).
Smaller U.S. airports may not be using large-sized, high-tech art in their terminals, but they often showcase local art that reflects the location's history and culture. In Bozeman, Montana, the Bozeman Yellowstone International Airport offers beautiful photographs of nature and wildlife with Craig W. Hergert's 3 Swans, Cindy Goeddel's Free Bison and Dennis Harrington's wonderful grizzly bear sculpture called Guardian Spirit.
Albuquerque International Sunport is one of the country's most culturally unique airports because of its Southwestern architecture and as home to an original 1914 Curtiss Pusher biplane located in the terminal's Great Hall. The historic biplane, with its engine and propeller behind the pilot's seat, is believed to be the finest surviving example of an original Curtiss Pusher. Open to visitors, the airport's former 1939-era terminal building is one of the true historical treasures in Albuquerque. The former and present terminals contain impressive art from the airport's permanent collection, including works by Pop Chalee, also known as Merina Lujan, an American painter, muralist, performer and singer in the 1930s who lived in Taos and Santa Fe.
Seoul's Incheon International Airport displays Seon-ghi Bahk's modern An Aggregation and the colorful Cat and the Butterfly, an artwork that reinterprets the chaekgado, an 18th-century genre of bookshelf paintings. The Korean Cultural Street located at the center of the terminal's fourth floor contains giwajip houses with tiled roofs, representing traditional Korean homes.
In Cyprus, the new terminals for Paphos and Larnaca international airports — debuted in 2008 and 2009, respectively — both display artwork that reflects the Mediterranean island's ancient history. Works at Paphos include Helene Black's Past Presence (steel, metallic auto paint, fluorescent lights and granite) and Giorgos Gareth Christou-Stelios Tzivas' A Trip to the City of Aphrodite (paint, stencils). Angelos Makrides' Ceremonial Gathering (bronze) and Maria Loizidou's Volant Migrants (handwoven stainless-steel mesh and metal sheets) are on display at Larnaca.
At Helsinki-Vantaa Airport, look for Stefan Lindfors' Concorde, a sculpture resembling a dragonfly made of stainless steel and fiberglass. Aukio, the central square of the terminal, was created by Finnish airport company Finavia and local designer Tuomas Silvennoinen of PES-Architects. Aukio contains a wavy, 360-degree LED display; sound landscape; and interactive wall projections that take the visitor into Finnish nature and its four seasons. The landscape changes every 10 minutes and includes a night sky by the lake and a winter mountain landscape colored by northern lights.
At Hamad International Airport in Doha, Qatar, artist Urs Fischer's Lamp Bear takes center stage in the terminal's grand foyer. The 23-foot- tall, canary yellow teddy bear sculpted from bronze sits peacefully inside a lamp and perhaps reminds travelers of their own childhood. The Flying Man, designed by Iraqi artist Dia al-Azzawi, comprises two sculptures based on the story of Abu Firnas, a historical figure from the Islamic world and an early pioneer in experimenting with flight. The two tall cylinder sculptures were inspired by the pillars that appeared in Mesopotamia in the third century B.C.
Singapore Changi Airport is currently rated the World's Best Airport by Skytrax, the first airport in the world to receive this rating for eight consecutive years. Jewel Changi, opened in 2019, is a multi-use structure, mainly a shopping and dining mall. There are four hotels within the airport itself, and all terminals and Jewel Changi house art installations.
One of the many art highlights at SIN are two 3-D Kinetic Rain sculptures in Terminal 1 which can form 16 different shapes that also show the movement of flight through slow, fluid movements. Spanning the Central Galleria, Petalclouds is a 656-foot-long kinetic installation by ART+COM that evokes the impression of clouds moving slowly in the sky, with its movement synchronized to animated lighting and music. Nature of Love by Turkish artist Coplu shows hearts of warm, deep red hues clustered atop a tree, branching outwards as brilliant leaves. In Crystal Clouds by Andy Cao and Xavier Perrot, located in Jewel Changi, 16 sparkling clouds reflect ever-changing weather patterns, with dynamic lighting illuminating the thousands of crystals that make up each cloud.
The extraordinary Swimming sculpture by Zou Liang explores the possibility of harmony among humans, sharks and sea life, as this stainless-steel white shark sculpture comprises steel silhouettes of ocean creatures such as crabs, jellyfish, tuna and sea snails. On its back the figures of two small children illustrate that humans are not a part of sharks' natural food, and sharks are not natural enemies of humans. Slices of Singapore by Yip Yew Chong is a hand-painted, 120-foot mural that represents six slices of little-known but important aspects of Singapore's culture, including a Peranakan shop house selling Nyonya desserts, a Malay batik store and an Indian garland shop, proving the power of art to transform the travel experience.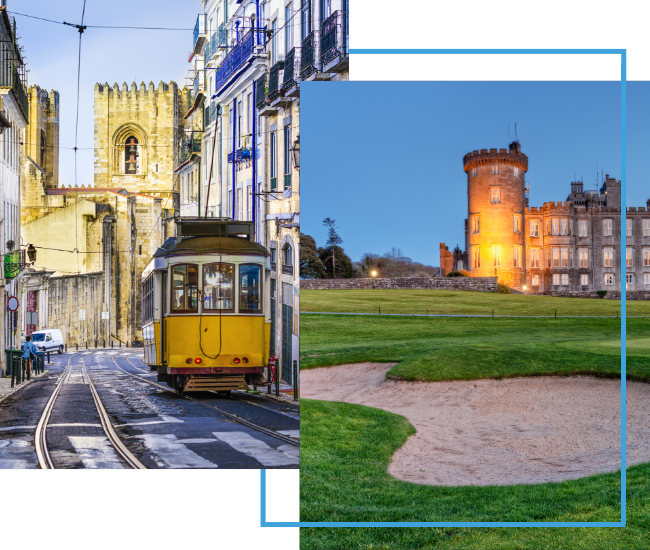 FX Excursions
FX Excursions offers the chance for once-in-a-lifetime experiences in destinations around the world.
Explore Excursions
There's no doubt the northern lights are awe-inspiring and spectacular. Unfortunately, they're also fickle and fleeting, and despite your best-laid plans of checking this item off your bucket list, sometimes Mother Nature's luminescent show just doesn't cooperate. But one cruise line has a new fail-safe in place.
Sponsored Content
Experience the life-changing destination of Greece by exploring its island gems in the Ionian Sea. Scattered off the western coastline of Central Greece, to the south of Peloponnese, the Ionian Islands are an island group comprising large and small islands.
Think you need a degree in sailing to enjoy a yachting holiday? Dream Yacht Worldwide, a leader in yacht charters, wants you to relax and enjoy the journey. Newly expanded to include the British Virgin Islands, Martinique, Tahiti and the Seychelles, the "Easy Crewed" offered by Dream Yacht Worldwide also include charter options in Greece and Croatia.