For a short time at the start of the pandemic, it was common for the rich and famous to declare on social media, "We're all in the same boat." it seemed true for a while; the global emergency grounded everyone. But it soon became apparent that, for the privileged minority, the boat was often a luxury yacht.
Mass transport, which made the world accessible to everyone, proved especially vulnerable when social restrictions were enforced Alternative means of travel — not necessarily exclusive, not necessarily expensive — proved more resilient and perhaps provide us with a vision for the future of travel: more diverse and more adaptable.
Let's start with those luxury yachts. Are they really beyond the means of most of us? Well, that depends. Many of the yachts chartered by Fraser, one of the world's largest yacht rental companies, can accommodate up to a dozen overnight passengers. So a vessel that costs $50,000 per week to charter may work out at less than $4,200 per person. Fraser's operating bases include the Mediterranean, the Indian Ocean, the Caribbean, Australasia and Alaska. Both sailing yachts and motorboats are available and rent fully crewed.
A more affordable option is to charter a traditional Turkish gulet, a type of wooden sailing boat. Blue Cruise Bodrum offers rental in Turkey and Greece from $2,880 per week per boat for up to six people. Itineraries can include island-hopping among the Aegean Islands or voyages exploring the coves and bays of Turkey's southwest coast.
The world scrolls by at a much slower pace when one travels by boat. In a canal boat on England's extensive network of inland canals, the pace is 4–6 mph, with regular stops to pass through locks. Hoseasons, a long- established canal boat operator, offers rentals in Norfolk, the Midlands (the area around the city of Birmingham) and Yorkshire. A canal boat sleeping six costs from around $1,250 per week. Celebrities spotted piloting boats along England's waterways include Harrison Ford and soccer star Wayne Rooney.
The pandemic hit the cruise ship industry especially hard. While many of these modern floating resorts remain idle, awaiting the return of relative normality, another ocean-going sector continues to operate. Ferries provide a vital lifeline for far-flung communities as well as linking cities and countries. The routes across the English Channel between Great Britain and France remain busy despite competition from rail services through the Channel Tunnel. Other popular links within Europe include routes crisscrossing the Baltic Sea between Sweden, Finland, Estonia, Latvia and Russia.
In Alaska, in the absence of the usual cruise ship traffic, the ferries of the Alaska Marine Highway continue to thread together the coastal communities of America's largest state while also providing a link through the sheltered waters of the Inside Passage down to Bellingham in Washington state. Facilities aboard include private cabins, cafeteria restaurants and even movie lounges.
Boats opened up the world's coastlines to the first explorers, but it was the railroads that pioneered mass transportation inland. Aviation has since taken most of that traffic, but high-end trains continue to evoke the golden age of rail travel, with luxurious cabins and silver service dining. Among the best of these are The Ghan in Australia, Golden Eagle Trans- Siberian Express, Rovos Rail in southern Africa, Venice-Simplon-Orient- Express across Europe and Rocky Mountaineer in Western Canada and Colorado.
A few commercial night trains still ply routes in various countries, offering budget alternatives to the upscale services. These include the 11-hour, 380-mile Sunrise Express from Tokyo to Tottori, which costs $160 for a first-class cabin.
Increasingly, rail is fighting back against aviation with a growing network of high-speed routes, often the quickest option from city to city. Japan was the first country to adopt high-speed rail with the famous bullet trains. Spain, South Korea and Turkey are among the countries with established high-speed networks, while China has outpaced everyone and now accounts for two-thirds of the world's high-speed rail mileage. Shanghai boasts the world's fastest commercial train service, using maglev technology and covering the 18 miles from Pudong International Airport to downtown in seven minutes. The United States lags behind. The problematic California High-Speed Rail, intended to be the country's first modern high-speed route, suffered delays and spiraling costs.
One transport network outdoes all others: roads. They lace every landmass and reach into areas otherwise inaccessible. Bus routes offer the most cost-effective means of getting from place to place. Greyhound Lines, for instance, serves more than 3,800 destinations in North America. While, to an extent, American intercity bus services are used primarily by those who can't afford to fly, in other parts of the world buses are a mainstream travel option. In Turkey more than 400 companies provide scheduled bus services, reaching every part of a vast country that straddles Europe and Asia. Most major towns and cities have large bus stations, some as advanced as airport terminals, serving as interchanges between different routes. Here you can get a meal, or even a shave or haircut, between connections.
The greatest freedom of all is to be able to travel without timetables and with the flexibility to make your own route. For that, the car is still king. Car rental can provide you with a set of wheels on arrival in foreign countries, though you may need to adapt to local quirks. In 76 countries (most notably the U.K., India, Japan and Australia) vehicles drive on the left, with the knock-on effect that the driver sits on the right. With stick-shifts especially, it can take a while to modify your driving style. In Asia and the Middle East, there's also the complication of road signs in unfamiliar script. Fortunately, GPS systems now enable you to navigate without reliance on signs.
Wherever you drive, familiarize yourself with local driving regulations. One common attribute of traffic cops the world over: They won't accept ignorance as an excuse. Wherever you're driving, you're expected to know the rules of the road.
While cars open up a world of travel possibilities, they are not self-contained. You still need to find places to eat and sleep. An RV does away with those restrictions. Home is wherever you decide to stop.
Although the United States is the natural territory of the RV (they are a logical evolution of the covered wagons that crossed the prairies), other countries have also embraced them. Australia and New Zealand are both ideal places to explore by motorhome or campervan (common terms for RVs Down Under). Other RV-friendly destinations include Norway, Iceland, France, Canada and South Africa.
For much of the past two years, any form of international travel has been a dream. A succession of lockdowns confined me to Hampshire in southern England, limiting my horizons to the web of footpaths around my house. Most of these routes have been in use for centuries, and in exploring them I have reconnected with the most basic of all forms of human transport: two feet.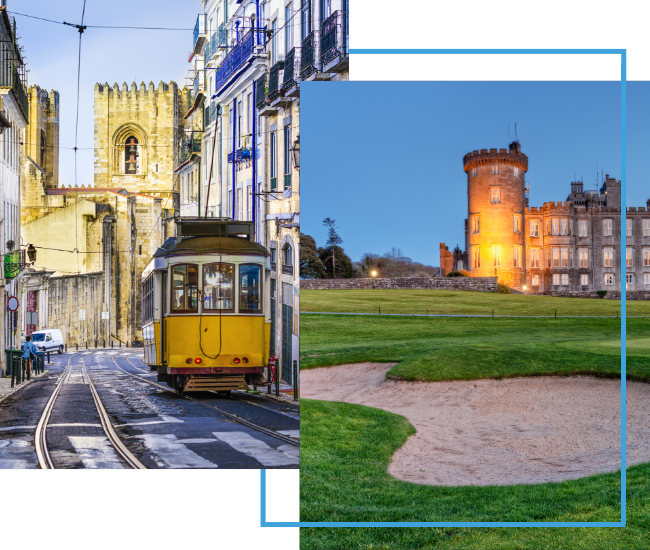 FX Excursions
FX Excursions offers the chance for once-in-a-lifetime experiences in destinations around the world.
Explore Excursions
Ever since opening in 2021, Nobu London Portman Square has served as the focal point for many gatherings, stays and experiences. This fall the hotel's Nobu Bar adds four more reasons to visit with an exciting array of offerings, menus and events.
There's no doubt the northern lights are awe-inspiring and spectacular. Unfortunately, they're also fickle and fleeting, and despite your best-laid plans of checking this item off your bucket list, sometimes Mother Nature's luminescent show just doesn't cooperate. But one cruise line has a new fail-safe in place.