Arrival/Check-In: I lived in San Francisco during college, so visiting the city and seeing all the changes made for a fun and exciting getaway. The Hotel Zeppelin resides in a once slightly shabby area that has since come alive with new hotels and restaurants for travelers looking for something different. We arrived at noon on a Friday, and the hotel front desk staff immediately greeted us. They were able to accommodate an early check-in, completed in just a few minutes. The lobby is as hip as the hotel name sounds, but it also offers a cozy atmosphere, with a roaring fire and comfy couches and chairs in the lounge area. Unique wall art, statues and lighting remind guests of the cool factor.
Guest Quarters: Our premier room was even more fun than I expected. Walking into the small entrance, we discovered a bar with an espresso machine, a mini fridge and lots of complimentary water; this all sat across from a generous, full-sized mirror. The heather-gray walls and high ceiling gave the room an airy feel, and decent light came through the full wall of windows, despite the fire escape just outside. Two full beds were separated by a large side table, which provided a chic green lamp and a double-sided outlet for everyone's electronics. Adjacent, the lounge area featured full-sized couches and funky tie-dyed pillows next to a 55-inch, mounted TV.
A great John Boos desk offered plenty of space and outlets. I was even more delighted by the gift bottle of Pinot Noir and Circus Animal cookies sitting atop it. By far the best part of the room was the ceiling light which, when turned on, projected a peace sign and the word "love" on the ceiling.
The slate-tiled bathroom featured wallpaper with gray-and-white names of famous bands like The Doors and Santana. A single, raised black bowl sink on a white counter provided plenty of space for personal and beauty products. Three hanging bulbs surrounded a large mirror and gave great lighting. I loved the Roil products offered to guests, including the body lotion and wash. The stand-alone, glass-enclosed shower was roomy, and I enjoyed the great water pressure.
As everyone knows, I am a robe snob, and the Zeppelin's jersey hooded robes were comfortable, soft and not overly large.
Services/Amenities: The hotel offers room service, but I recommend trying the Rambler Bar & Restaurant, its on-property eatery. On Friday and Saturday nights it's a typical San Francisco eatery with loud music and groups of young and old gathering together. The pizzas are cooked in a stone oven, and the pumpkin soup was perfect for a colder evening.
The fitness center sits on the upper floors of the hotel, giving you a unique view of the San Francisco skyline as you use the modern cardio and weights — perfect if it's a rainy or windy afternoon. If you are up for a challenge, try walking up Powell Street's steep incline through Nob Hill and Russian Hill — just follow the cable car!
TOP TAKEAWAYS:
◆ This boutique hotel gives off major cool but approachable vibes. Great for a weekend with friends.
◆ The Rambler is perfect for an evening meal with its small plates and local craft cocktails and drinks.
◆ From the central location near Union Square, enjoy a nice walk up to Chinatown and North Beach.
HOTEL ZEPPELIN SAN FRANCISCO
545 Post St.
San Francisco, CA 94102
tel 415 563 0303
viceroyhotelsandresorts.com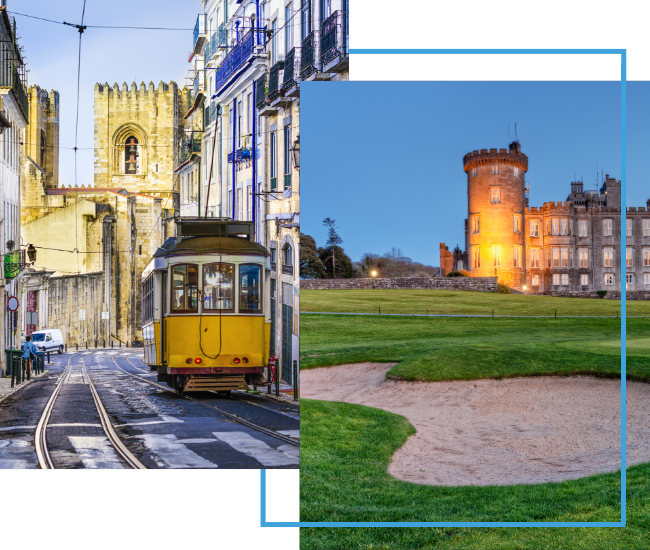 FX Excursions
FX Excursions offers the chance for once-in-a-lifetime experiences in destinations around the world.
Explore Excursions
Pleasant weather, autumn foliage and vibrant flowers are among the many delights awaiting nature lovers at botanical gardens and arboretums across the United States. However, some of these green spaces take on additional color this month and through Halloween when enterprising gardeners, landscape architects, management and other creative minds cast a spell with themed environments running the gamut from spooky to utterly bewitching.
Sponsored Content
Experience the life-changing destination of Greece by exploring its island gems in the Ionian Sea. Scattered off the western coastline of Central Greece, to the south of Peloponnese, the Ionian Islands are an island group comprising large and small islands.
For travelers who love all things autumn, Crystal Springs Resort, New York City's closest destination resort, features special offers and experiences to meet the demands of everyone's fall bucket list. Located only 80 minutes outside New York City in Sussex County, New Jersey, Crystal Springs Resort offers a quick getaway to enjoy fall foliage. Are any of these new offers or experiences on your bucket list?