David P. Berg is late to our phone interview. But he offers a good excuse: He was wrapping up one of his "Donuts with David" sessions. Since joining Carlson Rezidor Hotel Group in December 2014, the company's chief executive officer has sat down with groups of employees to hear their input on everything from what they think about the business to uniform design. "Our belief is in the wisdom of the crowd. They are so much better informed than us," he says. "Instead of sitting around trying to figure it out or second-guess, why not ask the employees what they want and need? What is precious and what would they change?"
Such out-of-the-box thinking lies at the core of Carlson Rezidor. The hotel company operates six major brands with 1,092 properties in more than 100 countries. (A seventh brand, the Quorvus Collection of individual luxury hotels, reduced its operations from three to two properties and appears to be in flux, according to a spokesperson for the company.) Within the last two years, nearly all Carlson Rezidor properties received facelifts or upgrades. The company invested hundreds of millions of dollars to renovate the entire Radisson portfolio, while Country Inn & Suites By Carlson is undergoing a major redesign that embodies the look and feel of a modern country home to attract a younger demographic.
"By better understanding guests' needs and wants we can refine each brand to resonate with a specific demographic, create a specific experience for a specific guest segment," says Roger Chacko, executive vice president, chief branding and marketing officer, Carlson Rezidor Hotel Group.
Radisson Blu, best known in Europe for striking architectural and interior design, is growing in the Americas, with properties in Philadelphia, Chicago and the Mall of America outside Minneapolis. "There's nothing like it — an iconic, stylish pillar that the brand delivers," says Berg. "It's simplicity not snobbery, sophistication with ease."
The Radisson Blu One Touch app goes beyond a traditional booking app to provide concierge services including pre-arrival options, room service ordering, restaurant and bar specials, local area information, running and cycling circuits and more. Business travelers meeting at the hotel can use the app for real-time content such as agendas, speaker bios, announcements and push notifications.
And, after 25 years, Carlson Rezidor is launching a new global brand: Radisson Red, aimed at the upscale millennial-minded traveler. Note the target — not simply millennial but "millennial-minded."
"The guest could be a 28-year-old road warrior or a 68-year-old leisure traveler. What they have in common is to be inspired by art, music, fashion and design and be wowed by technology," explains Chacko. Every step of the guest experience will be choreographed from self-check-in to bar space and restaurant menu to an electronic billboard in the reception area where guests can upload their images prior to arrival. Instead of typical meeting facilities, an event studio hosts meetings and gatherings.
As a privately held company, Carlson Rezidor doesn't have to answer to Wall Street. Travelers won't see a new brand every year or a Radisson on every street corner. That said, Carlson Rezidor isn't sitting on the sidelines and actively seeks locations that can grow a brand. Country Inn & Suites is adding new hotels in China. Latin America is on the radar with three new Radisson Blu hotels in Colombia and Chile. Plus, the company plans to expand its footprint in Africa and India.
Says Berg, "We're not a scale player, not as big as some other hotel companies. So how can we be quicker, smarter, street-wise with fewer investment dollars?" He believes that the human element makes the difference.
Whereas "My pleasure" is rote in the restaurant or retail industry, "Yes I Can" is part of the company's DNA. Those enormous standard operating procedure binders? Out. Instead, employees are encouraged to engage with guests in an authentic and genuine manner and are empowered to fix a problem on the spot, something Berg calls "incredibly liberating."
In 2014, a Country Inn & Suites breakfast hostess was named Employee of the Year. "She hugs the guests each morning and treats them as if they were in her own home," says Berg. "Hugging is not in the manual, yet the hotel has received more than 250 complimentary guest letters and reviews naming her. I'm equally proud that her general manager allows her to do that."
"What sets us apart from other brands is we allow the employee to bring skills, their unique experiences and talents to guests and deliver an authentic experience, so the guest is sad to leave," he adds.
Chacko hopes business travelers will look at Carlson Rezidor through a new lens and give its properties a try. "And I hope former guests will give us another try. We're not only upping our game but changing the game."
COUNTRY INN & SUITES BY CARLSON
Demographic: Business and leisure travelers
Offerings: Operates 476 properties primarily in the United States, Canada, India and Latin America, plus 43 in development. Delivers a "touch of home" with free hot breakfasts, free high-speed Internet, fitness centers and business centers.
Highlight: Flagship property Country Inn & Suites By Carlson, Bloomington at Mall of America connects by pedestrian sky bridge to the largest shopping mall in the United States.
PARK INN
Demographic: Tech-savvy, value-oriented youthful travelers
Offerings: Operates 134 hotels worldwide, with 60 in development. From functional guestrooms to flexible meeting spaces, all with Surf4Free Internet access, the guest experience is designed to be reliable and hassle-free.
Highlight: The towering Park Inn by Radisson Berlin Alexanderplatz offers sweeping views from the Panorama Terrace on the 40th floor.
PARK PLAZA
Demographic: Upscale business and leisure travelers
Offerings: Operates 46 hotels worldwide, with 11 in development. Trendsetting designs capture the energy and style of each location.
Highlight: At 1,019 rooms, the Park Plaza Westminster Bridge London maintains a 24-hour business center steps from London's Big Ben and the Houses of Parliament.
RADISSON
Demographic: Business and leisure travelers
Offerings: Operates 147 hotels worldwide, with 31 in development. Modern in outlook, socially responsible and service-driven, the company's namesake brand focuses on today's busy traveler with services such as 3-Hour Express Laundry, Grab & Run, Business Class, Express Checkout and the brand's 100% Guest Satisfaction Guarantee.
Highlight: The Radisson Acqua Hotel & Spa Concón on the coast of Chile boasts exquisite on-site restaurants, a spa and a beachfront location near Casablanca Valley vineyards and the resort town of Viña del Mar.
RADISSON BLU
Demographic: Upper-upscale business and leisure travelers
Offerings: Operates 287 hotels worldwide, with 97 in development. Iconic and sophisticated with leading-edge style where the delight is in the detail. Flagship properties are located in key major cities, airport gateways and leisure destinations worldwide. Bold and innovative lobbies, guestrooms and public spaces with the latest technology distinguish this brand. Radisson Blu's "Yes I Can!" ethos puts guests first to build one-on-one relationships.
Highlight: Radisson Blue SkyCity Hotel Arlanda Airport in Stockholm with its soundproof rooms is located between terminals 4 and 5, with easy access to the Arlanda Express airport-to-city train.
RADISSON RED
Demographic: Upscale millennial-minded business and leisure travelers
Offerings: Introducing a new concept focused on design and detail, choice, personal interaction and technology, Carlson Rezidor expects to operate 60 Radisson Red hotels globally by 2020.
Highlight: The 164-room Radisson Red Minneapolis Downtown is scheduled to open in October with Radisson Red's signature Ouibar and REDeli.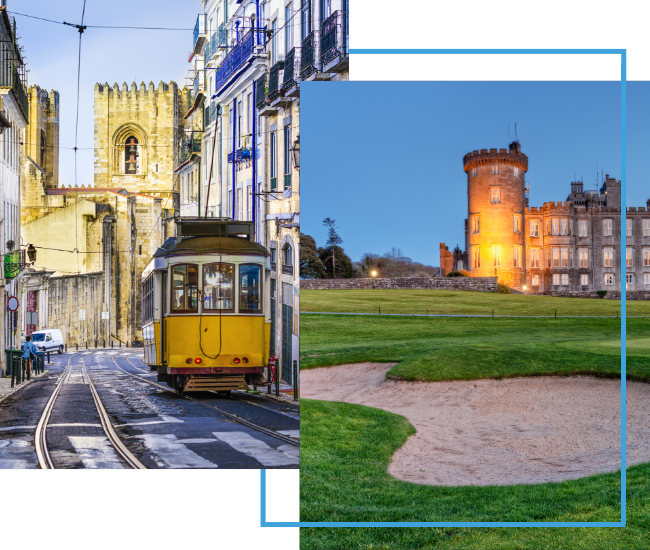 FX Excursions
FX Excursions offers the chance for once-in-a-lifetime experiences in destinations around the world.
Explore Excursions
Less than five years ago the world's first hybrid cruise ship, Hurtigruten Expeditions' MS Roald Amundsen, set sail for Antarctica in November 2019 with 450 passengers. The battery-hybrid-powered ship, named for the first man to cross the continent and reach the South Pole, was built specifically for voyages in polar waters. Its battery-hybrid power reduces the ship's consumption and CO2 emissions by 20 percent compared to equally sized ships.
Sponsored Content
Whether it's the people, the craic (fun) or the coasts, travelers always find something to love about the island of Ireland. What fills your heart?
A few months ago, I flew Polaris business class on a United flight from Dulles (IAD) to Paris (CDG). It was only when I got to my hotel in Paris I realized that I didn't have my iPad or its bag or accessories. Since I had been working on it in the restaurant in the Polaris lounge and then went directly to the gate, I knew I either left it propped up on my table when I packed up or in my business-class seat. But what was the best method to alert the airline about my careless mishap and (hopefully) retrieve it? With spotty data and WiFi, searching for information on my phone was frustrating and slow. Here's what I learned from the anxiety-inducing experience (and unexpected ending) about what to do if you leave something behind on your flight: