AT JUMEIRAH FRANKFURT, a towering, 208-room luxury hotel — just steps from the Zell, this German regional capital's busiest shopping hub — 40,000 bees buzz happily on the rooftop. Monitored by the hotel's own beekeeper and executive chef, the insects supply enough honey for the urbane hotel's kitchen as well as its locally themed spa (try the Skyline ritual, which uses a honey paste to enrich the skin). A regional amenity which references Germany's artisan food culture, the honey program proves Jumeirah's commitment to embracing community culture — a significant element of the brand's philosophy. This trend away from homogeneity clearly sets the two-decades-old, Dubai-based corporation apart.
"No two Jumeirah hotels will be exactly alike," says José Silva, Jumeirah's new chief executive officer, who joined this leading luxury hotel group in March 2018.
At the helm Silva brings a trove of luxury hospitality experience, including 27 years with Four Seasons. As an award-winning, upscale hotel veteran, he gained fame in the industry for his acumen, foresight and canny expertise, proved in a variety of re-envisioning projects including the Four Seasons Georges V Paris. Silva, who garnered Hotelier of the Year from Virtuoso, the leading luxury travel advisor network, currently oversees Jumeirah as it multiplies its outreach and supersizes its realm. With nine hotels opening this year — not to mention the sister group, Zabeel House by Jumeirah, now up and running — the expansion promises to stay true to Jumeirah's original principles. Zabeel House by Jumeirah aims at a broad demographic of business and leisure travelers in search of enriching travel experiences. Three properties are currently open in Dubai.
"Our primary aim is [to] make our guests feel that they are at the center of our universe," says Silva, explaining Arabian hospitality, relatively unknown to many travelers, takes service to a posture beyond five stars. Add in unique architecture, stellar food and beverage options and staff trained to smile first and rarely use the word "No," and Jumeirah offers travelers that consistent layer of accessible opulence which some upscale hotels lack.
Founded in 1997 with the aim of building a world-class, luxury hotel portfolio, Jumeirah Group became a member of Dubai Holding (a global investment developer with an immense collection) in 2004. With 15 properties in the Middle East, including the iconic flagship Burj Al Arab (the most photographed and Instagrammed hotel in the world), five in Europe, two in Asia and a multitude under construction, Jumeirah mushroomed since its inception. "Dubai is a city that makes the impossible possible, and it is with this vision and boldness that Jumeirah has seen itself grow into the leading hospitality company," says Silva. "We have a strong identity that has international appeal." Seizing on its Dubai model of conviction and dream fulfillment, Jumeirah plans to step confidently further into the global market in coming years.
Describing Jumeirah's growth strategy as "nimble," Silva explains the corporation will grow via both acquisition and through hotel management agreements. As it maintains its current focus on elevating its already elite standards, the company will stay "committed to continuous improvement and to placing the guest at the heart of the experience." With properties from Spain to the Maldives, from Dubai to London, Jumeirah already has successfully established a reputation for deluxe variety and thoughtful sense of place. Even its staff, pulled from across 140 nationalities speaking a plethora of languages, enriches the fabric of each hotel, ensuring the deliberate celebration of each unique location. "No matter if you are experiencing The Terrace at our remarkable Burj Al Arab Jumeirah, exploring the magnificent waterways of Madinat Jumeirah, enjoying a city break at Jumeirah Carlton Tower or one of our other London hotels, or discovering the history of the Sóller Valley at Jumeirah Port Soller Hotel and Spa in Mallorca, guests can be sure their experiences will stay with them forever," says Silva, who promises that no matter how large the brand grows it will stay "culturally connected."
Going forward, Jumeirah plans to make food and beverage the core pillar of the guest experience at each of its hotels. "Over the last decade, hotels have become more than just a place of accommodation," says Silva. "I see dining as one of our strongest difference-makers."
Following the model established by Jumeirah in Dubai, where the organization operates more than 60 restaurants along a 1.5-mile stretch of peerless beachfront, it plans to up its gourmet ante in both new and extant properties. To wit, Silva appointed the ex-global director for the highly respected Michelin Restaurant and Hotel Guides, Michael Ellis, as Jumeirah's first chief culinary officer. Anticipate a slew of new restaurant concepts under his tutelage. "He'll enhance existing dining options, as well, to unanticipated levels," says Silva.
Where should travelers expect to see some of the newest Jumeirah hotels? From China to Bali to Oman to Abu Dhabi, the list is long.
Frequent travelers to Dubai will be pleased to know about Al Seef Heritage Hotel by Jumeirah, opened in September. It plays up an Arabian Nights dreamscape, complete with Emirati hospitality. Mimicking the rooftops and courtyards of a traditional souk, it layers the banks of Dubai Creek. A 200-room hotel spread across 22 traditionally designed Arabian homes, it features classic wind towers, views of the nostalgic waterway and an old-world Arabia ambience.
Architecture buffs and visitors to China will be pleased to note the long-awaited, Zaha Hadiddesigned Jumeirah Nanjing opened in the fall, just a one-hour train ride from Shanghai in the Hexi New District. Part of a mixed-use entertainment, commercial and retail area, the hotel reflects China's contemporary, über-forward-thinking edge. Also in China, slated for a November opening, Jumeirah Guangzhou is poised to redefine the commercial center. Featuring 124 premier rooms and spa suites (located steps from the Talise Spa), it also encompasses Jumeirah Living Guangzhou, a complex of 169 serviced apartments.
Mark your calendars for 2019, when Jumeirah Bali welcomes guests to the southern tip of the Jimbaran district. Overlooking the noteworthy surfer beach adjacent to the New Kuta Golf Course, the all-private villa retreat, modeled after a Javanese water palace, will include three restaurants, a spa and a state-of-the-art fitness center.
Below, we showcase a handful of Jumeirah's most popular hotels.
BURJ AL ARAB JUMEIRAH | DUBAI
Demographic: Luxury travelers in search of a splurge
Offerings: The all-suite hotel, claiming 7-star service, specializes in upscale arrivals. Think chauffeur-driven Rolls-Royce or helicopter transfer to its iconic helipad.
Highlights: Take photos in front of its sail-shaped architecture and spend time on The Terrace, an expanse of beach, pools, restaurants and butlerhelmed cabanas, all ensconced in a marine-oriented architectural wonder.
JUMEIRAH PORT SOLLER HOTEL & SPA | MALLORCA
Demographic: Leisure travelers, honeymooners, culinary travelers, athletes, girlfriend getaways, solo travelers
Offerings: Set on a cliff, this intimate hotel has 121 chic, commodious rooms spread across 11 Mediterranean-style buildings. Surrounded by gardens, each room sports a terrace with either sea or mountain views.
Highlights: Three restaurants offer local specialties. Try Es Fanals for Mediterranean fare, poised at the highest point of the hotel. Sign up for the sunset boat trip along the northern coast of the island, with the Tramuntana Mountain Range in view.
JUMEIRAH VITTAVELI | MALDIVES
Demographic: Honeymooners and leisure, family and wellness travelers
Offerings: Just a 20-minute, motorized catamaran ride from the airport in Malé, this hotel boasts 89 villas and suites, each with private swimming pools. Freestanding Ocean Suites spell romance, while twobedroom villas have plenty of room for family groups.
Highlights: Vittaveli has the largest kids club in the Maldives, a 5-star PADI dive center and offers fitness travelers customized wellness programs and superior spa treatments, complete with island-made products.
GROSVENOR HOUSE SUITES BY JUMEIRAH LIVING | LONDON
Demographic: High-end business travelers, family and luxury travelers
Offerings: Like living in London, these luxury, serviced apartments incorporate the chichi aspects of a Mayfair residence with the ease of staff. As London's most exclusive address, the apartments overlook Hyde Park.
Highlights: Take advantage of the At Home with Jumeirah Living offer, a program which supports your living the luxury London life at Grosvenor. Staff will help you organize a dinner party, set up an office, stock your apartment with groceries — whatever you need during your stay.
JUMEIRAH AT ETIHAD TOWERS | ABU DHABI
Demographic: Business, leisure, luxury and family travelers
Offerings: Beachside, this extraordinary hotel comprises five towers brimming with venues, from retail to restaurants to conference facilities. Views of the Arabian Gulf, swimming pools and stellar service seal the deal.
Highlights: Choose from 12 dining and snack venues, including many by notable chefs. Bice, Toro Toro, Li Beirut and Tori No Su are just some suggestions. Don't miss tea at Observation Deck At 300, the city's highest vantage spot.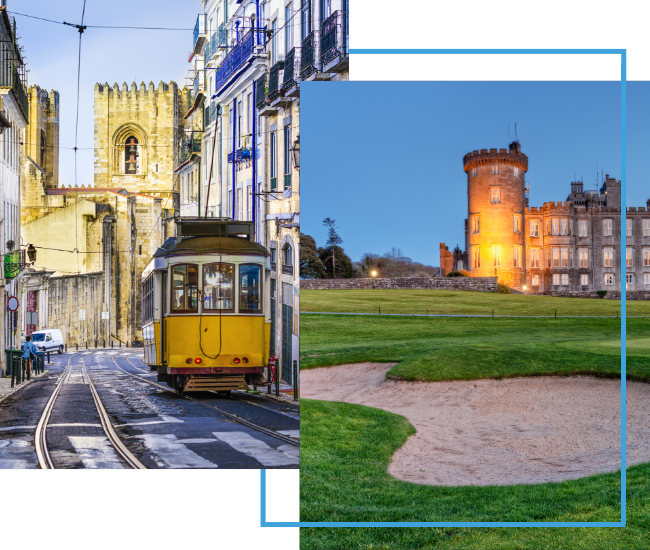 FX Excursions
FX Excursions offers the chance for once-in-a-lifetime experiences in destinations around the world.
Explore Excursions
Did the new film Oppenheimer rouse your interest in the nefarious world of international espionage? You can go straight to the real-life setting for covert actions this November (Nov. 10–12), when La Fonda on the Plaza in Santa Fe hosts a specially themed "Spies, Lies and Nukes" weekend. The hotel actually served as the retreat location for Manhattan Project scientists, who stayed at La Fonda on the Plaza to take a break from the stress of their work. During the weekend, the property's La Fiesta Lounge will make a tasty nod to those days by serving up a special Atomic Martini.
Ever want handcrafted martinis and freshly shucked oysters delivered straight to your room? The Read House's New Martinis & Pearls service has you covered. Shining in 1920s-themed decor, the historic hotel in the heart of Chattanooga offers a true Gatsby-esque experience, now further elevated with this upscale amenity. Guests can now indulge in their perfectly chilled martini, made to order, and "pearls" (oysters) in the comfort of their room.