THE GRANDE DUNES RESORT GOLF CLUB often appears on our must-play list when we take our annual Myrtle Beach golf excursion, but it seems it never made the pages of Global Traveler. Surprising, as it is a well-maintained and well-run course, perhaps one of the better courses we played over the five-day trip to the East Coast golf mecca. The course is part of the Founders Group of courses, many of which we played during our trip, and most boast a stellar reputation. Grande Dunes opened in 2002 during the top edge of the golf craze when courses were opening like wildflowers, with no end in sight. In 2003 Golf Digest named the course among the top 100, followed by the 2009 National Golf Course of the Year award. It hosted the PGA National Championship in 2014.
For nature lovers, 14 of the 18 holes offer water views, and seven holes include views of the intracoastal waterway for nice boat admiring. You will also find dramatic elevation changes and long distances from tee box to green on many holes. (Carts are a must.) The Roger Rulewich Group designed the course, taking into consideration the topography while using the natural vistas when possible. Rulewich is best known for his involvement with the Robert Trent Jones Golf Trail in Alabama, comprising 24 courses in 10 different locations in the state.
I teed up in a foursome that included Jimmy Spratt from New York; Neil Curran from Philadelphia; and John Kelley from Havertown, Pennsylvania, all some of the seven or eight players who make the annual trip. It was a windy day, usual for this strip of land where Grande Dunes resides. We were the first to tee off on No. 1 and played the first nine so fast we had to wait at 10 while the balance of the morning back nine tee times cleared. Talk about speed!
HOLE 1 | 452 yards, par 4
It was unseasonably cool and the wind was whipping up as we teed off as the first group. First at bat and a little rusty in the morning, we slammed some drives to get the round started. Jim and I took a leftward tilt to land almost out of bounds near the condos. Workers had tied ropes to trees and draped them over the third-story building so they could power-wash the clay roofing — very brave, I thought. Not as brave as Jim's shot from under a group of trees, though, getting him out of harm's way. From there we all struggled to the green, trying to avoid the bunkering on the right.
HOLE 9 | 469 yards, par 4
Nine is ranked the second-most difficult hole on the course, as it features a small pond off the tee box and a series of traps, one smack in the middle of the fairway you have to clear or stay far away from. Jimmy played like a machine, with a powerful drive over the center trap, offering a clear, clean iron to the green. I "hozzeled" a shot that brought me left and short but out of danger. John and Neil also hit nice drives, but each caught bunkers, adding strokes to their cards. My second shot came up short for a little chip on, resulting in a two-putt bogey. Jim took on the hole, masterfully making par like a pro!
HOLE 11 | 190 yards, par 3
With a little wind directly in our faces and a huge sand trap to carry, I decided to take a little more club after I saw Jimmy and Neil coming up short and John squarely on the left side of the massive sand trap. My ball landed left of the flag and ran up about four feet from the pin. After the others joined me on the green, I took dead aim and knocked the ball to the back of the cup to hoots and hollers from my teammates. Nice to get a birdie under your belt at Grande Dunes.
HOLE 12 | 449 yards, par 4
Twelve is a perennial favorite among golfers who play at Grande Dunes. The tricky dogleg right presents mounding on both sides of the fairway and traps and thick grass on the right, plus another trap left to snag your drive. Players have to decide if a longer shot is worth the risk of catching the left bunker. Jim and I knocked two nice drives dead center between the traps, leaving us manageable iron shots to the green. Neil and John shot a little wider off the tee, finding the bunkers right and left. Combined textbook iron shots led me and Jim to miss birdie putts while our partners walked away with respectable bogeys.
HOLE 18 | 442 yards, par 4
Wrapping up Grande Dunes and coming to the 18th hole was exciting, as I knew I had improved my game on the back nine. When we tallied the scores, my back nine score was better than the front nine by six strokes. To achieve that, I had to keep things together and make sure I carded a decent score on 18. Jimmy slammed a ball far right and landed in the woods. I hit a nearly perfect shot down the center of the fairway. (As I told my teammates, I will only write about the good shots.) We spent what felt like an eternity looking for Jim's ball, but it had bounded farther than expected, and he had a chance to hit the green. Eyeing up the shot, Jim took his best swing. With dirt and leaves flying, he hit the green and one-putted for birdie — a spectacular achievement. I took a clean iron shot and curved my ball right to left, landing on the edge of the green but puttable for a two-putt par. John and Neil played well and celebrated in our birdie and par putts, closing another enjoyable round at Grande Dunes.
Grande Dunes Resort Golf Club
8700 Golf Village Lane
Myrtle Beach, SC 29572
tel 843 315 0333
grandedunesgolf.com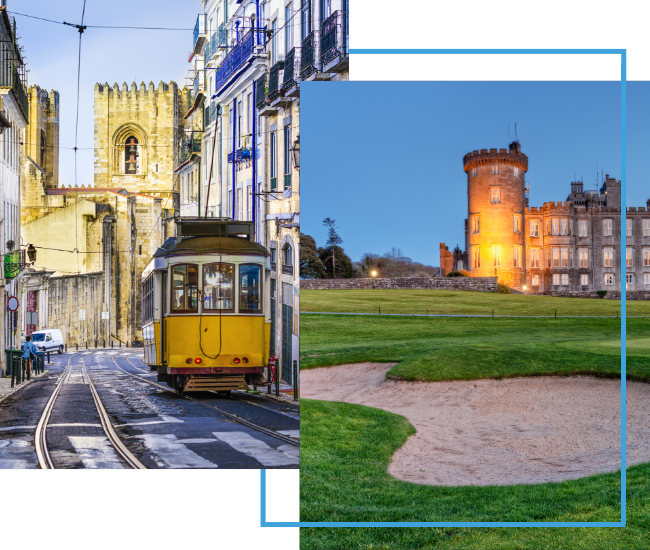 FX Excursions
FX Excursions offers the chance for once-in-a-lifetime experiences in destinations around the world.
Explore Excursions
One thing  surprising about the Prince Edward Island capital is its abundance of shops specializing in affordable, fashion-forward jewelry rendered in sterling silver, vermeil, 14K gold and semi-precious stones. Whether you prefer delicate pieces or bold wearable art, you can be assured the pieces for sale are inspired by the maritime island setting and, therefore, specific to the place where they are created. Here are a few shining, woman-owned examples:
Sponsored Content
The Islands of Tahiti are among the most beautiful and sought-after vacation destinations in the world. The endless images of overwater bungalows with Bora Bora's majestic peak towering over waters of every shade of blue have an intrinsic pull. But with 118 islands and atolls to explore, there is so much more to this spectacular region of the Pacific.
Norway, a haven for visionary artists, architects and designers, showcases an exceptionally diverse array of cultural attractions. This year, the country commemorates exciting milestones and unveilings captivating enthusiasts of the arts, from iconic scenic routes to new museums to gallery openings. Up Norway features these new offerings in personalized itineraries catered to aesthetes.