New to 2021, Global Traveler awards the airline, cruise line and hotel brand best embodying diversity and inclusion within the travel industry.
Diversity is the presence of difference, including but not limited to race, gender, sexual orientation, religion and age. Equity is the quality of fairness and impartiality within the procedures of an institution or organization. Inclusion is the practice of including and welcoming diverse individuals to fully and truly participate within a group. Based on these tenets, Global Traveler adds the Outstanding Diversity & Inclusion in Travel award to its annual GT Tested Reader Survey awards.
To select the winners, Global Traveler staff and Advisory Board members analyzed nominated airlines, cruise lines and hotel brands across a variety of factors related to the companies' diversity, equity and inclusion practices.
Let's take a closer look at the inaugural winners.
Alaska Airlines takes home the first-ever award for Outstanding Diversity & Inclusion in Travel, Airline. The airline announced diversity, equity and inclusion goals to reach as a company by 2025, with clear actions for achieving these goals. Earlier this year, the airline brought on a new DEI director, James Thomas, to lead the company toward its commitments and goals.
The company completed employee listening sessions designed to learn about real-life experiences and challenges in the workplace. Alaska Airlines launched racial equity training for all of its employees. The airline now requires 50 percent diverse candidate slates and interview panels for senior-level roles. Currently, the airline features 30 percent racial diversity within frontline and manager levels, compared to 16 percent within leadership levels. The goal is to increase racial diversity across all levels to at least 30 percent by 2025. Action items to achieve this include updating recruiting strategies and creating leadership and development sponsorship programs.
By 2025 the airline aims to increase its Inclusion Index Score within its employee engagement survey by 10 points. The airline looks to create career pathways for at least 175,000 young people by 2025 through support of programs like the United Negro College Fund. Alaska Airlines partners with various diversity organizations. It recently joined the Washington Employers for Racial Equity coalition.
The airline commits to being accessible for employees and customers with disabilities. These commitments include how the airline markets its products; recruits, hires and retains employees; and enhances current and builds new facilities, all using the latest tools and technology.
The Outstanding Diversity & Inclusion in Travel, Cruise award goes to Celebrity Cruises. The cruise line partners with a diverse group of organizations, including its partnership with Best Buddies International, an organization dedicated to ending isolation of those with intellectual and developmental disabilities. Celebrity participates in Best Buddies' job program and other sponsorship activities.
Gender equality is important at Celebrity Cruises. President and CEO Lisa Lutoff-Perlo declared her commitment to hiring more women throughout the cruise line. Since starting as CEO and president, Lutoff-Perlo appointed the first female American captain, the first female Ecuadorian captain and the first West African woman to work on the bridge of a cruise ship. Within 18 months, the percentage of women working on the bridge of Celebrity ships increased from 3 to 22 percent.
Celebrity Cruises has been awarded for its LGBTQ+-friendly offerings, including winning Best Large Ship Cruise Line for LGBTQ Passengers and Best Onboard LGBTQ Gatherings (Large Ship) at the annual CRUIZIE Awards. As of 2017, same-sex marriages performed on board Celebrity ships by the captain are legally recognized. In honor of Pride month, Celebrity hosts a Pride Party at Sea each June. The cruise line hosts other LGBTQ+ events on board, fleetwide, throughout the year.
Winning Outstanding Diversity & Inclusion in Travel, Hotel is Marriott International. Diversity and inclusion are key to Marriott's core values.
Diversity data source DiversityInc named Marriott International the top company for diversity, equity and inclusion across all industries for 2020. As an employer, the company's total workforce includes more than 67 percent People of Color, with about 37 percent in manager-level roles. Forty-four percent of Marriott's global executives are women. In 2021 the Human Rights campaign included Marriott on its list of Best Places to Work for LGBTQ Equality.
Marriott's free eSSENTIAL Accessibility app assists people with disabilities in navigating technology. The app is ideal for those with arthritis, Parkinson's disease, cerebral palsy, mild visual impairment and other conditions. Marriott's accommodations include mobility- and hearing-accessible guestrooms at properties all over the world.
The brand looks to expand its global footprint, thus increasing opportunities for diverse communities around the world. Marriott creates new jobs in destinations like Haiti with the opening of new properties. Furthering its community impact, Marriott works with several organizations with opportunities for training and scholarships for young people.
In addition to its own initiatives, Marriott partners with more than 30 diversity organizations including the American Foundation for the Blind, Human Rights Campaign, International LGBTQ+ Travel Association and NAACP Legal Defense and Educational Fund, Inc.
We celebrate these brands as they strive for and achieve diversity, equity and inclusion goals in the months and years to come. Throughout the travel industry, these leaders project a level of commitment and passion for creating a better society for all people. Congratulations to Alaska Airlines, Celebrity Cruises and Marriott International for leading the way to a better and brighter future for all!
OUTSTANDING DIVERSITY & INCLUSION IN TRAVEL
AIRLINE
Alaska Airlines
CRUISE
Celebrity Cruises
HOTEL
Marriott International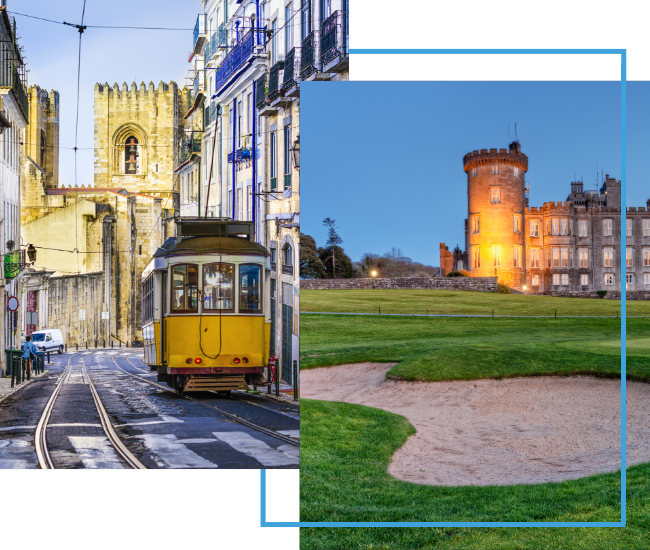 FX Excursions
FX Excursions offers the chance for once-in-a-lifetime experiences in destinations around the world.
Explore Excursions
Travel can take a toll on your body and soul; these products keep you looking (and feeling) good. From a clever shoe that puts a spring in your step (and is effortlessly easy to put on and remove) to a lightweight hair dryer and a night cream that works wonders on tired, dehydrated skin, here are three must-haves to tote on your next trip:
Sponsored Content
Are you looking to enhance your business trip with a little leisure? Look no further than Portugal, a country renowned for its captivating blend of history, culture and natural beauty. And with TAP Air Portugal, you can effortlessly transform your business trip into an unforgettable bleisure adventure. Discover why Portugal and TAP Air Portugal are the perfect combination for an enriching and rejuvenating experience.
Pleasant weather, autumn foliage and vibrant flowers are among the many delights awaiting nature lovers at botanical gardens and arboretums across the United States. However, some of these green spaces take on additional color this month and through Halloween when enterprising gardeners, landscape architects, management and other creative minds cast a spell with themed environments running the gamut from spooky to utterly bewitching.