Arrival/Check-In: My flight to Belfast landed ahead of schedule, and I arrived at the Europa Hotel Belfast for my two-night stay before normal check-in hours. I left my luggage with the helpful front desk attendant and left for an early meeting. My bags were waiting for me in my room when I returned in the afternoon.
Guest Quarters: My room was a comfortable size with all of the standard hotel room amenities. Its location at the end of a hallway made for a very quiet stay. The hotel utilizes a keycard-operated lighting system in its guestrooms; I prefer the old-fashioned method. The television was finicky — it was set to a music station, and when I switched to cable I was met with fuzz. Since my itinerary was full, I didn't bother asking for assistance. The bed was one of the more comfortable hotel beds I've encountered, particularly the cozy comforter. I was also impressed by the towel selection; the oversized towels were quite soft. I had trouble locating the hair dryer at first — it was in a desk drawer. Since it was attached to the wall outlet through the desk drawer, it made drying my hair a tricky process.
Services/Amenities: When I arrived in Belfast, I realized I brought the wrong outlet adapter. I stopped by the concierge desk, and the gentleman provided me with the correct one to use for the rest of my stay. WiFi is complimentary and the password changes daily; so if your stay is longer than one day, be sure to check with the front desk for the new password.
Breakfast is my favorite part of a European hotel stay. The Europa Hotel Belfast did not disappoint. The first morning of my stay, I stopped at the property's lobby restaurant, The Causerie, to sample a full Irish breakfast. The buffet-style arrangement featured pastries, meats, eggs, beans and fruit. A pamphlet detailing information about the local suppliers providing the ingredients sat on each table — a nice touch. On the final morning of my stay, I opted for room service instead and enjoyed a tasty meal of meats, cheeses, tea and a pastry with decadent Irish butter and jam.
The Experience: The Europa Hotel Belfast boasts a rich history. It is the second most bombed hotel in Europe. These bombings took place years ago, during the Troubles, and the hotel is entirely safe today. The property is located in the heart of the city, within walking distance of City Hall and many popular restaurants and bars. The Crown, a classic Irish pub, sits directly across the street. The Europa Hotel Belfast makes an ideal choice if you're traveling to Belfast for business or pleasure.
GT CHECKLIST
[checklist]
[item check=yes]Doorman/valet[/item]
[item check=yes]Less than 10 minutes for check-in[/item]
[item check=yes]Separate tub and shower[/item]
[item check=yes]Large vanity[/item]
[item check=yes]High-quality towels[/item]
[item]Powerful, unattached hair dryer[/item]
[item check=yes]High-quality bed linens[/item]
[item check=yes]Large, flat-screen television[/item]
[item check=yes]Large desk with convenient outlets[/item]
[item check=yes]Large, complimentary laptop safe[/item]
[item check=yes]Complimentary in-room WiFi[/item]
[item check=yes]Complimentary bottled water[/item]
[item]Stocked minibar[/item]
[item check=yes]Ample lighting[/item]
[item check=yes]In-room coffeemaker[/item]
[item check=yes]Iron and ironing board[/item]
[item check=yes]On-site restaurant[/item]
[item check=yes]24-hour room service[/item]
[item]24-hour state-of-the-art fitness center[/item]
[item check=yes]Turn-down service[/item]
[/checklist]
Europa Hotel Belfast
Great Victoria Street
Belfast BT2 7AP
United Kingdom
tel 44 28 9027 1066
hastingshotels.com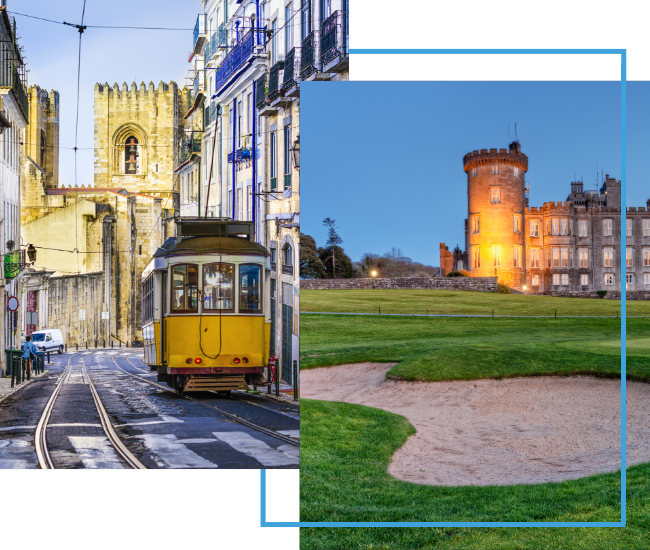 FX Excursions
FX Excursions offers the chance for once-in-a-lifetime experiences in destinations around the world.
Explore Excursions
The Perelman Performing Arts Center (PAC NYC), the cultural cornerstone and final public element of the World Trade Center site, opened this September.  The new performing arts center in Lower Manhattan provides a dynamic home for the arts, serving audiences and creators through flexible venues enabling the facility to embrace wide-ranging artistic programs.
Sponsored Content
Learning more about our readers' travel habits and preferences ensures Global Traveler delivers the content you desire. As the travel industry has adapted and changed over the last few years, it's more important than ever to connect. To best meet your short- and long-term travel content needs, please help us!
Whether you call secondhand fashion treasure troves "thrift stores," "fripperies," "charity shops," "vintage boutiques" or something else, shifting the paradigm from "old clothes" to "new finds," you may find the best, most conversation-starting souvenirs inside these shops and neighborhoods located in the world's most fashionable cities and a few unexpected places.