When a small country is home to nearly 1,000 bird species, seeing something colorful and beautiful in the trees is not a rare event. Seeing four resplendent quetzals in a tree just a hundred feet away, however, is something on a whole different level. I went for a hike hoping to see some wildlife but came back with a once-in-a-lifetime sighting.
Panama is best known for its booming capital city, where the sound of skyscraper construction is a constant din and the soon-to-be-wider Panamá Canal is a short drive away. The year 2014 will also see the opening of the Museum of Biodiversity, designed by Frank Gehry, and the first section of a subway designed to ease some of the city's notorious traffic congestion.
The country's natural attractions don't get much attention from the business travelers streaming in and out of Tocumen International Airport. Some of those same visitors have probably booked a vacation to Costa Rica at some point, not even realizing Panama has almost all of the same natural elements. Here you can also go rafting, ziplining, snorkeling, scuba diving, fishing and bird-watching, often seeing the same flora and fauna as in Costa Rica. The one thing you see less of? Huge crowds of tourists.
I start my exit from Panama City with a flight to David, in the Chiriqui region in the south. To my surprise, the Air Panama flight is on a modern jet, and it's a quick trip. The driver who picks me up gets us out of that city in a hurry, telling me Boquete has around 65 restaurants, but much bigger David has only five worth eating at. "All the rest are fast food."
Boquete didn't become a restaurant hub because of tourists, though: It's one of the most popular spots for American and Canadian retirees looking for perfect weather and a laid-back lifestyle. They're drawn by the eternal spring climate, the fresh air and the abundance of local produce and coffee. The rich volcanic soil in the region means almost anything people stick in the ground will prosper. Most of the country's food comes from here, along with most of its exported produce and coffee beans. The air is fragrant with year-round flowers, and the markets overflow with colorful vegetables and fruit.
I get a great introduction while settling in at Valle Escondido Resort, where creeks flow through the center and flowering bushes wave in the breeze. The hotel is just one part of the complex nestled next to a ridge, with homes on river banks and flanking a golf course.
I'm up early the next morning for a hike with John Tornblom of Boquete Custom Tours. He knows all the numerous trails winding through the hills around the town, but we're going farther afield to Baru Volcano, the highest mountain in Panama at 11,398 feet. There we'll set off on the famed Quetzal Trail.
The trail is a long one, eight miles up and down through several microclimates between 6,200 and 8,200 feet. Visitors who come with an experienced guide may get lucky and see the trail's namesake. Those who hike on their own almost never do. Nothing is assured, of course, and we run into a few guided bird-watchers on their way out just as we start our hike. They had seen a few birds, but not the one with "resplendent" in its name.
"We'll do better, don't worry," says John. I'm not sure I believe him, but I'm so enchanted with the scenery that seeing any particular bird seems like a bonus. We've been passing dozens of different flowers, butterflies flitting around and a dramatic volcanic mountain rising up into a blue sky.
We're working up a good sweat on the trail, stopping to admire the orchids, when John stops and says, "Listen — that's a quetzal."
It's far away, but now I hear it, too. In a move he has practiced for years, John answers the call with a whistle of his own. He explains in a whisper that the one we heard is a male and he will interpret this as a threat, as someone invading his territory. Eventually he'll come out and take a look around. Sure enough, a few minutes later the bird leaves his hidden perch in a distant tree and makes a circle in the sky, at one point flying right over us.
"There you go — the resplendent quetzal, a very rare bird," says John. "We'll probably see others, though," he adds offhandedly, and we start walking down the trail.
I've learned already not to take these remarks as idle boasts, and about a half-hour later, John sticks his arm out to stop me. He points to several dark spots in the trees, and we edge along the trail quietly to get closer. He holds up four fingers and mouths, "Male and female." I start snapping photos with the camera zoom at maximum, and he sets up the scope to get a better look. There in the trees I can see the differences in the males and females, the males having long tail feathers and yellow beaks.
Later we spot another rare bird, the three-wattled bellbird; a rare, clear-winged butterfly; and a green hermit hummingbird. "See these prints?" John points in the mud. "They're jaguar tracks."
John is a young-looking man who could be mistaken for a teenager, so sometimes people don't take him seriously until they're on the trail. Once, when he showed up at the hotel of his Texan client and young wife, the man said, "Son, I don't believe we're going to see anything with you today. So I'll give you $50 for each quetzal we see."
John didn't say anything, but an hour along the trail they came upon a whole group of them: 16 in one tree. The client sputtered something about money in his room and John took the high road, refusing the payment and gently berating the man for being judgmental. He's a better man than I am — I would have at least asked for a Ben Franklin after that.
The next day, I ride in the back of a truck on a bumpy dirt road up to Boquete Tree Trek for a thrilling zipline trip from tree to tree across 14 platforms. This zipline setup is next to a field of coffee plants, some of them producing the expensive Geisha beans renamed and bought up at auction by the Japanese. The complex is also right on the edge of La Amistad ("Peace") Park, an extensive wilderness area shared by Panama and Costa Rica.
Boquete Tree Trek has lines fast enough to please adventurous types, but it's also a good experience for first-timers. It starts out slow and easy on the first two lines of 12, plus the guides have access to a braking system. If someone is coming in too fast, they can slow the person before arrival at the platform. The last line goes directly down into a newly built structure where visitors can take off their safety equipment right where they touch down. There's also a good restaurant with a view on site for anyone who works up an appetite.
I drink plenty of good coffee while I'm in Boquete but want to see how the farms here compare to ones I've visited elsewhere. My guide takes me to a truly unique one: Finca la Milagrosa. Owner Don Alfredo has won plenty of awards for his highland coffee, but what's really interesting is his equipment. When he started out he didn't have the money to buy fancy machines for sorting and roasting, so he made them himself out of whatever spare parts he could find. His contraptions are put together from washing machines, motorcycles and spotlights, still in use despite his success — why change what's already working?
After flying back to Panama City, I take a trip down the coast with PTY Safety Shuttle & Tours, going from turf to surf. The surf part is literal, where we spend two nights in Santa Catalina. The town is known for its 20-foot waves and perfect tubes, some calling it the best surf spot in Central America.
Our destination, though, is the remote Coiba Island, which can be reached only by riding in a boat to a spot 37 miles offshore. Once there, however, we find a pristine wilderness full of wildlife, above the ground and below the water. It was once a penal colony, but now the only permanent residents are National Geographic Society researchers. It's possible to spend the night in rustic rooms adjoining their facility, though we opt to overnight in Santa Catalina to have access to more comforts. We leave the rustic life to an Animal Planet filming crew spending three weeks in residence.
We spend the days walking the island trails, spotting lizards and sea birds, then snorkeling around the postcard-perfect islets surrounding Coiba. While lunching on the beach, we watch a whole army of hermit crabs strip a coconut clean in 20 minutes. We spot sea turtles and fish of every color around the reefs, then a school of porpoises as our boat heads back to the mainland.
Eventually we make the long drive back to Panama City, where the economy is humming and the car sales are booming. It's electric and exciting, but in a country with two coasts and cool highlands, it's easy to get away from the bustle to find adventure excursions where animals far outnumber people.
INFO TO GO
Tocumen International Airport (PTY) has direct flights from 12 U.S. cities as well as Toronto, Amsterdam and Madrid. Domestic flights to David and elsewhere leave from the domestic Albrook Marcos A. Gelabert Airport (PAC) just outside the center.
Read more about Panamá's medical insurance for visitors.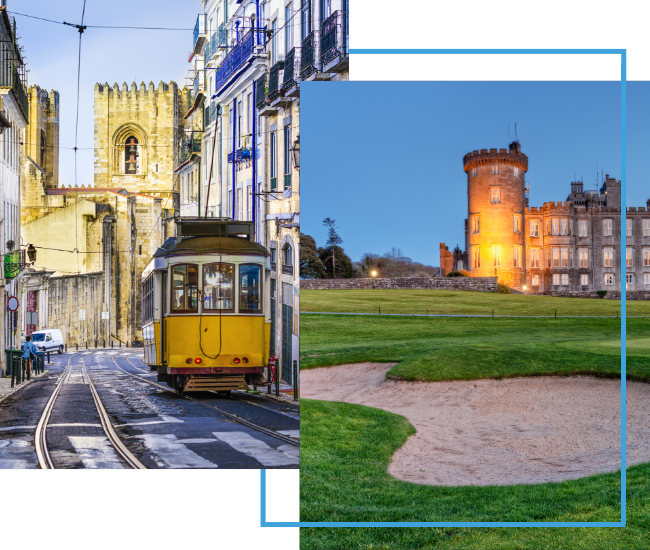 FX Excursions
FX Excursions offers the chance for once-in-a-lifetime experiences in destinations around the world.
Explore Excursions
There is something magical about sipping a glass of local wine while watching the sun slip into the Aegean Sea as the afterglow tinges traditional, white-washed Cycladic houses with glorious shades of rose, purple and gold. Ancient Greeks believed Helios, the Sun God, caused sunsets by driving his fiery chariot into the sea. Standing at water's edge in Mykonos, watching the sky slowly turn from purple to inky black, you almost believe it.
Sponsored Content
Exclusive Sailing with Global Traveler
The prospect of a post-visit treasure hunting session inside the shops of landmark museums such as the Louvre in Paris, the Uffizi Gallery in Florence and The British Museum in London can be irresistible. However, some of Europe's smaller and more unusual museums boast retail spaces with a surprising "wow" factor, often as well-curated as the galleries.