IN THE LORD OF THE RINGS, Bilbo Baggins says, "It's a dangerous business, Frodo, going out your door. You step onto the road, and if you don't keep your feet, there's no knowing where you might be swept off to."
"Dangerous" is the operative word here, and Bilbo is right when referring to the unpredictability of what can happen once you step outside your door — beyond your comfort zone. In fact, "dangerous" is how many of the world's business executives would describe travels to high-risk zones. After all, you can find yourself facing unexpected perils such as kidnappings, natural disasters and even political instability and turmoil. Staying safe in countries beleaguered by poverty, drug trafficking, gang wars, corruption and even terrorism can be a challenge of the highest magnitude.
When precarity is the norm, be aware of what you're getting into and how best to prepare for the unknown. The following tips will help keep your feet grounded on the road so you're not swept into a treacherous abyss. We include advice from experts such as Jeff Rutledge, CEO, AIG Travel, and Kent O'Donnell, senior security specialist, 360 Worldwide Security. Also, Michael Clyne, information services manager, Venture Risk Management, provides risk management insights.
GAIN STRATEGIC PERSPECTIVE. This is all about educating yourself regarding your destination and the current state of affairs. From visa and medical vaccination requirements to knowledge of cultural etiquette, preparing yourself is the best preventative measure.
The U.S. State Department is your best friend while overseas. To take full advantage of its help, register with its Smart Traveler Enrollment Program at step.state.gov. The free service enables U.S. citizens and nationals to enroll their trip with the nearest U.S. embassy or consulate, providing the embassy and family or friends a means of contacting travelers in case of emergency. You can also receive alerts regarding the security of a specific country.
Don't skip this resource even if you're going to a traditionally safe country. Last year, I unexpectedly ended up in an Irish hospital in Galway for four nights. I hadn't signed up with STEP, thinking Ireland was a safe country. Nor did I have international cellphone coverage. However, I effectively short-circuited the process by using Twitter and the hospital's WiFi to contact the U.S. Embassy in Dublin. Within an hour, I had an embassy contact serving as my advocate and notifying my family members.
Use STEP along with the State Department's travel alerts and warnings system. Consider carefully whether you should go to a country if travel warnings include unstable government, civil war, ongoing intense crime or violence or frequent terrorist attacks. Travel warnings remain in place until the situation changes; some have been in effect for years. Travel alerts are short-term events you should know about, such as an election season bound to have many strikes, demonstrations or disturbances; a health alert like an outbreak of H1N1; or evidence of an elevated risk of terrorist attacks. When events are over, the alert is canceled.
There's a wealth of unclassified resources out there. When I worked at the Pentagon, a starting point for any country analysis was the CIA's World Factbook and the State Department's country-by-country advice on security. But we didn't stop there. To eliminate potential political bias, we also checked sites hosted by Canada, the United Kingdom and Australia regarding country alerts and warnings. Don't forget to check if the destination country has a website as well.
"Gain situational and environmental awareness," emphasizes Clyne. "In most of East Africa, kidnappings are less common than other violent crimes, and carjacking is endemic in Kenya, where motorists are targeted by increasingly organized and brazen gangs."
Check for medical information and vaccination requirements with the Centers for Disease Control. Finally, obtain a required visa prior to leaving home if possible. This way you can avoid long lines and translation issues at your destination airport.
INSURE YOURSELF. Let's face it. Doing business in dangerous zones is risky. Infrastructure is often minimal and medical services may be below par or nonexistent. Unexpected things can happen. The key is to manage the risk, and good insurance can help.
"Travel insurance is a good way to not only protect yourself financially from potential crimes but to also ensure you have access to on-the-ground expertise if the worst happens," according to Rutledge. "Be sure to look for a plan with security and assistance services, which may include benefits such as experts who will interact with law enforcement, help prevent identity theft and coordinate with your family in the event of an emergency."
Health insurance is essential as is medical evacuation and repatriation insurance. Remember, while medical evacuation insurance doesn't cost much, it's the actual medical evacuation that can cost more than $100,000.
If traveling in hostile environments, conflict and terrorism insurance is necessary. If your destination is known for kidnappings, consider kidnap and ransom coverage. "In Nigeria, kidnappings increase around elections, as ransoms actually help finance political campaigns," notes Clyne, who tracks Nigerian kidnappings. "Crime statistics, particularly kidnapping in the developing world, are notoriously underreported, as victims and families are unlikely to self-report when they don't trust police to peacefully resolve the crime."
DEVELOP AN ACTION PLAN and leave a paper trail. Before leaving on your trip, have your affairs in order. These are the things nobody likes to talk about but should — like having a will, power of attorney and medical directive. Have backup copies of your passport, credit cards, prescriptions and itinerary in case originals are stolen (I keep a digital copy in my Dropbox). Leave a set with a trusted individual.
For your arrival, plan on having phone numbers and contact information handy such as the embassy, a driver and local business contacts. O'Donnell highly recommends you arrange a national contact on the ground prior to and upon arrival. Meet at the airport. He adds, "They will know road disruptions and things that aren't in the newspaper, plus they know the local language. And be aware of taxis, as they can be high-risk; they may be the next kidnapper."
PACK AS IF YOUR LIFE depends on it. O'Donnell strongly suggests travelers pack some basic items when traveling to dangerous zones. He is a firm believer in stashing a head lamp to keep hands free should lights go out. "Don't rely on technology to keep you safe," he says. "I carry granola bars for quick energy in case I need to escape on foot and a folded American flag that I unfurl to mark my location for U.S. rescue." He adds that if seeking refuge in an American embassy, the flag can be displayed to embassy officials for quick identification.
MAKE YOURSELF A HARD TARGET. Make it difficult for thieves to target you so they move on to softer targets. (They really want an easy target with little or no fuss.) Remember, even minor obstacles serve as a deterrent, such as carrying your valuables in front pockets or money belts or, for the ladies, in slash-proof cross-shoulder bags.
"No matter how unfamiliar you are with your surroundings, it's also a good idea to always walk with purpose and visibly observe your environment," says Rutledge, "as criminals may expect someone who's engaged to defend themselves and move on to a more passive alternative."
By practicing these pointers out in public, you devalue yourself as a target. Awareness is important. It is equally vital to not become distracted, as that will be used against you.
CARRY VALUABLES IN FRONT. The key is to be aware and keep a low profile. Blend in. Dispense with the bling and expensive items and stash some safety cash separate from your main wallet/purse. Always carry valuables in front and close to your body.
O'Donnell sees it this way: "Back pockets are for handkerchiefs and things you don't mind losing. I often carry a backpack and use a small TSA combo lock on it. I wear it backwards across my chest in crowds, especially in subways."
Don't keep anything valuable or important in outside pockets. This includes your suitcase, jacket and purse. For important papers, use the inside pockets of your jackets and purses, preferably ones that have zippers or buttons. Dress in layers and use this to your advantage by burying your documents and cash as close to your skin as possible.
USE A VPN FOR PERSONAL SECURITY. Every time I travel, I'm amazed how many people instantaneously search for the free WiFi. Makes complete sense because of data limits imposed on cellphone plans, but did you know 95 percent of public WiFi networks are not encrypted? That means any of the data you share can be hacked. Your personal information is compromised.
To counteract this, use a virtual private network whenever connecting to public WiFi. The best on the market is ExpressVPN, a super-fast and extremely reliable paid-app perfect for streaming. By keeping the IP address and data hidden, as well as getting around blocked websites such as Facebook and Gmail in certain countries, ExpressVPN is a must-have app, especially when traveling to restrictive regimes. I tested this recently in China and was extremely satisfied with the results.
DOWNLOAD A DIGITAL LIFESAVER. "Technology is often a traveler's first line of defense against crime," explains Rutledge. "There are many free and inexpensive apps that can help minimize your risks, including apps that help translate key words and phrases, identify safe walking routes or protect data on your mobile phone from hackers."
For example, AIG offers a mobile app with one-touch emergency travel assistance. It also offers Travel Guard Travel Tracer, an app that tracks and manages business travelers' safety worldwide. Users have access to a situation map which instantly visualizes their planned locations and itineraries as well as incidents and emerging worldwide events in proximity to their destination.
Yes, the world is a dangerous place. But with proper preparation, planning and situational awareness, your overseas trip to dangerous zones can be productively safer.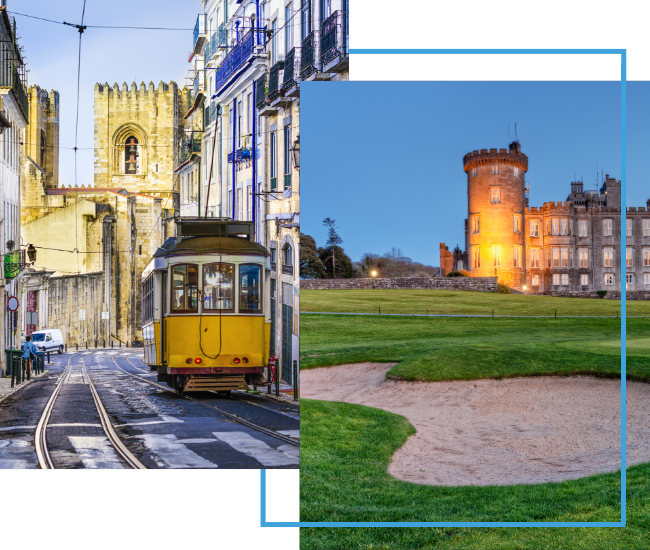 FX Excursions
FX Excursions offers the chance for once-in-a-lifetime experiences in destinations around the world.
Explore Excursions
One thing  surprising about the Prince Edward Island capital is its abundance of shops specializing in affordable, fashion-forward jewelry rendered in sterling silver, vermeil, 14K gold and semi-precious stones. Whether you prefer delicate pieces or bold wearable art, you can be assured the pieces for sale are inspired by the maritime island setting and, therefore, specific to the place where they are created. Here are a few shining, woman-owned examples:
Sponsored Content
Learning more about our readers' travel habits and preferences ensures Global Traveler delivers the content you desire. As the travel industry has adapted and changed over the last few years, it's more important than ever to connect. To best meet your short- and long-term travel content needs, please help us!
Norway, a haven for visionary artists, architects and designers, showcases an exceptionally diverse array of cultural attractions. This year, the country commemorates exciting milestones and unveilings captivating enthusiasts of the arts, from iconic scenic routes to new museums to gallery openings. Up Norway features these new offerings in personalized itineraries catered to aesthetes.