APPEARANCES CAN BE DECEIVING
At first glance, The Sagamore doesn't look like a place where you'd find groundbreaking spa treatments. The resort hotel in Bolton Landing, N.Y., situated on a private island on Lake George in the Adirondack Mountains, has all the trappings of the century-old American classic it is, from the white pillars of the glassedin porch to the guestrooms furnished in traditional American style.
If anything, you'd expect the resort to have a top-notch golf course; and it does, with vistas so spectacular that course designer Donald Ross positioned the first tee facing into the morning sun simply because he couldn't bear to turn the focus away from the view.
Business groups at The Sagamore certainly make good use of the links. But if that's all they do in their downtime, they're missing out on the resort's newly remodeled and expanded spa — and that would be a shame.
The Sagamore's spa treatments are carefully conceived to heal and the therapists wholly devoted to their profession. Not to cast aspersions, but there are plenty of high-tone resort spas that can't guarantee either. (If you've ever had a treatment that was immediately followed by a sales pitch for the products the therapist used, you understand.)
The spa is tucked away on the lower level, near the indoor pool and the one-time disco (yes, disco) now enjoying a well-deserved new life as a fitness center stocked with elliptical trainers, a 12-stage Cybex circuit and more. The former dance floor is now used for aerobics, step training and the occasional Latin dance class. Among the customized programs offered for meeting groups are the extremely popular Native American drumming workshops.
Within the spa are 13 treatment rooms: nine for massages and dry treatments, three for facials and one for wet body treatments such as mud wraps, herbal wraps and salt glows. The extensive treatment menu that debuted in May following the renovation is likely to be whittled down as spa director Susan Butterfield assesses client demand. Two treatments sure to remain, however, are those Butterfield is most passionate about: Chroma- Light Therapy baths and Crystalline Consciousness Technique healing therapies.
If those treatments sound New Age-y, well, they are, but that doesn't mean they're not therapeutic. Surprisingly so, if you allow yourself to relax and enjoy the moment. That was my first obligation as I slipped into the Chroma-Light Therapy tub for the 20-minute treatment.
Water is widely believed to have healing properties — there's a reason that spas are traditionally situated at water sources — nevertheless, I was skeptical about the light therapy aspect of the treatment. It involved lights that change color in a progression that follows the colors of the chakras, from red, which corresponds to the "root" of the body below the hips, to violet, which governs the "crown" of thought and reason. (If that doesn't make sense to you, just picture this as a super-deep tub equipped with its own laser ligh show.) Of the four healing bath treatments offered I chose "balance," which uses essential oils of eucalyptus, rosemary, wintergreen and thyme, along with mustard, to increase circulation and draw impurities from the body.
The tub was filling from a ceilingmounted waterfall faucet when I approached. Flower petals were sprinkled on the surface of the water and around the tub's edge. The therapist laid out a pretty tray of scented salts, aromatherapy oil and powdered mustard that I could add to the water as I pleased (she had already poured some in). She gave me an herbal tonic and an icy-cold compress, pulled the rice paper screen closed around the tub and left me to soak.
I should have closed my eyes and let the tub's air jets do their work loosening my muscles, but I couldn't stop watching the lights fading from red to orange, green to blue. They were hypnotic, especially after I'd been in the bubbling hot water for a while. Whether they influenced my chakras, I couldn't say, but I left the tub with a pleasant feeling and I proceeded to the treatment room for my Crystalline Radiance massage.
Crystalline Consciousness Technique (which is trademarked, by the way) is a form of energy therapy similar to Reiki. As such, it works with the body's natural energy field to remove stress and foster positive "intention." Again, New Age-y, but I still wanted to learn how it worked.
The treatment began with the therapist doing a silent invocation and placing his hands in turn on my head, heart, pelvis, belly and feet. Then I turned over and he began the 75- minute therapeutic massage. Whether it was the 20-minute soak beforehand, the CCT, the massage therapist's skill or some combination of the three that made my body unclench I can't say for sure. I do know that the massage was more effective than any I've had in a while, reaching beyond muscle therapy to put me in a state of profound relaxation.
The spa also incorporates CCT in the Crystalline Radiance facial, and while I don't typically enjoy facials I decided to try this one. Like the massage, the facial began with a silent invocation. It's unusual to feel that a therapist is doing something akin to praying over you before she begins a facial, but I tried to push that thought from my mind and to be "receptive."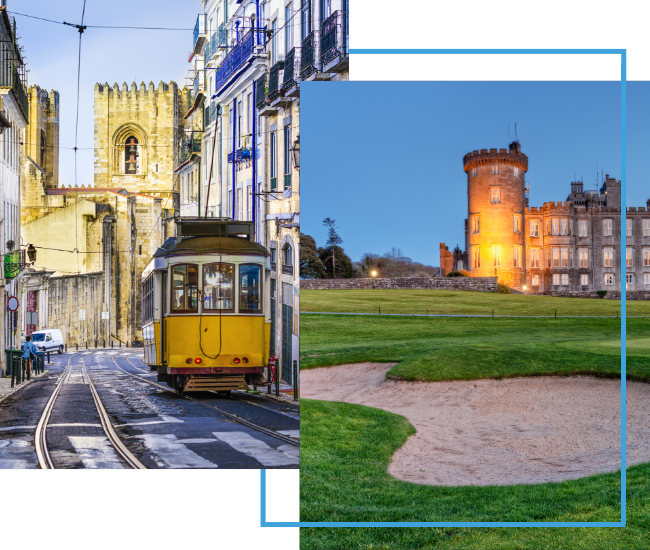 FX Excursions
FX Excursions offers the chance for once-in-a-lifetime experiences in destinations around the world.
Explore Excursions
If fabulous food and beverages are a must-have for any weekend getaway, then look no further than the City of Brotherly Love. Whether your palate has a penchant for vibrant Latin American fare or cozy French cuisine, whether you're an oenophile looking to swirl, sniff and sip your way around the globe or you'd rather sample farm-to-glass cocktails, Philly's got it all this fall. (With the exception of Bolo, which is a short taxi or Uber ride away and definitely worth the trip, the rest of these spots are all within walking distance of each other.)
Sponsored Content
Whether it's the people, the craic (fun) or the coasts, travelers always find something to love about the island of Ireland. What fills your heart?
From Santoríni to Dubai to New York, some hotels just have that "it" factor that draws visitors far and wide. For some hotels it's their proximity to popular landmarks and attractions, for others it's their amenities. But these hotels have something few can claim: a true room with a view.