Exiting the airport in Havana, Cuba, the first thing you see is a row of parked 1950s cars backed by a billboard featuring Che Guevara's bearded face. It's a proper introduction to this country, where there's a brew of old-world ambience, communistic laws and a whiff of freedom in privately owned restaurants (called paladars) and businesses in front yards.
While U.S. travelers couldn't bring back Cuba's fragrant handrolled cigars legally when I visited on a people-to-people trip, today they can, thanks to the warming of relations. The amendments to the Cuban Assets Control Regulations announced by President Obama, which went into effect mid-January, include general licenses within the 12 categories of authorized travel for many travel-related transactions to, from or within Cuba that previously required a specific license. Some of the categories are family visits, educational activities, artistic performances and professional research and meetings.
Because of the 50-year-old embargo, however, it's still illegal for U.S. citizens to travel to Cuba for touristic purposes, including through a third country such as Mexico or Canada. People-to-people visits, tours set up by travel companies, remain the only legal route for Americans who want to explore Cuba. These highly structured trips still require special licenses, and the itineraries are designed in collaboration with the Cuban government. On these trips travelers visit with Cubans they would likely never meet on their own. For example, during my trip with the Grand Circle Foundation, we listened to and then spoke with jazz musicians, met with famous artists and youngsters just learning to draw in a cultural center, and played dominoes with seniors. We watched one of the first private contemporary dance groups perform and afterward chatted with them over lunch.
Many travel companies, airlines and hotel chains are exploring ways to take advantage of the new amendments so they can start bringing travelers to Cuba. KAYAK now includes hotels and flights to Cuba in its search engines, posting a disclaimer: "Travelers cannot make Cuba-related travel arrangements through KAYAK." While finding insurance coverage for a Cuban trip was difficult in the past, APRIL International announced travel protection coverage to policyholders originating from within the United States, including American cruise passengers stopping in Havana. Americans visiting Cuba generally bring large amounts of cash because U.S. credit cards aren't accepted, but changes are on the near horizon.
Several airlines are expressing an interest in starting commercial flights to Cuba. Hurdles exist, including receiving approval for flights from both the U.S. and Cuban governments. Dave Clark, vice president of network planning, JetBlue, said, "We will absolutely add scheduled service to Cuba as soon as we are legally allowed to. About a third of our capacity is in the Caribbean and Latin America, so this is right on with our strategy." The company already flies three charters a week to Cuba from Tampa, Fla., and will be adding a fourth weekly in June. The majority of the passengers are Cuban-Americans going to visit family.
Cuba Travel Services recently announced a second direct flight from New York (JFK) to Havana with JetBlue Airways. The company arranges flights with American Airlines and Sun Country to popular Cuban destinations and will now partner with JetBlue to offer a Friday flight for New York-based travelers looking to depart closer to the weekend.
"United Airlines intends to launch, subject to government approval, non-stop service to Cuba from both Newark and Houston, which are global gateways for the airline," said United Airlines spokesperson Rahsaan Johnson.
Matt Miller, manager of corporate communications, American Airlines, said, "We are interested in starting scheduled service to Cuba when it is legally allowed, but we can't speculate as to when that will be." The airline already operates approximately 20 charter flights per week to Cuba from Miami and Tampa.
Hoteliers, too, are watching the new developments closely. Andrew Houghton, area vice president, Caribbean, Marriott International, said, "Much as we saw in the '90s when Eastern Europe opened its borders, we see Cuba as offering an exciting cultural destination that will complement the Caribbean's wide variety of tropical locales."
Gerardo Murray, vice president, distribution and commercial marketing, Mexico, Latin America and Caribbean, InterContinental Hotels Group, explained, "President Obama's announcement on the U.S. and Cuba reestablishing diplomatic relations is still quite fresh; therefore, we will continue to assess how this impacts the hotel sector, broader travel and the tourism industry and our business for the short and long term."
While touring Havana with Mario Coyula, an architect, urban planner and one of Cuba's early revolutionaries, I learned leading Cuban architects are concerned the historic nature of Old Havana will be destroyed if there's a rush to tear down historic buildings to make way for modern structures to accommodate an influx of tourists. Our group strolled down the Prado, Havana's main street, lined with stores in renovated buildings. But when we walked three streets away, most of the buildings were dilapidated.
Improved infrastructure, from hotels to roads, will be necessary if there is a tourism explosion. Before a people-to-people trip, travelers are warned not to expect the quality of accommodations one finds in the United States and Europe. At the historic, lovely Hotel Nacional de Cuba, for example, our room was charming, but the hot water didn't always work. In the more remote town of Baracoa, our accommodations in a converted fort were spartan.
The warming of relations with Cuba triggered increased interest in people-to-people trips by travelers who want to visit Cuba before major changes occur. Hundreds of thousands of Canadians already visit Cuba annually. Most bypass Havana, going straight to beach resorts where European hotel chains partnering with Cuban government hotels have built new properties.
The Grand Circle Foundation has run people-to-people trips since 2011. "Once the initial 'I had to get there' interest leveled out, it became a regular program," said Carol Bengis, director of the company's Cuba program. "But as soon as President Obama made his speech saying he wanted to resume relations with Cuba, interest skyrocketed again. Now space is at a premium."
The types of people-to-people trips vary from visiting major cities to focusing on jazz, art, cultural aspects and the revolution. Natural Habitat, an adventure travel company that ran its first people-to-people trip to Cuba in February, has a different approach, taking its travelers to many of the national parks.
Bengis summed up the changes needed before Cuba becomes a major tourist destination: "Obama took it as far as he could with an executive order. But to move further, certain sections of the embargo need to be changed to allow real tourism; that can only be done through an act of Congress."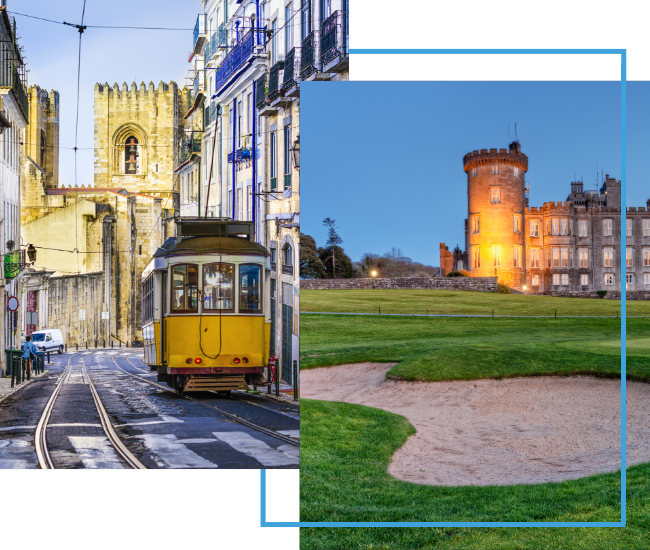 FX Excursions
FX Excursions offers the chance for once-in-a-lifetime experiences in destinations around the world.
Explore Excursions
There is something magical about sipping a glass of local wine while watching the sun slip into the Aegean Sea as the afterglow tinges traditional, white-washed Cycladic houses with glorious shades of rose, purple and gold. Ancient Greeks believed Helios, the Sun God, caused sunsets by driving his fiery chariot into the sea. Standing at water's edge in Mykonos, watching the sky slowly turn from purple to inky black, you almost believe it.
Sponsored Content
Don't risk losing all the money you've spent if you must cancel your trip at the last minute. Allianz Travel Insurance can give you:
The prospect of a post-visit treasure hunting session inside the shops of landmark museums such as the Louvre in Paris, the Uffizi Gallery in Florence and The British Museum in London can be irresistible. However, some of Europe's smaller and more unusual museums boast retail spaces with a surprising "wow" factor, often as well-curated as the galleries.