When atmospheric conditions are just right and sharp contrails streak the sky, even the most jaded traveler may, for a moment, equate flying with bliss. Fortunately for all of us who spend a great deal of time aloft, airlines are trying hard to package that bliss, in the form of premium cabins with amenities that can only be called spectacular.
Fully flat seating, also known as lieflat beds, have become de rigueur in international first class, with almost every airline offering them on at least one aircraft type. Now, what used to be the latest word in premium comfort, the full recline with privacy partition, is making its way into business class, with ample if not full-flat recline offered by the majority of carriers. Today's awe-inspiring firstclass cabin is likely to offer chairs that rotate, room for guests, even a private bath and a table for two.
These are just some of the findings of our annual Global Traveler first- and business- class survey. We conduct exhaustive research in order to present you with an up-to-the-minute resource for comparing the offerings of all the major airlines flying internationally to and from North America.
Among the details we gather and distill are the essential data on cabin layout, seat pitch (the distance between rows), seat width, and degree of recline — and we crunch the numbers so that you're not comparing apples and oranges. For instance, some airlines report recline from a right angle (i.e., 45 degrees off the perpendicular)while others report recline in degrees from the horizon (i.e., 135 degrees). We've made all the conversions so you can visualize the type of recline your airline seat provides.
But with so many airline seats already close to that literal horizon, there are many other factors to consider. While comfort is top-of-mind for most long-haul travelers, making the best use of time aboard is also a consideration, and this is the arena in which many leading airlines have sought to differentiate themselves in the past year. Entertainment options have been multiplying, both through high-tech entertainment centers and through easier use of your own laptop or MP3 player. On the accompanying tables, you'll find comparative data about music, movies, TV programs and news, as well as a guide to the likelihood you will be able to plug in your laptop and avoid draining your battery.
One area of high-flying technology suffered this year: Connexion, the Boeing system that outfitted aircraft to offer high-speed Internet connectivity, closed shop. While various alternatives are being tested, the airlines that participated in Connexion — Lufthansa, All Nippon Airways, Korean Air, SAS Scandinavian Airlines, Japan Airlines, Air China, Singapore Airlines, Asiana, El Al and Etihad — can no longer let you surf the Internet from 38,000 feet. Only a few airlines have established satellite-based systems to let you email or send text messages.
While the Internet has become less accessible in the air, it's become more widely available at the airport. The biggest single change we noted this year is in the number of airlines that offer both free high-speed Internet and free or paid wireless Internet access in their airport lounges. Our table indicates whether your premium-class ticket gives you access to a special airport lounge, and what kind of Internet connectivity you may find there.
Finally, we take a peek inside your premium-class amenities kit to let you know what you can expect to find there: Will it just be a comb and a toothbrush, or will you find a batch of deluxe goodies, perhaps even wrapped in a designer package?
---
PREMIUM PROGRESS
Last year, quite a few airlines announced proposed cabin redesigns; this year, many of those redesigns have come to fruition. British Airways, whose Club World set new businessclass standards when it launched in 2000, began a total relaunch last year, with new seats and cabin redesign. "Right now we're in the process of enhancing all the long-haul aircraft," said British Airways spokesperson John Lampl who reported that 60 percent of the airline's Boeing 747s already have the new Club World cabins, with the balance on track for completion this year, to be followed by refurbishment of its 43 Boeing "triple-7s" by mid-2008.
Air Canada is well along in what spokesperson John Reber calls "Extreme Makeover: Air Canada Edition." The "suite seats" in the Executive First cabins of the airline's Boeing 777s are already in use, and the fleet of Boeing 767-300s will soon be refitted with lie-flat seats with 75 inches of pitch for long-haul routes, or 150-degree recline seats with 60 inches of pitch for shorter hauls.
LAN Chile, which began introducing its new Premium Business Class in Latin America last year, now flies its reconfigured Boeing 767s on routes into the United States, complete with lie-flat seats, 74-inch pitch and privacy screens. Cathay Pacific has been redesigning its cabins, turning its lieflat, first-class seats into suites and installing full-flat seats in Business Class; the process started in January.
Late last year, Air France completed the conversion of its L'Espace Affaires cabins on its Boeing 777- 200ER aircraft, to include full-flat seats, 61 inches of pitch, and "spacious private restroom with leathercovered seat." A similar upgrade on its 777-300ERs was finished this summer. South African Airways is another air carrier that finalized its fleet upgrade soon after last year's Global Traveler survey closed, installing lieflat seats in the Premium Business cabins of its Airbus A340s.
Over the winter, Scandinavian Airlines' new business-class cabins arrived in the United States, with their new angled flat-bed seat — flat, but not horizontal — that is 5 inches wider than the seats being replaced, with 11 inches more pitch between rows.
Refitting aircraft while maintaining a full flight schedule is never an easy task, which is why it can take well over a year to accomplish a refurbishment.
Last year, Asiana Airlines had begun introducing lie-flat seats in business class on its Boeing 777s flying to the West Coast (LAX, SEA, SFO). As Bon Sung Koo, senior manager of marketing alliances for Asiana, explained at the time, "Once [travelers] are used to the higher end of seats, it's hard to come back down." Now that the 777s are done, he added recently, "We are in the process of renovating the 747s, which run three classes, serve New York (JFK) and Chicago (ORD) and are also getting new first class seats." The renovation is due to be completed by June 2008. Those people responsible for accomplishing all the changes — which also include new menus and new audiovisual systems — are called "The Magic Team," Koo said, "because we personify magic."
---
NEW COMPETITION
Travelers this year have not only had the chance to check out some of these spiffy new seats and cabins, but to compare them with some entirely new all-business-class air carriers. Last year's newcomers were Maxjet and Eos; this year's are Silverjet and L'Avion, perpetuating the new breed of transatlantic all-business-class airlines — and giving all the traditional carriers yet another reason to stay on top of their game.
Silverjet, which flies between Newark Liberty (EWR) and London Luton (LTN), has a special lounge at the U.S. end and a dedicated terminal at the London end that allow passengers to arrive as little as a half-hour before departure. It currently flies a single Boeing 767 with 100 6-foot-3- inch bed seats that recline to 172 degrees and have 63 inches of pitch. The airline had planned to add a second daily flight on the same route this past spring, but delays in delivery, flight testing and cabin refitting took longer than expected. Silverjet is also in the process of buying two more 767- 200ERs from a British source, with no word on their intended routes; the range would allow them to reach the West Coast, but could also take the airline to India or South Africa.
Like Silverjet, L'Avion (formerly known as Elysair) began flying passengers in January — in its case, between Newark and Paris (ORY). It's now the only airline flying in and out of Orly from the United States. L'Avion flies a single Boeing 757-200 with 90 seats that feature extra shoulder room, winged headrests, and full-width leg support, but don't fully recline — think cradles, not cribs. Both airlines have been beating projections — L'Avion with a load factor of 60 percent, Silverjet with 70 percent. "We are pacing substantially ahead of our initial expectations," said L'Avion CEO Marc Rochet, "and the customer feedback has been overwhelmingly positive."
Two more newcomers to the American market are no rookies: Etihad and Qatar Airways. Etihad, based in Abu Dhabi (AUH), began flying to New York (JFK) last October. The airline is known for its premium services, including chauffeured ground transport for its Diamond Zone (first class) passengers. In the air, its Diamond "suites" not only have individual privacy shells, but swivel 180 degrees so you can face other passengers to hold a meeting or have a social meal. Each Diamond suite also has its own coatroom, minibar and mirror. The businessclass Pearl Zone has lie-flat seats that have more than 72 inches of pitch.
Qatar Airways began flying between Newark and Doha (DOH), via Geneva (GVA), in June and nonstop between Washington, D.C. (IAD), and Doha in July. The airline has an exclusive terminal for premium- class passengers in Doha, complete with a spa, meeting rooms and fine dining. Both airlines fly very young fleets; the average airplane age for Qatar Airways is 5.4 years; for Etihad, less than 3.
---
TECH TALK
This is the year of wireless — just, unfortunately, not on airplanes. In the absence of the Connexion network, the current alternative for in- flight Internet service is via satellite. Some airlines, for example in Europe, are also taking advantage of landbased networks. What is common, however, is that in most cases Internet usage, email or text messaging can be done through the onboard entertainment system, and not via one's own laptop.
Among the current electronic communication options, almost all of which are new this year: Malaysia Airlines offers seat-to-seat communication and SMS texting in first class on its 747-400s. EVA Airways allows SMS texting air-to-ground on its 777-300ER flights. Qantas has been beta-testing onboard WiFi on some 747-400s and A300-400s and debating onboard use of cell phones, as has Emirates, which also offers both a high-speed Internet connection and WiFi in business and first class aboard A340-500s. And El Al is adding both wired and wireless Internet access to some of its fleet throughout the second half of 2007.
In Europe, Iberia, like Qantas, is testing Inmarsat's mobile satellite communications to provide high-speed connectivity.
On the ground is where wireless is really taking off. The availability of free high-speed Internet in airline premium- class lounges is becoming almost universal, and free or paid wireless connectivity in lounges has also made great strides, with Aerolineas Argentinas, Air Canada, Air New Zealand, Continenta Airlinesl, Delta, Lufthansa, Malaysia and Malev among the many air carriers that offer WiFi in their lounges.
Entertainment is the other area where technology is flexing its muscle. The number of entertainment options available to premium passengers has been increasing exponentially. Larger screens, personal media players, and interactive touch screens, as well as accommodations and media for MP3 players, CD players and DVD players, mean in some cases a thousand or more entertainment options during the course of a single flight.
Emirates this year expanded its Ice Digital Widescreen System to half its fleet. With screens that measure 23 inches in first class and 17 inches in business class, the system includes more than 100 video games, 145 movies, 10,000 tracks of music (plus the ability to make, and save, your own playlist), a touchscreen interface, wireless remote, a full keyboard and a satellite telephone.
American Airlines is providing portable media players to premium passengers on several different aircraft types, with up to 50 CDs, 12 feature films, and 900 minutes of TV programming. Continental offers as many as 1,500 songs, 250 movies, and 300 short programs on its Boeing 777s, and has also increased the entertainment options on its 757-200s. "Our current emphasis is on updating the inflight entertainment system with installation of audio-video on demand," said Continental spokesman Dave Messing, "Our customers want to be able to choose what they want to watch whenever they want."
---
KITS WITH A KICK
Amenity kits are seldom the reason one chooses an airline, but they can certainly add to the overall ambience that keeps you coming back for more. Kits offered to international premium-class travelers run from the basic comb/toothbrush/eye mask combo to some elaborate extras. Quite a few airlines are now providing noise-reducing headsets — Air France, EVA Airways, Thai Airways and USAirways, to name just a few. And instead of the usual little zipper bags, an increasing number of airlines are packaging amenity kits in containers that can also serve as shoe bags, souvenirs to bring home, and even fashion or travel accessories. Gloria Melo, TAP Air Portugal's customer relations and advertising manager for North America, said, "We have kits that can be used later for different things — one that can be used as a CD case, one that's a cell phone pouch for your belt, one for your shoes. We rotate them so that our frequent flyer doesn't get bored."
With all the amenities, entertainment options, communication possibilities and creature comforts afforded by premium-class travel these days, boredom on long flights may well be an endangered species.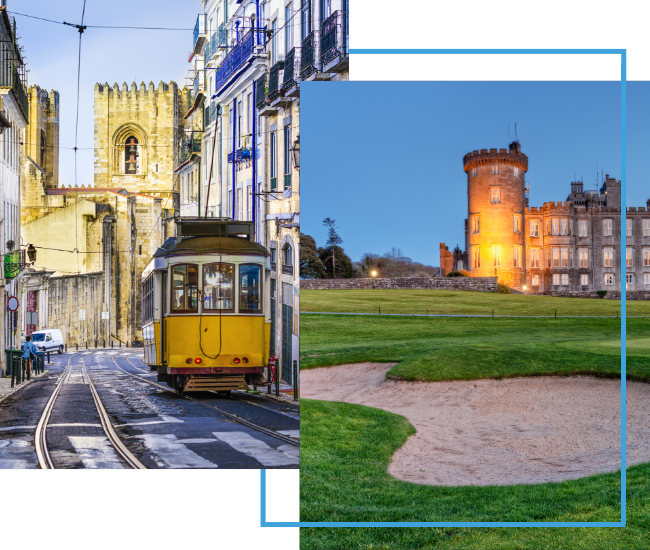 FX Excursions
FX Excursions offers the chance for once-in-a-lifetime experiences in destinations around the world.
Explore Excursions
If fabulous food and beverages are a must-have for any weekend getaway, then look no further than the City of Brotherly Love. Whether your palate has a penchant for vibrant Latin American fare or cozy French cuisine, whether you're an oenophile looking to swirl, sniff and sip your way around the globe or you'd rather sample farm-to-glass cocktails, Philly's got it all this fall. (With the exception of Bolo, which is a short taxi or Uber ride away and definitely worth the trip, the rest of these spots are all within walking distance of each other.)
Sponsored Content
Learning more about our readers' travel habits and preferences ensures Global Traveler delivers the content you desire. As the travel industry has adapted and changed over the last few years, it's more important than ever to connect. To best meet your short- and long-term travel content needs, please help us!
From Santoríni to Dubai to New York, some hotels just have that "it" factor that draws visitors far and wide. For some hotels it's their proximity to popular landmarks and attractions, for others it's their amenities. But these hotels have something few can claim: a true room with a view.